We are excited that you are looking at our new MAHEC Internal Medicine Residency Program as a potential site for your future training.
Mountain Area Health Education Center (MAHEC) has a long history of excellence in graduate medical education training and we are thrilled to join their family of residency programs. We will build on the longstanding successes by working with the MAHEC organization, our talented faculty, our engaged community and our residents to build one of the most unique internal medicine training programs in the nation. Our goal is to train the well-rounded internist in a supportive yet challenging environment in which one develops not only as a physician but as a leader and teacher in our community.
Our very experienced leadership team consists of physician educators with track records in medical education innovation. Our forward-thinking curriculum balances optimal training in the largest Area Health Education Center in North Carolina with training in a busy, tertiary care, state-of-the-art hospital system. In these and other settings we are able to emphasize training in the delivery of rural care, the reduction of health disparities, the care of the older patient, community-based care and the care of special populations such as patients with substance use disorders. We also provide training experiences in all specialties of internal medicine through our fantastic partnership with Mission Hospital, where our residents will care for patients on medicine services, ICUs, cardiology services, specialty consultation services and in the emergency department. Unique rural-based rotations, public health opportunities, and scholarship experiences provide additional learner-centered, mission-focused training experiences. These skills are practiced and reinforced in our core seminars, which take place in our large, state-of-the-art simulation center in our weekly academic half day.
One of the core values of our program is service to community. We are committed to responding to the needs of our community and the region in which we live. Residents and faculty teach and learn together in a collaborative learning community, all with the aim of providing improved care of the population we serve. The curriculum includes experiences that put you in the heart of the communities of Western North Carolina as well as opportunities to play a role in the reduction of health care disparities in the region. We expect our trainees to lead and teach in our community.
We created a program that will challenge you to become your best self as an internist over three years of training. We also focused on creating a supportive environment that fosters your development and allows flexibility so that you succeed in your personal and professional goals. The schedules and curricula are designed to provide you with the training that you need AND to ensure that you have time to focus on your wellbeing and your personal interests. We incorporated specific resilience training, reflection opportunities, and wellbeing experiences. You are a valued colleague; we will grow together as we learn how to balance professional commitment and personal growth.
It's an honor that you are considering training with us, and we're excited to meet you. Come and explore the education we offer, the values we share, and how we can help you develop into the physician leader of the future.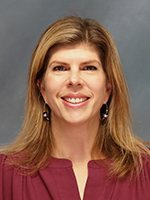 Andrea Ward, MSW
Internal Medicine Residency Program Administrator
IM@mahec.net
828-407-2151
Jenna Joyner, BS
Internal Medicine Residency Program Coordinator
IM@mahec.net
828-257-2985
Important
This contact information is not for patient use. If you are a patient, please call Internal Medicine directly at 828-771-3500.
---
Our Commitment
MAHEC is committed to creating an equitable and inclusive place to work, learn, and receive care. We actively recruit physicians, staff, and students from underrepresented minorities, and we strive to implement policies and procedures that value and support diverse backgrounds and experiences. MAHEC does not discriminate on the basis of socioeconomic status, race, ethnicity, sexual orientation, gender identity or expression, spiritual practice, geography, disability, or age.
Mission Statement
Our Internal Medicine Residency Program aims to train and educate diverse, well-rounded, competent, caring, compassionate physician leaders who:
Deliver the highest quality medical care to patients in a variety of settings including rural communities
Create a collaborative setting for innovation, intellectual and personal growth and interprofessional work
Contribute to the science and art of medicine and medical education through innovation, scholarship and dissemination
Provide expertise in caring for underserved patients and populations
Lead and foster change in healthcare delivery and health systems, including improving quality, safety, diversity in the workforce, and access
Celebrate lifelong learning in our rapidly changing healthcare environment
Values Statement
Excellence: We deliver quality activities and services that our customers and partners value.
Diversity: We promote equity and inclusivity.
Integrity: We act with fairness, transparency, and the highest level of ethics.
Collaboration: We value partnerships and support interprofessional approaches.
Improvement: We continuously innovate and improve our work.
Foundational Principles
Civility: We treat all people with respect and kindness, all the time.
Inclusivity: We value the contribution of people different than ourselves and the merits of an organization that reflects differences in our teams and our community.
Empowerment: We value engagement, commitment, and ownership of MAHEC's mission, work, and budget.
General Curriculum Structure
Our program is designed in a competency-based advancement structure. Individuals are continuously observed, assessed and provided with feedback in all experiences. Goal-setting is based on Internal Medicine milestones. Once an individual achieves competency in a goal, they set new goals and are advanced in their level of responsibility. As such, we use a competency-based language to define stages of development rather than a time-based language. Our learners move through phases of development - from Learner (PGY1 year) to Manager (usually end of PGY1 year into PGY2 year) to Teacher/Leader (usually mid PGY2 year to end of training). The stages are defined below.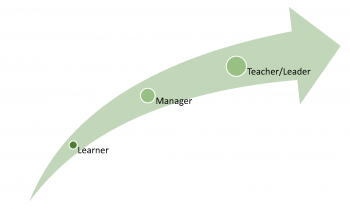 Learner - In the learner phase of training, an individual works under close supervision and coaching to achieve basic milestones in Internal Medicine. We use a deliberate practice model in which learners set milestone based goals, work to develop knowledge, skills and attitudes with direct observation and feedback from faculty, seniors and team members, and then based on feedback, set new goals. Supervisors are trained in "supervised autonomy" as a principle so that learners are not "directed" but coached to grow.
Manager - Once a learner reaches competency in all learner-level milestones, they advance to the manager phase of training. In this phase, one works to establish independence in the management of common Internal Medicine ambulatory and inpatient patient presentations. Our managers do not supervise learners, nor are they supervised by upper level residents. They work collaboratively on manager-level rotations with attending physicians to establish competence. Residents consider this the most challenging and most rewarding phase of training as they truly grow into clinical independence in this phase.
Teacher/Leader - Once a manager is considered independent in managing most common medical conditions, they advance to the teacher/leader phase of training. In this phase, they continue to gain the necessary experience over time in managing many medical conditions and they work on teaching and leadership skills. Their milestones during this phase are worded as phrases such as "can teach others...", "leads a healthcare team", "coordinates care across...", "role models for others...". It is in this level of training that our residents lead teams on the wards, in the ICUs, specialize in consultative care and serve in advanced roles in the ambulatory practice setting.
Schedule Structure
Our unique tandem block schedule was designed by residents and studied in an Internal Medicine residency. The schedule was created with the following goals in mind:
Separate inpatient/ambulatory responsibilities with dedicated curricula
Continuity in continuity clinic
Excellent coverage for continuity patient panel when on inpatient
Keeping inpatient teams together for evaluation, teamwork purposes
Maintaining four-week experiences for learning purposes
The tandem block schedule pairs four-week direct patient care inpatient experiences (wards/icu/specialty services - designated as "I" in schematic below) with other experiences (ambulatory, consults, research, electives - designated as A) in an alternating eight-week block schedule. The "A" designation indicates that the resident has continuity clinic three ½ days per week during that rotation. The residents are partnered together in practice partnerships so that one of the partners is always in clinic that week and manages outpatient responsibilities for the patient panels during that time. Residents do not have clinic during "I" blocks.
The schematic below represents two residents' schedules for the first 16 weeks of a year. Each column is two weeks. John and Stacey are clinic partners. They are in clinic 3 ½ days per week on A blocks.
Block Number (each block is two weeks)
| Resident | 1A | 1B | 2A | 2B | 3A | 3B | 4A | 4B |
| --- | --- | --- | --- | --- | --- | --- | --- | --- |
| John | ICU (I) | Pulm (A) | ICU (I) | Pulm (A) | Wards (I) | Amb (A) | Wards (I) | Amb (A) |
| Stacey | Geri (A) | Wards (I) | Geri (A) | Wards (I) | Amb (A) | Cards (I) | Amb (A) | Cards (I) |
Example Block Schedule
| | Learner | Manager | Teacher/Leader |
| --- | --- | --- | --- |
| | | | |
| --- | --- | --- | --- |
| Inpatient | | | |
| General Internal Medicine | 12 weeks | 8 weeks | 8 weeks |
| Cardiology | 4 weeks (floor) | | 4 weeks (ICU) |
| Neurology | | 4 weeks | |
| General Medicine Consultation/Co-Management | | 4 weeks | |
| ICU | 4 weeks | 4 weeks (includes nights) | 4 weeks (includes nights) |
| Night Medicine | 2 weeks | 4 weeks | 4 weeks |
| Emergency Medicine | 4 weeks | | |
| TOTAL INPATIENT TIME | 22 plus EM | 24 | 20 |
| --- | --- | --- | --- |
| | | | |
| --- | --- | --- | --- |
| Ambulatory/Consultation Medicine | | | |
| Ambulatory Block | 4 weeks | | |
| Nephrology | | | 4 weeks |
| Geriatrics | 4 weeks | | |
| Rural Health | 2 weeks | 4 weeks | |
| Cardiology | 4 weeks | | |
| Infectious Diseases | 2 weeks | | 2 weeks |
| Endocrinology | | 4 weeks | |
| Rheumatology | | 4 weeks | |
| Hematology/Oncology | 2 weeks | | 2 weeks |
| Palliative Care | | | 2 weeks |
| Gastroenterology | | | 4 weeks |
| Procedure/Ultrasound | | 2 weeks | |
| Sports Medicine | | | 2 weeks |
| Dermatology | | | 2 weeks |
| Pulmonary/Sleep Medicine | 4 weeks | | |
| Dogwood Health Trust | | 4 weeks | |
| QI/Safety | | | 2 weeks |
| Scholarship | | 4 weeks | 4 weeks |
| Elective | 4 weeks | 6 weeks | 8 weeks |
| TOTAL TIME | 52 weeks | 52 weeks | 52 weeks |
| --- | --- | --- | --- |
*Vacation taken from elective or specialty experience time (two weeks per year in pgy1, pgy2; three weeks per year in pgy3)
Electives (include but are not limited to)
Cardiology – ambulatory, consult, cardiac testing/imaging
Dermatology
Emergency Medicine
Endocrinology
Gastroenterology/hepatology
Geriatrics – ambulatory, nursing home care, home visits
Hematology/oncology
HIV ambulatory
Infectious disease – ambulatory
Information technology
International health
Lifestyle medicine
Nephrology – ambulatory, dialysis, consults
Neurology – ambulatory, consults, inpatient
Ophthalmology
Otolaryngology
Palliative care, Hospice medicine
Pulmonary – ambulatory, consults, sleep medicine
Psychiatry
Quality improvement project
Radiology
Rehabilitation medicine
Research/scholarship
Rheumatology – ambulatory
Rural health
Sports medicine
UNC away electives
Longitudinal Curriculum
Advocacy, policy
Business of medicine
Career planning and advising
Clinical reasoning
Communication skills
Diversity, equity, inclusion
Evidence-based medicine and high value care
Health disparities
Physical examination skills
Primary care
Procedure
Quality and Safety
Resident as Teacher
Scholarship
Wellbeing
53%
of residents are Women
25%
of residents identify as Underrepresented in Medicine
21%
of residents are Married
---
Resident Medical Schools
We are proud to recruit from all over the world!
---
---
---
---
Other Training Sites
Internal medicine residents rotate at a variety of rural health sites in Western North Carolina over their three years of training, including both ambulatory and inpatient experiences. In addition, electives are offered at the University of North Carolina Hospitals System and at a variety of other sites in and around Asheville, NC.
Interview Process
We will proceed in the 2023-24 match season in alignment with the AAIM Recommendations for the Internal Medicine Residency Interview Season. All applications will be reviewed based on holistic review principles and practices as outlined by the AAMC. We follow the framework outlined by the AAMC for resident assessment at multiple steps in our recruiting process. All faculty members and staff are trained in implicit bias, specifically as it pertains to the assessment of applicants; our process is designed to incorporate principles of mitigating bias.
We will start our review process on September 27th and will release invites in four different waves. Our first wave of invites will be released on October 11th. The second wave of invites will be released on October 20th. A third wave will be released on November 14th. A final wave of invites will be released on December 14th. All applicants whose application is submitted by October 1st will be notified by October 20th of their status: invited, under review, or declined. All applicants under review will have a final status identified by December 14th.
All applicants that accept an interview invitation within 48 hours will be guaranteed an interview slot.
All interviews for the 2023-24 season will be conducted virtually. Our half-day interview will include the following activities:
Program overview
Morning report session
Interviews with Program Director and faculty
Overview of outpatient clinic and Mission Hospital
Resident panel sessions
Benefits and Asheville information session
Informal resident meet and greet scheduled separately from interview date
Interview dates for the 2023-24 season are listed below.
Tuesday Mornings (7:00 am–11:30 am EST)

October 31
November 7, 14, 21, 28
December 5, 12, 19
January 9, 16, 23

Friday Afternoons (11:00 am–3:30 pm EST)

November 3, 10, 17
December 1, 8, 15, 22
January 5, 12, 19
Application Requirements
We review all applications through ERAS. We require the following components in the application in order to assist us with a full, holistic review:
ERAS application
Personal statement
MSPE
Four letters of recommendation, one of which must be a Department Chair's Letter or Department Summary Letter
USMLE or COMLEX documents (prefer Step 1 and 2 but may be reviewed if only one available)
Questions regarding the application process should be directed to Jenna Joyner at IM@mahec.net.
Eligibility and Selection Criteria
The Graduate Medical Education (GME) programs will select from among eligible applicants on the basis of residency program-related criteria such as their preparedness, ability, aptitude, academic credentials, communication skills, and personal qualities such as motivation and integrity.
Minimum Requirements
An applicant must meet or exceed the following minimum qualification(s) to be eligible for selection and appointment to MAHEC's GME residency programs:
Be a graduate of a medical school in the United States or Canada, accredited by the Liaison Committee on Medical Education (LCME); or
Be a graduate of a college of osteopathic medicine in the United States, accredited by the American Osteopathic Association (AOA); or
Be a graduate of a non-LCME- or AOA-approved medical school who also meets one of the following additional qualifications:

holds a currently-valid certificate from the Educational Commission for Foreign Medical Graduates (ECFMG) prior to appointment; or
holds a full and unrestricted license to practice medicine in a United States licensing jurisdiction in his or her current ACGME specialty/subspecialty program; or
has graduated from a medical school outside the United States and has completed a Fifth Pathway program provided by a LCME-accredited medical school.

Passed USMLE Steps 1 and 2 or COMLEX 1 and 2 within three attempts, as required by the North Carolina Medical Board.
Be eligible for a NC resident training license.
Be eligible to work in the U.S. (citizen, permanent resident, eligible visa including J1). MAHEC does not sponsor H1B or other visas.
International Medical Graduates
Special laws and regulations apply to international medical graduates who wish to enter the United States to undertake graduate medical education. MAHEC's policies and procedures regarding graduates of international medical schools comply with federal and state laws and regulations and MAHEC's commitment to graduate medical education.
Graduates of medical schools outside the United States and Canada must have a currently valid certificate from ECFMG. Applicants must successfully pass both Step 1 (basic medical) and Step 2 (clinical knowledge and skills) of the United States Medical Licensing Examination (USMLE).
While MAHEC does not sponsor a visa, the international medical graduate applicant must also possess a current/valid visa option or other status governed by the U.S. Immigration Regulations to participate in a GME program.
Finally, the North Carolina Medical Board requires that physicians who are graduates of schools that are not accredited by the LCME or the AOA (foreign medical schools) must be individually certified by ECFMG, have successfully completed at least three years of accredited graduate medical training, and have passed the USMLE or its equivalent to be eligible for application for full licensure. An international medical graduate must complete all other application requirements required by MAHEC and the GME program.