If you are considering postgraduate dental education, we at the Mountain Area Health Education Center (MAHEC) in Asheville, NC, would be honored to have you consider our General Practice Residency (GPR) Program.
We have state-of-the-art dental health centers, cone beam computed tomography (CBCT), in-clinic digital scanners, in-house milling, soft tissue laser, in-house information technology support, a world-class simulation center, teleconference capabilities, and a medical library staff dedicated to resident and faculty needs. We also provide care in public schools and under general anesthesia in nearby hospital and surgery center facilities.
Our program's emphasis is on comprehensive dentistry including treatment planning and sequencing of complex restorative cases, implantology, periodontology, rotary endodontics, advanced restorative dentistry, and removable prosthodontics. Residents will experience rotations in the hospital environment and outpatient surgical centers to include basic anesthesiology, family medicine, and pediatric dentistry. Residents will receive clinical and didactic instructions from visiting dental specialists in oral surgery, endodontics, pedodontics, periodontics, orthodontics, implantology, and other areas of interest.
Asheville, NC, has named as one of the most desirable places in the country to live, work, and play. Our climate is reasonably mild year-round and outdoor activities abound. Yes, we will give you some play time!
We hope you will consider the MAHEC General Practice Residency Program as a place to further your dental education. We are user friendly. Please contact us with any questions you may have or to arrange a tour of our campus.
Sincerely,
Contact
---
Values Statement
Excellence: We deliver quality activities and services that our customers and partners value.
Diversity: We promote equity and inclusivity.
Integrity: We act with fairness, transparency, and the highest level of ethics.
Collaboration: We value partnerships and support interprofessional approaches.
Improvement: We continuously innovate and improve our work.
Foundational Principles
Civility: We treat all people with respect and kindness, all the time.
Inclusivity: We value the contribution of people different than ourselves and the merits of an organization that reflects differences in our teams and our community.
Empowerment: We value engagement, commitment, and ownership of MAHEC's mission, work, and budget.
Our Commitment
MAHEC is committed to creating an equitable and inclusive place to work, learn, and receive care. We actively recruit physicians, staff, and students from underrepresented minorities, and we strive to implement policies and procedures that value and support diverse backgrounds and experiences. MAHEC does not discriminate on the basis of socioeconomic status, race, ethnicity, sexual orientation, gender identity or expression, spiritual practice, geography, disability, or age.
This program is supported by the Health Resources and Services Administration (HRSA) of the U.S. Department of Health and Human Services (HHS) as part of an award totaling $1,656,886 with 0 percent financed with non-governmental sources. The contents are those of the author(s) and do not necessarily represent the official views of, nor an endorsement by, HRSA, HHS, or the U.S. Government. For more information, please visit HRSA.gov.
Purpose
Advanced education programs in general practice residency are designed to provide training beyond the level of pre-doctoral education in oral healthcare, using applied basic and behavioral sciences. Education in these programs is based on the concept that oral health is an integral and interactive part of total health. MAHEC's residency training is designed to expand the scope and depth of the graduates' knowledge and skills to enable them to provide comprehensive oral healthcare to a wide range of population groups. A private practice environment is maintained to assist residents in the transition from academics to "real world" dentistry.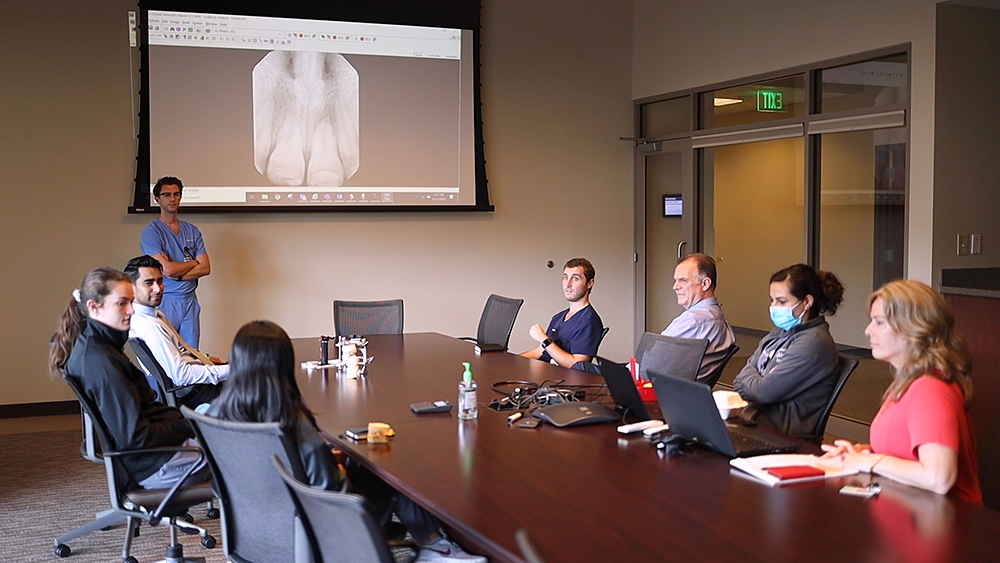 Formal Goals and Objectives
Provide comprehensive general dental care and resident education that is beyond the levels achieved as an undergraduate in order to provide care for healthy patients and those with complex medical conditions; utilizing all phases of dentistry to provide that care.
Learn to make fundamentally sound decisions in assessing, diagnosing and planning treatment for both routine and complex cases; incorporating health promotion and staff management principles.
Act as a primary dental care provider; coordinating the services of dental specialists and other healthcare specialists in the overall care of the patient; coordinating the services of dental specialists and other healthcare specialists in the overall care of the patient.
Function in a hospital environment and communicate effectively within interdisciplinary healthcare teams.
Understand oral healthcare needs of the community and engage in community service, teaching, and continuing education.
Demonstrate enhanced skills in continual self-assessment and professional improvement. Demonstrate the application and principles of ethical reasoning, decision making, and professional responsibilities.
Definition of Community Service: The dental residents will have an opportunity to contribute to the oral health of the underserved and elderly citizens of Western North Carolina through rotations at the MAHEC Dental Health Center rural clinical site(s).
Specific Program Objectives
Act as Primary Healthcare Provider
Assess, diagnose and plan for the provision of multidisciplinary oral healthcare for a wide variety of patients including patients with disabilities. Manage the delivery of patient-focused oral healthcare.
Operative Dentistry
Understand properties and indications for dental materials. Develop skills in restoring a variety of dental preparations. Develop skills in working with a dental assistant.
Replacement of Teeth
Develop skills in treatment planning the partially and fully edentulous patient. Understand the principles of utilizing various modalities in restoring the partially edentulous arch, including implants. Develop skills to effectively communicate with dental laboratory technicians.
Periodontal Therapy
Diagnose and develop treatment plan based on periodontal status. Diagnose and treat mild to moderate periodontal disease using non-surgical methods, evaluate the results of periodontal treatment. Manage advanced periodontal disease and periodontal maintenance.
Endodontic Therapy
Gain exposure to current concepts in pulpal therapy and modalities of treatment. Diagnose and treat pain of pulpal origin by performing non-surgical endodontic therapy in the primary and permanent dentition.
Oral Surgery
Understand indications for simple and surgical extractions. Perform simple and surgical extractions. If situation presents, perform soft tissue biopsies. Perform simple pre-prosthetic surgeries. Manage patients admitted to hospital by medical colleagues as it relates to providing oral surgery care as needed in an OR setting.
Dental Emergencies
Evaluate and treat patients with dental emergencies, including post-operative complications from dental treatment, pain, infection and/or trauma.
Pain and Anxiety Control
Understand basics of local anesthesia. Understand gradients of enteral sedation. Provide OCS as cases present. Provide nitrous oxide sedation on a regular basis.
Management of Medical Emergencies
Recognize, diagnose and provide initial management for medical emergencies that may occur in the dental office.
Management of Implants
Demonstrate knowledge of dental implant indications. Perform dental implant surgeries and perform dental implant restorations as cases present.
Management of Oral Mucosal Diseases
Diagnose and offer treatment and/or referral for various oral lesions.
Management of Temporomandibular Disorders
Determine working diagnosis and treatment and/or referral based on EBD.
Medical Risk Assessment
Recognize deviations for optimal health status that may affect dental management. Determine ASA Status on dental patients.
Practice Management
Apply the principles of practice management to everyday dental practice.
Ethics
Apply the principles of ethical reasoning, ethical decision making, and professional responsibility as they pertain to patient care and practice management.
Alumni Comments
Program Length
The General Practice Residency (GPR) Program consists of 12 months of advanced dental education in clinical dentistry and is conducted primarily within a private practice environment but also with hospital experience at Mission Hospital. An optional second year may be available.
The program begins July 1st and concludes June 30th of the following year. Residents are required to come two weeks in June for organizational and program orientations for which they are financially compensated.
Rotations
MAHEC Dental Health Center
Residents spend approximately 35 weeks of their year at the Dental Health Center. The majority of time is spent providing hands-on comprehensive patient treatment. This time is spread out during the entire year to assure continuity of care. During this time residents gain a wide variety of experiences by providing complex dental treatment for primarily ambulatory patients. Opportunities exist for providing comprehensive dental care, including fixed and removable prosthodontics, implant restoration, rotary endodontics, periodontics, implant placement, oral surgery, and advanced operative dentistry. Residents also gain extensive experience in management of patients with complex medical conditions and those with special needs.
Anesthesia
During this rotation, residents actively participate at Mission Hospital through the Department of Anesthesiology. Residents will also receive simulated experiences at the MAHEC Simulation Center. Residents receive experience in physical evaluation of the pre-anesthetic patient, starting and maintaining intravenous lines, oral and/or nasal intubation, monitoring vital signs, maintaining optimum airways, recognizing potential medical emergency situations related to anesthesia, utilizing various equipment/instrumentation for monitoring the anesthetized patient, and patient recovery.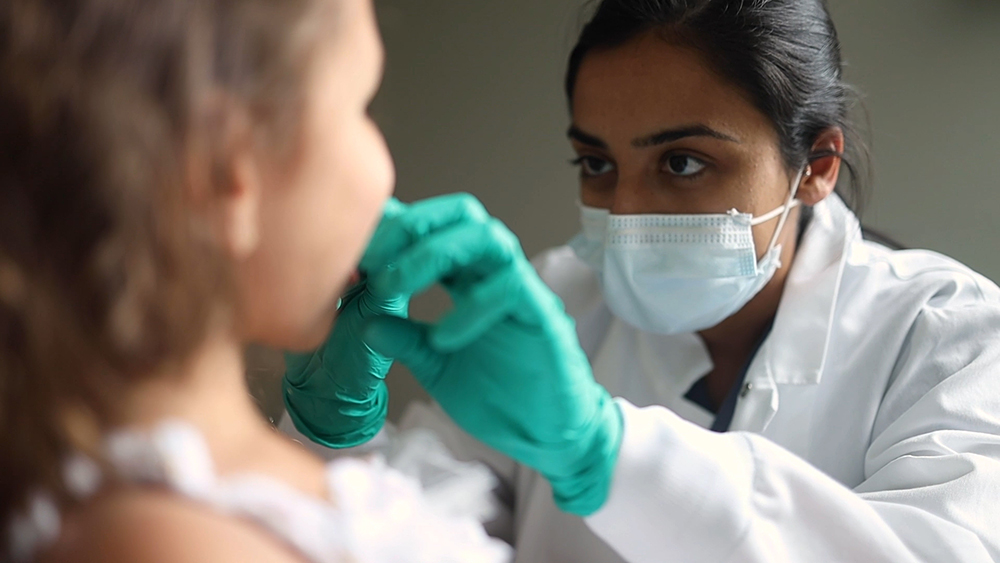 Family Medicine
The residents will be assigned to a block rotation in the inpatient Family Practice Service and outpatient Family Health Center with a PGY 2 and/or PGY 3 resident physician in the Family Medicine Asheville Residency Program.
Columbus Community Rotation
The residents will participate in providing dental care to a community underserved by dental care resources at our rural health community-based clinic, MAHEC Dental Health Center at Columbus located in Polk County. During this time, they will perform both comprehensive and emergency treatment for patients of all ages.
IDD/Pediatric Rotation
During this rotation, residents may observe, assist, or perform dental procedures on pediatric and IDD patients under general anesthesia and/or in a community-based setting through MAHEC's school-based program. They will also participate in pre-surgical assessment and post-surgical follow-up care for patients seen in the operating room.
Didactics
The residents receive a formal course in physical diagnosis as well as selected courses during the year at discretion of the residency director. Approximately 100 hours of didactic lecture are given in all specialties of dentistry as well as oral medicine, dental materials, practice management, and infection control. Residents are eligible to attend all MAHEC sponsored dental continuing education programs as well as relevant conferences at Mission Hospital, with director approval.
MAHEC Dental Health Center at Asheville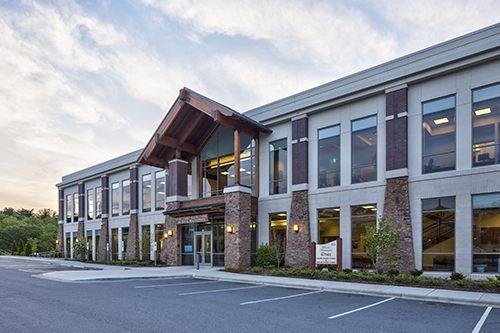 The original dental facility opened its doors in April 2007 on McDowell Street in Asheville. The program moved to MAHEC's Biltmore campus in August 2013. The Dental Health Center is located in the same building as MAHEC's family health and internal medicine practices and numerous residency and fellowship programs. MAHEC's Biltmore campus is also home to MAHEC Ob/Gyn Specialists, MAHEC Center for Psychiatry and Mental Wellness, a state-of-the-art medical simulation center, and UNC Health Sciences at MAHEC—an interdisciplinary academic health center with programs affiliated with UNC's top-ranked schools of medicine, pharmacy, public health, and dentistry.
The Dental Health Center space offers a large waiting area as well as digital displays to help us communicate information, tips, and timely reminders for patients while they wait. Our treatment rooms provide the opportunity for comprehensive care for patients including cosmetic fillings, crowns and veneers, reconstructive full mouth dentistry, precision partial dentures, custom dentures, non-surgical and surgical treatment for periodontal (gum) disease, oral surgery, and teeth whitening. There is also a new resident work room, a state-of-the-art training room, and large conference room that have all been redesigned to provide for an improved experience for our patients, faculty, residents, and staff.
---
MAHEC Dental Health Center at Columbus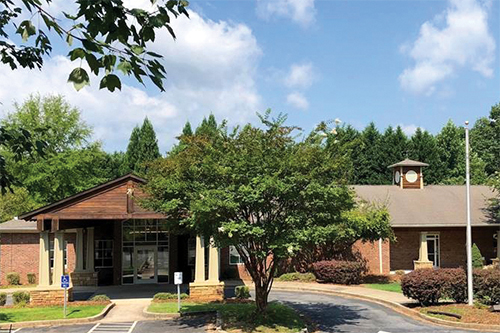 In 2016, MAHEC, St. Luke's Hospital, Isothermal Community College, and UNC Chapel Hill Adams School of Dentistry formed a partnership to address the shortage of primary care and oral healthcare providers in Polk and Rutherford counties where emergency department visits for dental complaints and non-urgent routine healthcare needs were on the rise. Statewide, the rate of emergency department visits for dental needs is twice the national average and even higher in rural areas like Western North Carolina.
MAHEC renovated an office building on the campus of St. Luke's Hospital to support state-of-the-art family medicine and general dentistry practices. This collaborative teaching site is home to MAHEC Dental Health Center at Columbus and Foothills Medical Associates, a primary care practice affiliated with St. Luke's Hospital. MAHEC's dental practice is staffed by general practitioners, residents, and rural oral health scholars from UNC Adams School of Dentistry. Dental assisting students from Isothermal Community College use MAHEC's classroom and lab space and participate in clinical training at MAHEC's dental practices in Columbus and Asheville. Foothills Medical Associates trains medical and pharmacy students from UNC's Asheville campuses in addition to other health professions learners, making this a robust teaching site that provides numerous opportunities for learners of all kinds to practice interprofessional team-based care.
---
Mission Hospital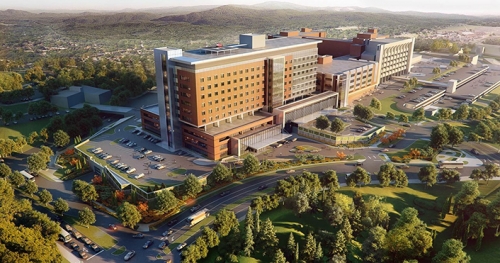 MAHEC residents train at Mission Hospital, a part of the Mission Health system and a regional referral center for 16 counties in Western North Carolina and parts of TN, SC, WV, and VA. The medical staff is comprised of approximately 650 physicians, with nearly all subspecialties available. Mission is an 815-bed hospital, featuring state-of-the-art facilities. The Emergency Department at Mission averages over 95,000 patient visits per year.
In 2020, Mission Hospital was named North Carolina's Best Hospital by Business North Carolina; it is one of the busiest hospitals in the state. Read more about Mission's various accolades here.
Application Requirements
Applicants must be a graduate of a fully accredited North American Dental school. Applicants must be eligible to obtain a state dental license prior to starting residency. All application forms must be received by October 1st for admission in July.
Resident selection is based on the following criteria:
Class standing and GPA
Letters of recommendation
Interview
PASS Application
Participation in the PASS application program is mandatory. In order to meet the October 1st application deadline, completed PASS documents should be submitted to the PASS office no later than September 20th of the year preceding the year for which the applicant is applying.
As an institution of higher education and in the spirit of its policies of equal employment opportunity, MAHEC hereby reaffirms its policy of equal educational opportunity. All applicants for admissions will be considered without regard to an applicant's race, color, sex, sexual orientation, age, natural origin, disability unrelated to program performance, disabled veteran status, or Vietnam veteran status.
New resident dentists are required to participate in all orientation activities prior to July 1st. Financial compensation will be provided for this time. The orientation schedule will be sent to the resident dentist by the program director or their designee.
Additional Application Requirements
Please submit these to Michelle Pittman at michelle.pittman@mahec.net
2x2 photo
Curriculum Vitae (CV)
Copy of state dental license (if candidate has a current one)
Student Opportunities
We offer a 30-minute Webex meeting with Dr. Valdez. Please contact the residency program administrator, Michelle Pittman, at michelle.pittman@mahec.net to arrange a time.
Open to 3rd year students only
Offer available January through April

Tuesday mornings and Friday afternoons are excluded
Questions regarding the application process should be directed to the residency program administrator, Michelle Pittman.