Centering Pregnancy is MAHEC's preferred model of care during your pregnancy.
View the long version of our program overview here.
While traditional prenatal care is always an option at MAHEC Ob/Gyn Specialists, we also offer Centering Pregnancy, an evidence-based model of group prenatal care recommended by the American College of Obstetricians and Gynecologists based on studies that show group prenatal care can improve birth outcomes, patient education, social support, and patient satisfaction - which you'll see in the testimonials below!
Centering Pregnancy reduces risks for preterm delivery, low birth weight, and cesarean section. Our group approach gives families more time with dedicated providers to explore healthy pregnancy and parenting information in a supportive environment with families at similar stages in their pregnancy journey.
We find families really enjoy the extra support they receive in our Centering Pregnancy groups, and we encourage you to give this evidence-based approach a try. You can learn more about our preferred model of care in the videos and information below:
Centering Pregnancy is a way for you to share learning and experiences with other pregnant women and to be involved in your own care.
Centering Pregnancy includes a traditional health checkup with additional time and attention in a setting with other expectant parents. You'll have your one-on-one healthcare checkup with your provider. Then you will join other women, who are due near the same time, for shared discussion of all things related to pregnancy, birth, the postpartum period, and parenthood.
If you are interested in this model of care and would like more information, please email us at centeringinfo@mahec.net.
Centering Pregnancy Benefits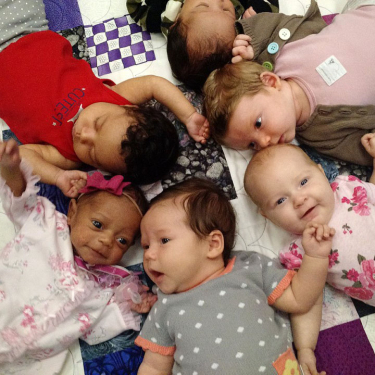 Better Health Outcomes
Numerous studies have shown that Centering Moms have fewer preterm deliveries and overall healthier babies.
"Give it a chance - you really will love it!"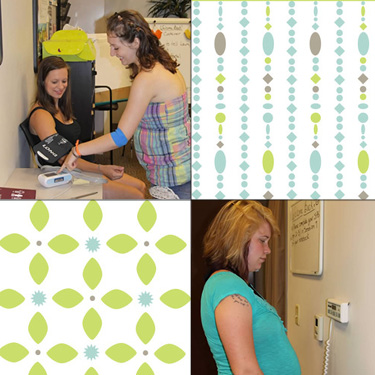 Self-Care
Moms are actively engaged in their own healthcare.
"We covered things that I never would have thought to ask or discuss."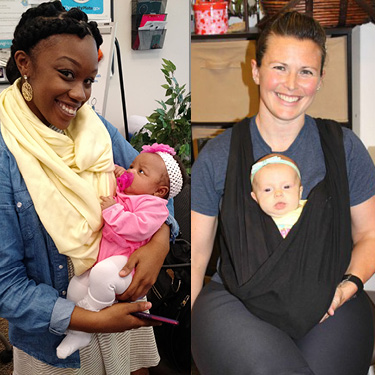 Self-Confidence
Centering moms are better prepared for labor, delivery, and the care of their infant. Centering moms better understand what is normal during pregnancy, and what is cause for concern.
"Centering is more personal and so much more fun than waiting rooms!"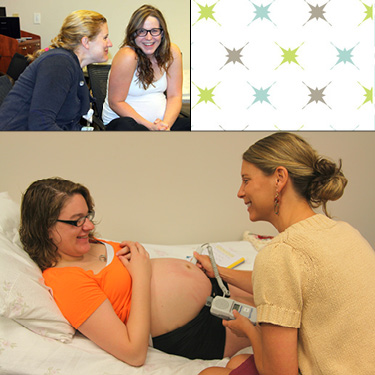 More Time With Your Providers
Moms in Centering spend 12 times more time with their providers than women in traditional care.
"I loved the ability to talk more extensively with the professionals we were given access to."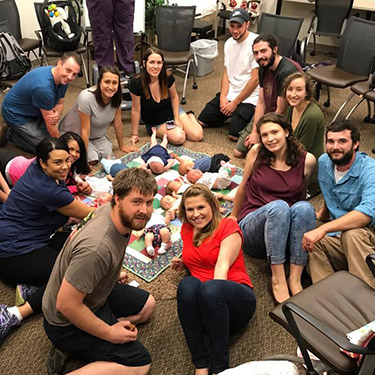 Support and Friendship
Women enjoy being with other women, and their support people, who are going through a similar experience. This gives them an opportunity to share their knowledge and learn from one another and the wisdom of the group. Centering parents create lasting friendships.
"I felt extra supported sharing the experience with other pregnant women and the wonderful MAHEC staff."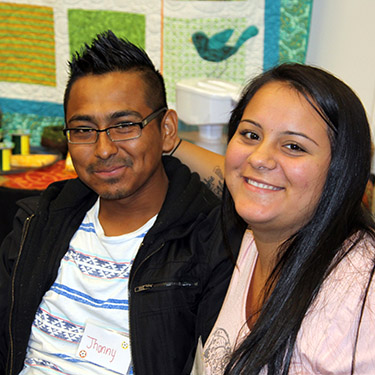 Learning and FUN
The most common word used to describe Centering is FUN! In Centering, you are actively engaged and involved in a discussion with your peers, rather than being lectured to or given a pamphlet. Healthy, delicious snacks, interactive activities, and music are a part of every session.
"Best two hours of my day! I'm going to miss my group so much."
Our Facilitators
Our facilitators are committed to helping you have the best pregnancy possible in an empowering and supportive community of Centering families. Your facilitators will be with you throughout your pregnancy journey and are excited to support you as you grow your family. You'll have plenty of time to get to know each other in the coming months, but you can learn a little more in our short introductions below.
Additional Resources
Our midwifery service offers care for women throughout their lifetime. We are honored to work with you as you embark on the incredible journey of pregnancy, childbirth and beyond!
Services include:
Comprehensive personalized pregnancy care
Preconception care
In house consultation with maternal-fetal specialists
In house ultrasound and laboratory
Well woman care, including annual exams and pap smears
Birth control, including IUDs and natural family planning
Menopause care
Our midwives do not participate in the 24/7 call schedule at Mission, but instead we adopt a team-based approach that fully integrates the CNMs into our group practice.
Our Midwives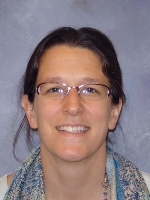 Aimee Feste, CNM
Certified Nurse Midwife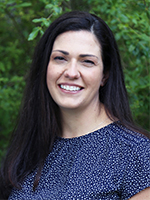 Cheryl Harrington, MSN, CNM
Certified Nurse Midwife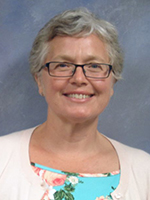 Laurie Jenkins, CNM, MSN
Certified Nurse Midwife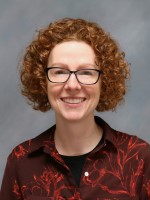 Wendy Jones, CNM
Certified Nurse Midwife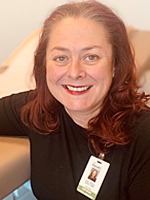 Judi Layton, MSN, CNM
Certified Nurse Midwife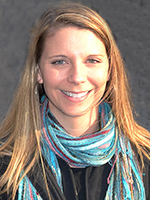 Amanda Murphy, CNM, MSN
Certified Nurse Midwife
Dolly Pressley Byrd, CNM, PhD
Assistant Medical Director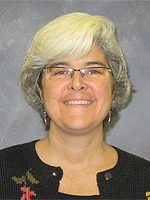 Evan Richardson, CNM
Certified Nurse Midwife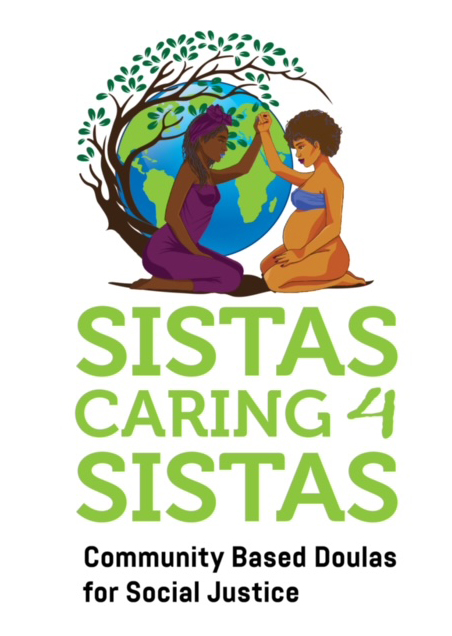 A certified doula is a trained professional who provides continuous physical, emotional, and informational support to a mother before, during, and after childbirth to support her in achieving the healthiest, most satisfying birth and postpartum experience possible.
SistasCaring4Sistas doulas provide support before, during, and after labor and delivery to encourage healthy outcomes for mothers and babies. Doula services are available to MAHEC patients regardless of their ability to pay. Priority is given to mothers of color and those with the highest risk who could benefit most from doula services. As we build community capacity, we hope to make our services available to all women who would like them.
Our program is located at MAHEC Ob/Gyn Specialists, but our doulas also work with MAHEC family medicine providers. Doulas attend prenatal visits, when requested, visit clients in their homes, and attend births at the hospital.
Contact
Call us at 828-620-9828 or 828-216-2606 to learn how our doulas could support you or a friend or family member.
Our Services
Childbirth education
Attend prenatal visits with you
Assist with birth planning
Provide support during labor and delivery
Provide breastfeeding support
Visit you at home after the baby is born
Help you access medical and community resources
Advocate on your behalf
The Benefits of Using a Doula
Reduce pitocin use by 31%
Reduce cesarean births by 28%
Reduce birth trauma by 34%
Increase breastfeeding rates by 9%
Clinical

Reduced need for pain medication
Better Apgar scores for baby
Greater satisfaction with the birth experience

Emotional

Decreased anxiety
Improved confidence and self esteem
Improved postpartum mental health

Physical

Improved relaxation
Improved comfort
Lactation support
Source: DONA International
Women who meet our screening criteria are paired with a doula who will be their primary support person throughout the pregnancy. SistasCaring4Sistas doulas provide coverage for each other during births, so it is possible that another doula will provide you with support from time to time. All of our doulas do their best to ensure your birth goals are understood and honored by those providing your care.
Our Doulas
Learn about SC4S' entire team of doulas on their website - click here
Our History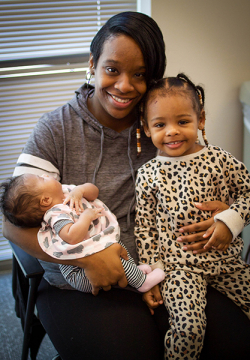 Our Past
SistasCaring4Sistas was founded in November 2016 by Nikita Smart, Wakina Norris, Sade Muskatem, and Cindy McMillan - all active members of the Mothering Asheville movement. At that time, babies born to women of color in Buncombe County were three times more likely to die in the first year of life than white babies.
When the founders learned that having doula support could help reverse this trend, they decided to pursue training through Homegrown Babies and DONA International with the support of MAHEC and a generous grant from the Blue Cross NC Foundation.
Our Present
After earning their certification in 2016, SistasCaring4Sistas began providing doula services through MAHEC to support mothers at any point during their pregnancy from their first prenatal visit through labor and postpartum at home. Since then, each doula has pursued additional training in childbirth education, breastfeeding support, postpartum (after-birth care), and peer support for women who have mental health and/or substance use challenges.
To date, SistasCaring4Sistas has supported more than 100 women through pregnancy, labor, delivery, and postpartum; and we welcome new clients every month.
SistasCaring4Sistas is just that: sistas who co-create safe spaces and assist sistas in empowering themselves by creating positive birth experiences and outcomes that promote healthy families and community connections.
Our Future
SistasCaring4Sistas will eradicate disparities in maternal and infant mortality by providing education and doula services before, during, and after pregnancy for families who face adverse maternal health outcomes. We will build sustainable community capacity and form lasting connections with our clients through open lines of communication and wraparound resources.
About Mothering Asheville
Mothering Asheville is a collaborative community-centered health movement focused on eliminating inequities in infant mortality in Buncombe County. An ever-growing movement, community partners include SistasCaring4Sistas, MAHEC, Buncombe County's Nurse Family Partnership, YWCA Asheville, Asheville-Buncombe Institute for Parity Achievement (ABIPA), and Pisgah Legal Services.
More About Us
What is a maternal-fetal medicine specialist?
Maternal-fetal medicine (MFM) specialists are high-risk pregnancy experts who oversee complicated pregnancies. MFM physicians work collaboratively with other clinical specialists including certified nurse midwives, nurse practitioners, physician's assistants, and general obstetrician-gynecologists; to keep expectant moms safe and healthy prior to, during and shortly after pregnancy. Our specialists offer prenatal ultrasounds and related screening and diagnostic tests, develop interdisciplinary care plans. administer treatments and perform surgeries depending on the type and severity of complications.
Patients are referred to one of our MFM specialists if she and/or her baby are prone to serious health risks during pregnancy or following delivery. These women meet with our MFM physicians for a consultation, an ultrasound exam or perhaps both. Since there are many different types of appointments available, our staff will work with your healthcare provider to ensure that you are scheduled for the appropriate type of care.
Miracle Babies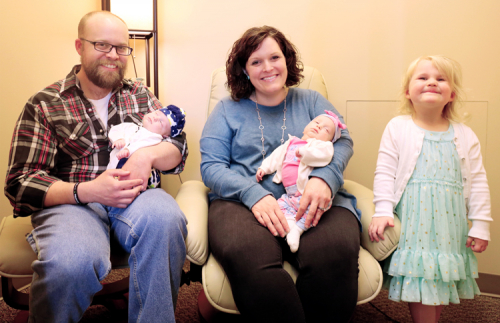 Jeremy and Bonnie with their identical twin girls from the same amniotic sac—an uncommon and high risk type of twin that can result in the loss of both babies.
"We just had a lot to process because we wanted to get excited about the pregnancy, but there was a also a lot of fear." — Bonnie
Why might I be referred to an MFM specialist?
There are several reasons why you would need to consult with an MFM physician during your pregnancy. You may be referred to us if:
You have a preexisting medical condition or one that has developed during pregnancy (e.g. diabetes, high blood pressure, kidney disease, hypertension, autoimmune disorder, thrombophilia, etc.)
You have a history of complications during pregnancy or delivery (e.g. incompetent cervix, preterm labor, preterm birth, preeclampsia, alloimmunization, premature rupture of the membranes, etc.)
You have a history of pregnancy losses
You are expecting more than one baby (twins, triplets, quadruplets, etc.)
You have had previously, or are expecting currently, a baby with a structural or genetic difference
If you exhibit any of the above at-risk conditions, you will meet with an MFM physician to review your medical, previous pregnancy and family history. Any current or expected complications during your pregnancy will be discussed and a physical exam will be performed, if necessary. Our specialists will be happy to discuss any potential maternal and fetal risks with you in detail and make recommendations for tests and/or treatments to improve the likelihood of a successful pregnancy.
What can an ultrasound reveal about the health of my pregnancy?
Depending on the reason for your visit, you may have an ultrasound performed as part of your initial appointment with one of our MFM specialists. Ultrasound is an important diagnostic tool that can help evaluate fetal health. Ultrasound is used to:
Document the number of babies in the uterus
Measure the size of the baby to predict the due date
Observe the baby's growth rate by making many measurements over time
Check the location of the placenta and its attachment to the umbilical cord
Determine whether or not there is an appropriate amount of amniotic fluid around the baby
Evaluate fetal organ systems and well-being
Determine the position of the baby to see if it is in the normal, head-down position in time for labor
Monitor the baby during specialized procedures, such as amniocentesis (sampling of the amniotic fluid with a needle for genetic and other testing)
Why might I consider participating in genetic counseling?
Genetic counseling is available for women who are currently pregnant or considering having a child in the future. MAHEC partners with the Mission Fullerton Genetics Center to provide the highest quality care for our at-risk patients. You may meet with a genetic counselor if:
You will be 35 years of age or older at the time of delivery
Your ultrasound results reveal a known or suspected structural birth difference
You receive an abnormal prenatal or genetic screening test result (e.g. First Trimester Screen, Quad screen, cell free fetal DNA screen, cystic fibrosis screen, etc.)
You have an illness that may be associated with an increased risk for structural birth differences (e.g. diabetes, PKU, etc.)
You are taking medication that may be associated with an increased risk for structural birth differences (e.g. seizures, autoimmune disease, etc.)
You have been exposed to something that may be associated with an increased risk for structural birth differences (e.g. drug/alcohol use, chemicals, certain infections, etc.)
You have a family history of genetic conditions, chromosome or structural birth differences (e.g. cystic fibrosis, sickle cell disease, open neural tube, etc.)
Substance use during pregnancy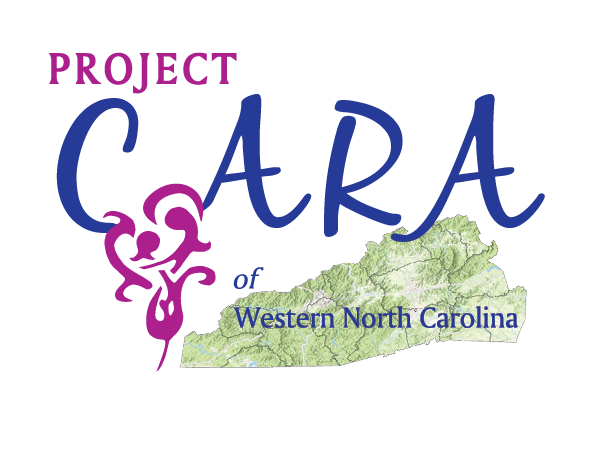 If you are pregnant and struggling with a substance use disorder (drug/alcohol addiction), please visit MAHEC's Project CARA to learn more about treatment options, specialty obstetric services, medication assisted treatment, counseling and other community resources.
Maternal-Fetal Medicine Team
Our dedicated staff is made up of the only board-certified MFM physicians in the region aided by two exceptional nurse practitioners with special expertise in high-risk obstetrics. This team specializes in providing care for women who are 'at risk' and considering pregnancy or those who are already pregnant and 'high-risk' or complicated for a variety of reasons. We see patients who are undergoing diagnostic or therapeutic procedures such as comprehensive ultrasound, chorionic villus sampling, and genetic amniocentesis. We also consult on patients with medical and surgical disorders coincident with or prior to pregnancy including heart disease, chronic hypertension, diabetes and other endocrine disorders, kidney and gastrointestinal diseases, and infectious diseases. Otherwise healthy women who may require these services are those whose pregnancies are at markedly increased risk for adverse outcomes such as those with abnormal serum screens, multiple gestations, recurrent preterm labor, premature rupture of membranes, or growth abnormalities of the fetus.
Ultrasound Technicians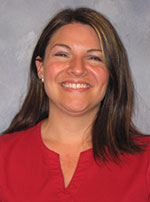 Kelly Duncan
Ultrasound Technologist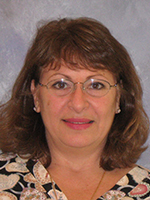 Sharen Fowler
Ultrasound Technologist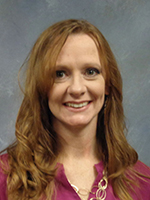 Amy Frazier, RT(R), RDMS
Ultrasound Technologist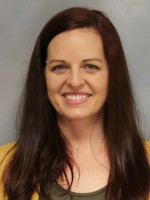 Stephanie Gutierrez
OB/MFM Sonographer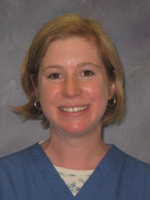 Megan Hartman
Ultrasound Technologist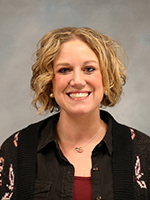 Jamie Henson
Ultrasound Technologist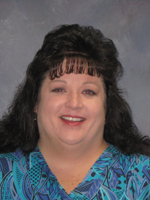 Lisa McCarson
Senior Ultrasound Technologist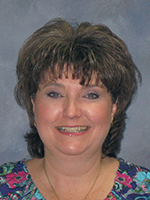 Kim Meade
Ultrasound Technologist