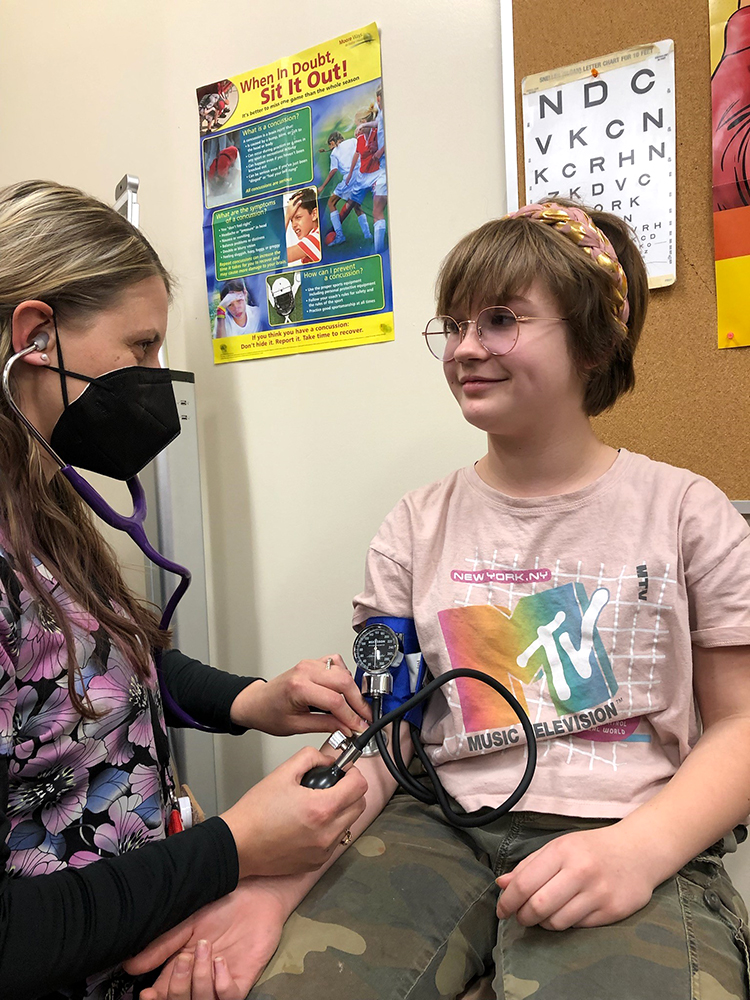 MAHEC provides comprehensive school health services to approximately 30,000 students in 62 K-12 schools in collaboration with Asheville City Schools, Buncombe County Schools, and area charter schools.
MAHEC also supports school nurses across Western North Carolina and the state through online and in-person clinical training, certification exam reviews, and leadership in the School Nurse Association of North Carolina at the regional and state levels.
School Nurses
School nurses help students reach their full academic potential by addressing a variety of health and safety needs at school so students can focus on learning.
MAHEC supports 35 school nurses, most of whom are assigned to at least two schools in Asheville City or Buncombe County school districts. They are present at a school approximately 2 and 1/2 days per week. Nurses may work in teams to provide services to larger groups of students. A school nurse is always available by phone for each school.
Physician champions at MAHEC work with school nurses to review health protocols and procedures to ensure quality of care for a wide range of student health needs including concussion care.
School nurses can access ongoing training at MAHEC and participate in interprofessional research initiatives at UNC Health Sciences at MAHEC.
Student Health Program Initiatives
Multi-Tiered System of Support
MAHEC school nurses provide integrated support for students' mental and physical health needs at all levels from disease prevention and wellness initiatives to chronic and complex condition management.
Social Determinants of Health
School nurses work to address social determinants of health that affect students' well-being and ability to learn including poverty, housing instability, food insecurity, and access to healthcare services and resources.
Population Health
Immunization compliance reduces the risk of vaccine-preventable communicable diseases for both students and staff. Prevention of communicable disease takes place through proper hygiene education and measures taught by the school nurses. In addition, the school nurses work in tandem with the Buncombe County Department of Health and Human Services to prevent the spread of diseases during outbreaks.
Emergency Preparedness and Trauma Resiliency
School nurses help teachers, staff, and families develop emergency plans and staff training for students with chronic and/or complex health conditions. They also teach students self-regulation, mindfulness, and other skills to help build resiliency in response to trauma and stress.
Substance Use Prevention and Harm Reduction
MAHEC helped secure naloxone and staff training for Buncombe County and Asheville City high schools to reduce the risk for opioid overdose deaths. School nurses provide ongoing substance use prevention education and provide mentorship for student-led initiatives like the Student Summit 2020 to raise awareness around opioids, vaping, leadership skills, and resiliency.