Project PROMISE (Providing Rural Opportunities in Medicine through Inspiring Service and Education) provides experiential learning opportunities for motivated rural high school students with a sincere interest in healthcare. PROMISE students can use the knowledge they acquire during internships, workshops, and summer camps to give back to their community. Program activities are designed to assist and inspire rural students to pursue health professions while nurturing in them a sense of pride and commitment to serving their rural communities.
Project PROMISE was started in the fall of 2014 by two medical students at UNC Chapel Hill School of Medicine who planned to practice primary care in Western North Carolina. Originally supported by an Albert Schweitzer Fellowship, Project PROMISE is one of several initiatives led by MAHEC's Rural Health Initiative team to fundamentally transform health and the quality of life in our rural counties.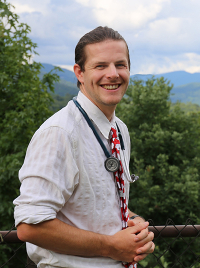 "We can provide incentives to attract healthcare professionals to the area from other parts of the country, and such measures will help. But imagine a community that trains its own students and supports them in their path to a healthcare profession. Envision practitioners returning who were once students in these mountains and know the needs of the community best - this is Project PROMISE."
Rivers Woodward, MD, Project PROMISE co-founder
The Project PROMISE internship experience is designed for high school juniors and seniors who are interested in pursuing a healthcare career such as, but not limited to, a physician, physician assistant, nurse practitioner, dentist, pharmacist, or physical therapist. Internships are available to students from Madison, McDowell, Mitchell, and Yancey counties who are participating in a school-sanctioned internship for course credit.
This internship provides a minimum of 135 credit hours for up to three high school juniors and seniors from each eligible school. During their spring semester, students spend every afternoon in a clinical or healthcare-related setting learning from local practitioners in their community. These internships are carefully designed to provide students with the additional support and exposure that are vital for pursuing a career in healthcare.
Clinical Shadowing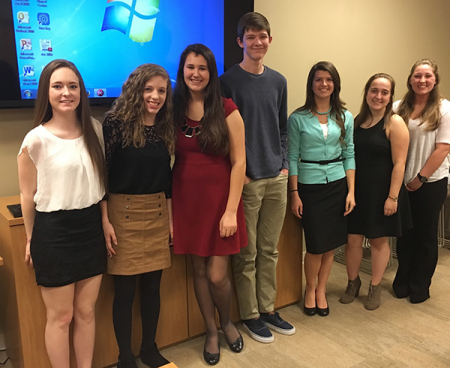 Student interns have the opportunity to shadow healthcare professionals in a variety of disciplines and settings including
Ob/gyn
Pediatrics
Palliative care
Family medicine
Public health
Dentistry
Geriatrics
Physical therapy
Pharmacotherapy
Internal medicine
Wound care
General surgery
Additional Internship Components
Training in diversity, online research skills, HIPAA, OSHA, and professional etiquette.
Opportunties to participate in MAHEC programs focused on academic enrichment, college planning, service learning opportunities, and oral and written communication skills.
Mentorship by a third- or fourth-year medical student from the UNC School of Medicine Asheville campus who can provide guidance on preparing for a healthcare career.
Eligibility Requirements
Project PROMISE interns are mature, focused, responsible, dependable, and able to follow directions; need minimal supervision; and have good oral and written communication skills and a positive attitude. Applicants should be
rising high school juniors and seniors with a strong desire to pursue a healthcare career
interested in returning to WNC to practice
good students with a minimum weighted GPA of 3.0
registered in a Madison, McDowell, Mitchell, or Yancey county public school
recommended by teachers with excellent references
active in work and/or community service
able to access reliable transportation
Community-Based Focus
We believe that a sustainable workforce development program must be firmly rooted in the communities it serves. By engaging local providers as teachers and collaborating with local organizations, we are collectively investing in the success of these students and their rural communities.
Contact
For more information, or to request an internship application, please contact Bryan.McClure@mahec.net.
Project PROMISE workshops are led by healthcare professionals and medical students in partnership with health sciences teachers and career and technical education (CTE) coordinators in rural WNC high schools. These hands-on workshops are currently available for students in numerous WNC counties; we are always expanding our program offerings.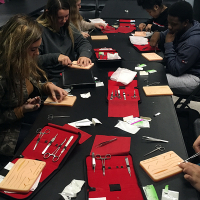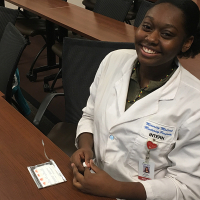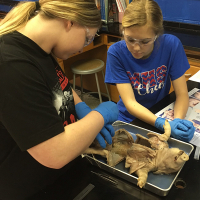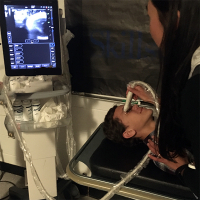 Basic Suturing
Our suturing workshop introduces students to the anatomy of the skin and the different types of sutures and their uses. For the hands-on portion of this workshop, students are provided with suture kits and guided to perform a simple interrupted suture on a simulated skin model.
Basic Vital Signs
In this workshop, students learn how to take someone's temperature, weight, pulse, respirations, and blood pressure while they learn the importance of taking vital signs as a diagnostic tool and the clinical significance of abnormalities.
Blood Typing
Students explore the fundamental biological concepts of blood typing and how it relates to clinical reasoning. This workshop includes a blood typing activity in which students determine their own blood type with a kit and lancet.
Chief Complaint and History of Present Illness
This workshop walks students through taking a patient history⁠—including present illness and medical, family, and social history⁠—and identifying a chief complaint by asking appropriate questions. Students practice clinical reasoning skills using a case study to determine a standardized patient's disease.
Point-of-Care Ultrasound (POCUS)
Students learn the history and modern uses of ultrasounds and how they are used in rural healthcare settings. This workshop includes live demonstrations by healthcare providers and an opportunity for students to use handheld ultrasound devices on themselves and their peers.
Pig Dissection
Instructors guide students through an anatomical dissection of a fetal pig to identify anatomical structures, the physiology of organ systems, and individual organs.
Contact
For more information or to request a workshop at your school, please contact Bryan.McClure@mahec.net or Amy.Parker@mahec.net.