Read our Stories
Two-year initiative aims to advance equity in healthcare access, treatment, and outcomes
MAHEC Pursues Equity with Leading Healthcare Organizations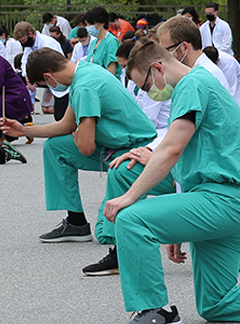 Asheville, NC, November 9, 2020 - The Mountain Area Health Education Center joined the Institute for Healthcare Improvement and other leading healthcare organizations in October to kick off an 18-month initiative to improve health equity. A Novartis US Foundation scholarship made it possible for MAHEC to participate in the IHI Pursing Equity Learning and Action Network, which aims to reduce health inequities by implementing comprehensive strategies to create and sustain equitable health systems.
Pursuing Equity network participants are selected based on their commitment to making health equity a strategic priority, one of IHI's five key recommendations for achieving health equity. Other recommendations include developing structures and processes to support equity work, deploying scientific strategies to address social determinants of health, eliminating institutional racism within healthcare organizations, and developing partnerships with community organizations.
To achieve these goals, Pursuing Equity participants build on equity initiatives already underway such as MAHEC's work to reduce health inequities in maternal and infant mortality through racial equity training for clinical staff, advocacy training for medical residents, and community partnerships like the Mothering Asheville movement and SistasCaring4Sistas doulas.
"MAHEC is committed to creating and supporting an equitable environment for all," shares MAHEC President Daniel Frayne, MD. "We are thrilled to be given the opportunity to join the IHI Pursuing Equity collaborative to learn and improve alongside some of the most respected healthcare organizations in the country. Together, I am certain we will make great progress on realizing our equity goals where all staff, patients, students, and physicians thrive."
Network participants commit to learning together by implementing changes, sharing lessons learned, tracking progress and sharing data, adapting ideas, joining workgroups to explore topics related to equity, and building relationships. The collaborative provides opportunities for members to engage with subject matter experts, explore case studies, and receive process improvement coaching as they implement tools and strategies for achieving equity.
"We see a future where every healthcare system in the country pursues equity as part of daily work and core skills, ensuring that individuals and communities can attain their full health potential - and we believe Pursuing Equity is an important step in creating a blueprint for other organizations to follow," IHI President and CEO Dr. Kedar Mate explains.
MAHEC is one of only three healthcare organizations in North Carolina selected for this learning collaborative and one of only 24 across the U.S., Canada, and New Zealand. MAHEC is committed to eliminating health inequities in Western North Carolina to ensure all residents have access to quality healthcare and the conditions that support health and well-being.
###
About the Mountain Area Health Education Center
MAHEC was established in 1974 and is a leader in healthcare, education, and innovation. Located in Asheville, MAHEC serves a 16-county region in Western North Carolina and is one of nine Area Health Education Centers in North Carolina. MAHEC's mission is to recruit, train and retain the workforce needed to create a healthy North Carolina with a focus on primary care in rural communities and those with less access to resources. MAHEC's Biltmore campus is also home to UNC Health Sciences at MAHEC, an academic health center in partnership with UNC-Chapel Hill that includes programs from the UNC School of Medicine, UNC Gillings School of Global Public Health, and UNC Eshelman School of Pharmacy.
About the Institute for Healthcare Improvement
The Institute for Healthcare Improvement (IHI) is an independent not-for-profit organization based in Boston, Massachusetts, USA. For more than 25 years, IHI has used improvement science to advance and sustain better outcomes in health and health systems across the world. IHI brings awareness of safety and quality to millions, catalyzes learning and the systematic improvement of care, develops solutions to previously intractable challenges, and mobilizes health systems, communities, regions, and nations to reduce harm and deaths. IHI works in collaboration with the growing IHI community to spark bold, inventive ways to improve the health of individuals and populations. IHI generates optimism, harvests fresh ideas, and supports anyone, anywhere who wants to profoundly change health and health care for the better. Learn more at ihi.org.