Mountain Area Health Education Center (MAHEC) was established in 1974 to improve training and retention of healthcare professionals across Western North Carolina (WNC). We are dedicated to excellence in clinical care, health professions education, and innovative practices that can be replicated nationally.
Located in Asheville, MAHEC serves North Carolina's 16 westernmost counties. We are the largest of the nine state AHECs that address national and state concerns with the supply, retention, and quality of health professionals especially in rural areas of the state.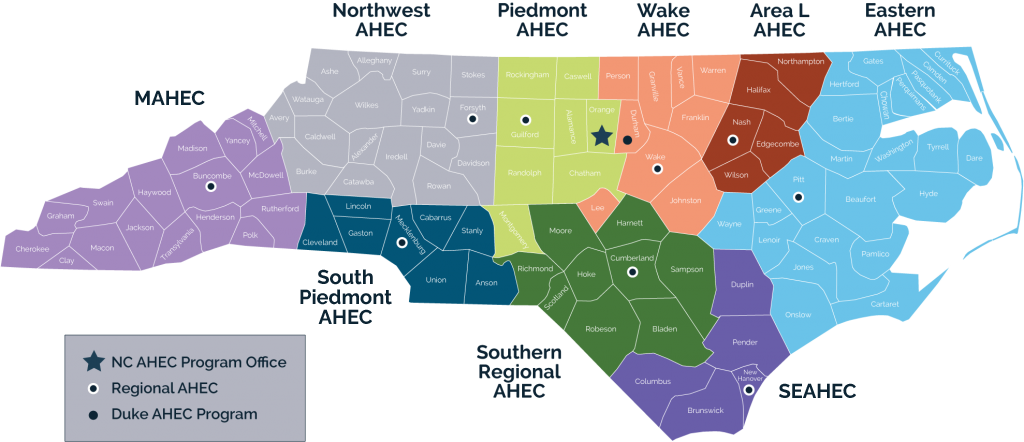 ---
Excellence in Clinical Care
MAHEC provides quality, compassionate family medicine, internal medicine, ob/gyn, dental, and psychiatric care through more than 179,000 annual patient visits that include WNC's newest residents, the more than 2,000 babies delivered by our ob/gyn, maternal-fetal medicine, and family medicine physicians and nurse-midwives. In addition, our sports medicine, addiction medicine, behavioral health, pharmacotherapy, and nutrition services lend support to an advanced care team model where providers work together to support the whole person.
---
Excellence in Health Professions Training and Education
Residency and Fellowship Programs
At MAHEC, we train physicians and dentists to provide evidence-based patient-centered healthcare. Our UNC-appointed faculty physicians and dentists are dedicated mentors, community health advocates, and compassionate physicians.
As of June 2021, 651 physicians and dentists have graduated from MAHEC. More than 60% of our family medicine graduates stay and practice in WNC.
Residency Programs
Dentistry, Family Medicine, Rural Family Medicine, General Surgery, Internal Medicine, Ob/Gyn, Ambulatory Care Pharmacy, Geriatric Pharmacy, Psychiatry, Rural Psychiatry, and Transitional Year
Learn More about our Residency Programs
Fellowship Programs
Addiction Medicine, Addiction Psychiatry, Child and Adolescent Psychiatry, Consultation-Liaison Psychiatry, Critical Care Surgery, Maternal-Fetal Medicine, and Sports Medicine
Learn More about our Fellowship Programs
Continuing Professional Development
Last year, MAHEC provided more than 1,000 continuing education programs to more than 22,500 participants in a variety of health professions from across WNC and the nation.
Student Education
MAHEC's Center for Health Professions Education provides opportunities that inspire and prepare students to pursue healthcare careers in Western North Carolina. Programs span high school through undergraduate, postgraduate, and professional school to create a pipeline of well-trained healthcare professionals for our underserved region.
UNC Health Sciences at MAHEC
MAHEC is also home to UNC Health Sciences at MAHEC, a vibrant academic health center that includes branch campuses of the UNC School of Medicine, the UNC Adams School of Dentistry and UNC Gillings School of Global Public Health, an inter-professional medical research department, and research faculty from the UNC Eshelman School of Pharmacy.
---
Excellence in Healthcare Innovation
MAHEC is committed to innovation in patient-centered healthcare, population health, and educational excellence. Our practice support services ensure WNC medical practices, especially those in rural areas, have the support they need to deliver high-quality care within a rapidly changing healthcare system.
The Department of Research and Library Science at UNC Health Sciences at MAHEC is WNC's leading source of rural health information and is focused on healthcare workforce development, academic medicine, clinical research, and practice transformation to improve patient, community, and population health.
---
Regional Economic Impact
Our academic health center and clinical teaching practices also support our region's economic health. In North Carolina, each newly graduated family physician adds approximately $2.15 million to the local economy and creates 13 new jobs.
Since 1978, our MAHEC residents and fellows from all programs have made a lasting impact on North Carolina.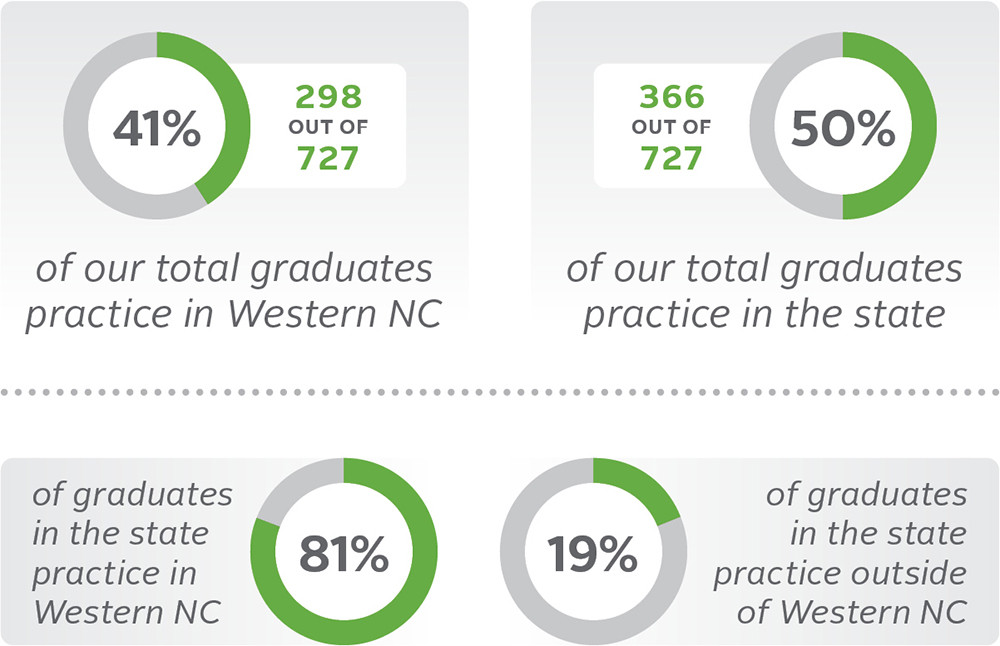 *The AMA defines "output" as direct (medical revenues, jobs/wages and salaries created by the physician, and taxes paid) and indirect (supplies/equipment purchased by physicians, practice administrative services, cleaning/property maintenance services, and clinical and laboratory services) benefits.
ABOVE DATA INCLUDES ONLY GRADUATES WHOSE EMPLOYMENT STATUS COULD BE LOCATED