Mountain Area Health Education Center (MAHEC) is an integral part of our Western North Carolina community, and is a critical resource for both providing and improving healthcare in the mountain region. We are the safety net provider for Western North Carolina, which provides us with a robust patient volume. Our mission is to provide specialized obstetric and gynecologic care to the women of Western North Carolina through compassionate, patient-centered services and comprehensive education of healthcare providers. We provide this care to the most vulnerable and underserved population in the region.
The residency experience at MAHEC is unique because our program is really a hybrid program that offers many of the opportunities of large academic centers within the supportive setting of a small community-based program. MAHEC is a patient-centered healthcare provider that delivers care using an interprofessional team-based approach that incorporates maternal-fetal medicine specialists, obstetrician-gynecologists, certified nurse midwives, doulas, behavioral health providers, addiction specialists, clinical pharmacists, and registered dietitians. Additionally, we participate in innovative community-centered programs that improve health equity and maternal and infant birth outcomes including Centering Pregnancy and the Mothering Asheville movement.
Our residents train at a Baby-Friendly designated hospital where over 4,000 deliveries and 40,000 surgeries are performed each year—more than any other hospital in North Carolina. MAHEC's maternal-fetal medicine specialists are the primary providers of high-risk obstetrics for the region and expose trainees to the full spectrum of obstetrical and neonatal care. Gynecologic oncology, urogynecology, reproductive endocrinology, vulvar, and rural women's health specialists provide extensive training in gynecology, and our connections around the world provide opportunities for international training.
Our program offers regular simulation training in our state-of-the-art Simulation Center as part of our regular didactic schedule in our comprehensive curriculum. At least 20% of our didactic time is spent performing simulations with most of the faculty trained in simulation instruction. All of our didactics are formatted for adult learners, and we continually seek new and innovative ways to teach, train, and prepare our residents.
While all residents at MAHEC are trained in medical research, those interested in an academic career have the opportunity to receive extensive training and support as they design and implement their own research plan with the support of the Department of Research at UNC Health Sciences at MAHEC. Many resident research projects lead to changes in our clinical practice. This serves as a testimony to how much we value resident research and also how MAHEC continually positions itself on the cutting edge of patient care and resident education. All MAHEC faculty are fully committed to teaching and are trained on how to educate adult learners. Many have UNC School of Medicine appointments.
Our program is a proud participant of the Right Resident, Right Program, Ready Day One (RRR) initiative of APGO (Association of Professors of Obstetrics and Gynecology). Our GME staff and residency leadership has actively participated on committees in this effort to support medical school students' transition from Undergraduate Medical Education into Graduate Medical Education. MAHEC will be a proud participant this coming year (as we were last year) following the guidelines from RRR. We will continue to provide all of our interviews in a virtual platform based on the guidance from RRR. We aim to provide a robust, engaging exposure to MAHEC and its culture via this website.
As a graduate of the MAHEC Ob/Gyn Residency program, I am extremely proud of our program and am dedicated to helping continue our vision - to train competent, compassionate, well-rounded physicians who are capable of managing patients within the breath and scope of a generalist OB/GYN. Our program offers a unique residency experience with opportunities for international training and medical research, provided by faculty fully committed to resident education. We also have opportunities for rural training within our region. Our residents learn within a supportive, community-based, and highly advanced healthcare system. Whether in the classroom, simulation center, operating room or delivery room, our residents receive top notch learning opportunities, while providing the very best in healthcare to the people of Western North Carolina.
Thank you for your interest in our program!
Sincerely,
Lauren Knowlson, MD, FACOG
Ob/Gyn Residency Program Director
Our Team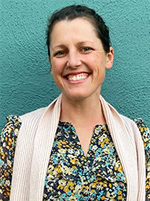 Lauren Knowlson, MD
Ob/Gyn Residency Program Director
lauren.knowlson@mahec.net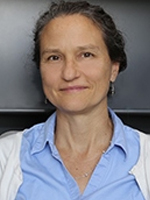 Kiran Sigmon, MD
Ob/Gyn Generalist
Ob/Gyn Residency Program Assistant Director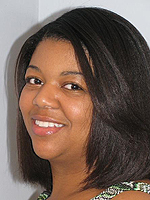 Taryn Smith
Ob/Gyn Residency Program Administrator
MFM Fellowship Program Coordinator
obgynrp@mahec.net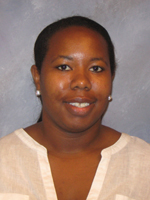 Marketa McAfee, MA
Ob/Gyn Residency & MFM Fellowship Program Coordinator
obgynrp@mahec.net
---
4th Year Medical Student Rotations
MAHEC offers a variety of student rotations in Family Medicine, Obstetrics and Gynecology, General Surgery, Rural Medicine, and Psychiatry for both in-state and out-of-state students interested in our residency programs. Learn more about our 4th year medical student rotations
Values Statement
Excellence: We deliver quality activities and services that our customers and partners value.
Diversity: We promote equity and inclusivity.
Integrity: We act with fairness, transparency, and the highest level of ethics.
Collaboration: We value partnerships and support interprofessional approaches.
Improvement: We continuously innovate and improve our work.
Foundational Principles
Civility: We treat all people with respect and kindness, all the time.
Inclusivity: We value the contribution of people different than ourselves and the merits of an organization that reflects differences in our teams and our community.
Empowerment: We value engagement, commitment, and ownership of MAHEC's mission, work, and budget.
Our Commitment
MAHEC is committed to creating an equitable and inclusive place to work, learn, and receive care. We actively recruit physicians, staff, and students from underrepresented minorities, and we strive to implement policies and procedures that value and support diverse backgrounds and experiences. MAHEC does not discriminate on the basis of socioeconomic status, race, ethnicity, sexual orientation, gender identity or expression, spiritual practice, geography, disability, or age.
Block Schedule
Rotation blocks are 4 weeks. First year OB rotation includes 1 week of nights and 3 weeks of days.
Didactics
On Tuesday afternoons, MAHEC ob/gyn residents have protected time from to 1:00 – 5:00 pm to support a flipped-classroom curriculum that meets CREOG objectives and is designed for adult learners and augmented by simulation education.
Simulation Center
MAHEC's state-of-the-art simulation center offers three types of simulated learning via task trainers, virtual reality task trainers, and high-fidelity manikins to give residents realistic experiences in obstetrical emergencies, gynecologic surgeries, and patient interactions.
Clinical Services
Attendance is expected for:
Grand Rounds
Fetal Board
Tumor Board - Gyn Oncology
Journal Club
Obstetrics
Routine obstetrical services: low-risk patients from continuity clinics, prenatal patients from Buncombe and Madison counties, and patients seen in the attending clinics.
Maternal-Fetal Medicine
Comprehensive high-risk obstetrical services for women in a 16-county region.
Regional Outreach Services
Management of antepartum complications and delivery for more than 480 high-risk patients that are transported each year from across our primarily rural and underserved region.
General Gynecology
Inpatient and outpatient surgical experiences for the diagnosis and treatment of benign gynecologic conditions including advanced operative laparoscopy.
Outpatient gynecology services provided through resident continuity clinics include:
health maintenance and preventive care for women
primary care
comprehensive office gynecology
urogynecology
Specialized Gynecology
Gynecology Oncology
Residents actively participate in the preoperative, operative, and postoperative management of patients with gynecologic malignancies on our busy gyn oncology service. Three gyn oncologists from Hope Women's Cancer Centers serve as faculty attendings and actively participate in resident education.
Urogynecology
Residents receive extensive training in outpatient evaluation and operative management of patients with urinary and anal incontinence. They also have access to 2-channel urodynamics testing for patient evaluation at MAHEC Ob/Gyn Specialists. More extensive patient evaluation (video flourourodynamics testing, anorectal manometry, anorectal ultrasonography, defecography, and pudendal nerve testing) as well as assisting with advanced pelvic surgery is also available.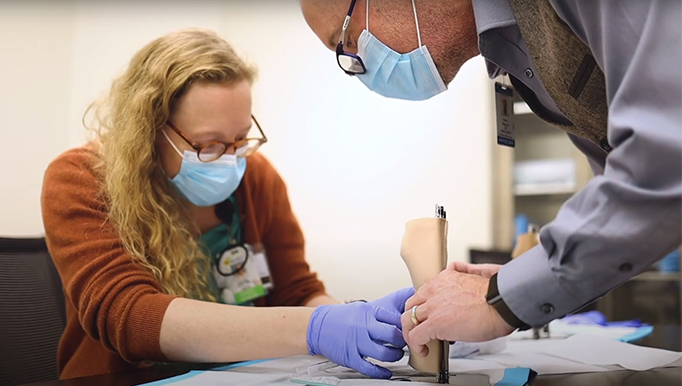 Reproductive Endocrinology/Infertility
Complete evaluation and treatment of reproductive and endocrine disorders and therapeutic options for menopause are offered. Basic workup and treatment of infertility and endocrine problems are also addressed at MAHEC Ob/Gyn Specialists. Advanced therapies offered through the MAHEC REI division include a wide range of patient care. Residents participate in evaluation of endocrine disorders in women as well as advanced reproductive therapies.
Advocacy and Community Engagement
The MAHEC Ob/Gyn advocacy and community engagement curriculum comprises a longitudinal curriculum throughout residency as well as a more intensive elective block, if desired, devoted to advocacy activities. This curriculum is designed to provide residents the skills necessary to identify an area of advocacy in their community, develop an idea, and implement and evaluate advocacy activities at multiple levels: the individual patient, the community, and legislative policies.
The goals of the advocacy and community engagement curriculum include:
Develop a set of advocacy skills that can be applied in any community
Advocate for individual patients and families
Identify community resources and establish partnerships
Describe and participate in advocacy at the local, state, and/or national levels
Experiential Training in Clinical Research
Critical literature review of the ob/gyn literature with seminar and presentation in PGY1
Journal club held 6 times annually with an annual presentation by PGY2 residents
Clinical research projects (trials, prospective, or retrospective observational studies in PGY3 and 4)
Research didactics annually
Biomedical research ethics training in PGY2
Local, regional, and/or national presentation of research in PGY4
Advanced Practice Provider
MAHEC Ob/Gyn Specialists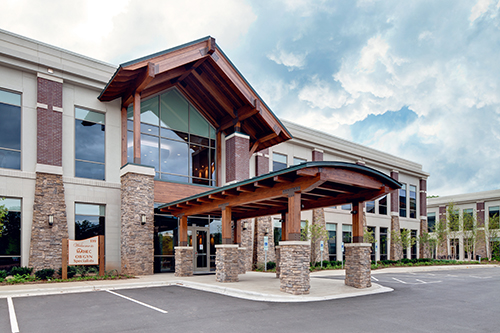 Our office is located at 119 Hendersonville Road on MAHEC's Biltmore Campus. It is a 50,000 square foot state-of-the-art facility that opened in August 2011. The Biltmore Campus, which also houses the MAHEC Family Health Center and Dental Health Center, is located on almost 14 acres in the town of Biltmore Forest.
Our facility allows us to offer more services to our patients in one attractive and convenient location and includes state-of-the-art technology for both patient care and resident training, Our Maternal Fetal Medicine Specialists, Generalists, Reproductive Endocrinologist, and Midwifery programs are housed here. The location provides obstetrical and gynecological care, including pre-conceptual evaluation, prenatal care, full obstetrical ultrasound and other fetal assessment services, delivery and postpartum care, infertility services, perinatal consultation and high-risk pregnancy evaluation.
---
Mission Hospital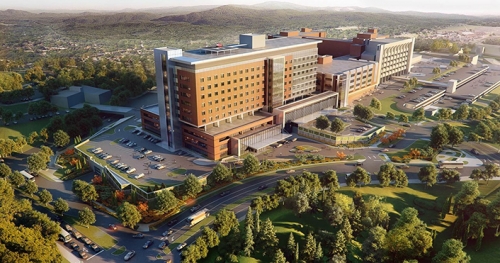 Ob/Gyn residents practice at Mission Hospital, a part of the Mission Health system and the medical center that serves as the tertiary referral center for Western North Carolina. Mission Hospital serves a population of over 750,000 people in a vast geographic area. This comprehensive health system brings together the capabilities of its two founding hospitals, Mission and St. Joseph's. Together, they are licensed for 815 beds. Medical staff comprises over 600 physicians.
The Helen Powers Women's Health Center is one of 11 Centers of Excellence at the Health System. It offers comprehensive services for women of all ages. Obstetrical services are housed in a recently completed new hospital wing. It includes private labor, delivery and recovery rooms and is fully equipped for high-risk deliveries. The staff is committed to family-centered care during and after delivery, with infants staying with their mothers and nursing staff caring for both together. Neonatal intensive care facilities are available. Gynecological surgery, individualized education programs, and antenatal care are also offered through the Helen Powers Women's Health Center. The Resource Center at Mission Hospital offers health screenings, consultations, and education programs to help people maintain and improve their health.
Get To Know Us!
Welcome from our Department Chair
Urogynecology Western Carolina Women's Specialty Center www.wcwsc.com
A Message from Our RN Clinical Manager
Dr. Andrea Currens on Pediatric Adolescent Gynecology
Dr. Bolivar on Labor and Delivery at Mission Hospital
Dr. Carol Coulson on Maternal Fetal Medicine
Dr. Mullins on Substance Use
Dr. Sigmon on Vulvar Clinic
Mothering Asheville / SistasCaring4Sistas
We have adopted the CREOG recommended guidelines for the 2023-2024 Ob/Gyn residency application and interview processes.
Application Deadline
October 1, 2023
First Release Date for Interview Offers
October 24, 2023, with rolling offers to follow. Applicants will have 48 hours to accept or decline offer.
Number of Interview Slots
90
Number of Residency Positions
5
Final Notice of Application Status
December 2, 2023
2023-2024 Virtual Interview Dates
November 7, 8, 21, 29, 2023
December 5, 6, 13, 19, 2023
January 9, 2024
Second Look
February 13, 2024 February 16, 2024

9:30 am–12:00 pm
1:30 pm–4:00 pm
Application Requirements
We invite you to apply to our program via the Electronic Residency Application Service (ERAS). We will review your application and contact you if we wish to invite you for an interview. Invitations will be sent to applicants using Thalamus GME.
For consideration for selection, the following components of your application are carefully considered and competitively weighed.
A complete ERAS application is required, including:
Transcript and academic performance at a U.S. medical school
Step 1 and 2 USMLE scores or COMLEX 1 and 2 scores
Clinical experience (in the United States)
Three letters of recommendation from those who have observed academic and clinical performance

One Standardized Letter of Evaluation (SLOE) should be included in applicants' ERAS packages. The SLOE will replace one of the traditional letters of recommendation (LOR) or the Chair's letter.
Applicants should still include two Ob/Gyn LORs (traditional or Chair where available) and one other LOR.
The updated 2023-2024 SLOE template and applicable resources can be found at RRR: Applicant Resources

Dean's letter
Community involvement and service
Medical research and experience
Work experience (medical and non-medical)
Licensure
Temporary or permanent North Carolina licensure must be held by each resident prior to beginning training. After the match results, a Resident's Training License application will be forwarded to the new resident by the program.
Orientation
Orientation will begin mid-June of each year. A variety of activities are organized to allow residents to get acquainted with each other, the faculty, and the staff of the MAHEC Department of Ob/Gyn. First year residents are required to begin the program at the start of orientation with stipend compensation.
Questions regarding the application process should be directed to obgynrp@mahec.net.
Eligibility and Selection Criteria
The Graduate Medical Education (GME) programs will select from among eligible applicants on the basis of residency program-related criteria such as their preparedness, ability, aptitude, academic credentials, communication skills, and personal qualities such as motivation and integrity.
Minimum Requirements
An applicant must meet or exceed the following minimum qualification(s) to be eligible for selection and appointment to MAHEC's GME residency programs:
Be a graduate of a medical school in the United States or Canada, accredited by the Liaison Committee on Medical Education (LCME); or
Be a graduate of a college of osteopathic medicine in the United States, accredited by the American Osteopathic Association (AOA); or
Be a graduate of a non-LCME- or AOA-approved medical school who also meets one of the following additional qualifications:

holds a currently-valid certificate from the Educational Commission for Foreign Medical Graduates (ECFMG) prior to appointment; or
holds a full and unrestricted license to practice medicine in a United States licensing jurisdiction in his or her current ACGME specialty/subspecialty program; or
has graduated from a medical school outside the United States and has completed a Fifth Pathway program provided by a LCME-accredited medical school.

Passed USMLE Steps 1 and 2 or COMLEX 1 and 2 within three attempts, as required by the North Carolina Medical Board.
Be eligible for a NC resident training license.
Be eligible to work in the U.S. (citizen, permanent resident, eligible visa including J1). MAHEC does not sponsor H1B or other visas.
International Medical Graduates
Special laws and regulations apply to international medical graduates who wish to enter the United States to undertake graduate medical education. MAHEC's policies and procedures regarding graduates of international medical schools comply with federal and state laws and regulations and MAHEC's commitment to graduate medical education.
Graduates of medical schools outside the United States and Canada must have a currently valid certificate from ECFMG. Applicants must successfully pass both Step 1 (basic medical) and Step 2 (clinical knowledge and skills) of the United States Medical Licensing Examination (USMLE).
While MAHEC does not sponsor a visa, the international medical graduate applicant must also possess a current/valid visa option or other status governed by the U.S. Immigration Regulations to participate in a GME program.
Finally, the North Carolina Medical Board requires that physicians who are graduates of schools that are not accredited by the LCME or the AOA (foreign medical schools) must be individually certified by ECFMG, have successfully completed at least three years of accredited graduate medical training, and have passed the USMLE or its equivalent to be eligible for application for full licensure. An international medical graduate must complete all other application requirements required by MAHEC and the GME program.