Welcome to Our Program!
We have a busy program rife with complex surgical critical care cases ideal for a one-year fellowship. Training is primarily at Mission Hospital, the main tertiary care center for Western North Carolina. The patients cared for on our service include complex/severe trauma, neuro-critical care, and peri-op hepatobiliary, bariatric, and oncologic patients. This provides a wide array of pathology to expose and educate our fellows on the breadth of surgical critical care.
We have a faculty of twelve critical care-boarded surgeons with a passion for caring for patients in the ICU, and a desire to impart this knowledge on the next generation of critical care surgeons. Our fellowship also offers experience with our emergency general surgery service two weekends out of the month, ensuring that recent graduates keep their surgical skills and decision-making honed while immersing in the critical care setting.
The majority of the educational experience will take place in our Nneuro-trauma ICU, but additional brief rotations with the renal, cardiology consult, anesthesia, and pulmonary teams will help provide a focused deep dive into these areas, as well as exposure to extracorporeal membrane oxygenation (ECMO) consultations. The fellow will be involved in the highest level of trauma activations as these are the patients that will comprise at least half of the ICU population. While the primary goal will be proficiency in managing the critically ill patient, there are many opportunities to expand teaching skills with residents and medical students, as well as research opportunities and participation in national meetings.
We look forward to hearing from you and telling you more about our program!
Sincerely,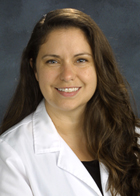 Katherine Mastriani, MD, FACS
Program Director, Critical Care Surgery Fellowship
Trauma Surgery Faculty
Contact
---
Values Statement
Excellence: We deliver quality activities and services that our customers and partners value.
Diversity: We promote equity and inclusivity.
Integrity: We act with fairness, transparency, and the highest level of ethics.
Collaboration: We value partnerships and support interprofessional approaches.
Improvement: We continuously innovate and improve our work.
Foundational Principles
Civility: We treat all people with respect and kindness, all the time.
Inclusivity: We value the contribution of people different than ourselves and the merits of an organization that reflects differences in our teams and our community.
Empowerment: We value engagement, commitment, and ownership of MAHEC's mission, work, and budget.
Our Commitment
MAHEC is committed to creating an equitable and inclusive place to work, learn, and receive care. We actively recruit physicians, staff, and students from underrepresented minorities, and we strive to implement policies and procedures that value and support diverse backgrounds and experiences. MAHEC does not discriminate on the basis of socioeconomic status, race, ethnicity, sexual orientation, gender identity or expression, spiritual practice, geography, disability, or age.
This ACGME-accredited fellowship is devoted to broad-based intensive clinical training primarily based in the neuro-trauma ICU (NTICU) at Mission Hospital. The mission of the surgical critical care fellowship program is to provide an educational environment to develop the skills for state-of-the-art support of human physiology under the stress of extreme illness, injury, or surgery; provide compassionate and humanistic care to those individuals with critical surgical illness; and provide an environment for the development of a program optimized for clinical basic scientists who will become leaders in the arena of multidisciplinary critical care medicine.
Mission Hospital is licensed for 815 beds with 47 operating rooms and a new critical care tower
Mission Children's Hospital includes 130 beds with 60 board-certified pediatric subspecialists providing care in 23 different specialties
Emergency Department has 100,000 patient visits per year, the trauma center admits 3,400 patients per year, and the helicopter transports more than 1,000 patients per year
Faculty includes 12 critical care-certified acute care surgeons, 11 subspecialty surgeons, 2 pediatric surgeons, and 5 vascular surgeons
At more than 35,000 surgical procedures each year, Mission Hospital is one of the busiest surgical hospitals in the state of North Carolina
Surgical critical care fellows will work together with attending physicians, general surgery residents, advanced practice providers, medical students, and other members of the interdisciplinary clinical team. Education and research remains a high priority for all members of the service at all times. Opportunities for participation in clinical research activities and publications will be available throughout the year depending on the fellow's interests. Upon completing the surgical critical care fellowship program, the fellow will be fully qualified to obtain board certification and to enter either private or academic practice in surgical critical care.
Block Schedule
| Block 1 | Block 2 | Block 3 | Block 4 | Block 5 | Block 6 |
| --- | --- | --- | --- | --- | --- |
| NTICU | CARDS Consults | Renal/Nephro Consults | Anesthesiology | Med-Surg ICU | NTICU |
Didactics:
Weekly teaching conferences
Monthly Surgical Critical Care Grand Rounds
Application Requirements
If you are interested in applying to our program, please submit your application online via SAFAS.
Applicants must have satisfactorily completed three years training in anesthesiology, emergency medicine, neurological surgery, obstetrics and gynecology, orthopaedic surgery, otolaryngology, surgery, thoracic surgery, vascular surgery, or urology
Have DEA certification
Be eligible to obtain a license to practice medicine in North Carolina through the NC Medical Board
Additionally, MAHEC requires:
Curriculum Vitae (CV)
Personal statement
Three letters of recommendation (one should be from a residency program director)
Medical school transcript(s)
Current licensure information
An on-site interview in Asheville