This dynamic residency program will produce geriatric pharmacotherapy specialists who have achieved mastery of the skills necessary to care for the aging population.
This program is offered in conjunction with UNC Eshelman School of Pharmacy. A heavy emphasis on teaching will also provide the resident with the experience needed to function at a high level in academic environments. The curriculum is especially well suited to foster abilities in ambulatory/primary care geriatrics.
Residents will gain experience in:
Serving as a high-functioning member of an interprofessoinal team across multiple care settings, including primary care, skilled nursing/rehabilitation, and home visits
Teaching learners of multiple disciplines at various levels of training
Caring for patients and supporting caregivers around the end of life
Making comlex pharmacotherapeutic decisions regarding care of special populations (dementia, rural/homebound, Cherokee Indian, etc.)
Advocating for older adults at the level of the health system and beyond
Care will be provided in the following environments:
Primary care clinics
Program of All-Inclusive Care for the Elderly (PACE)
Skilled Nursing Facilities (including specialized SNF for those with complex behavioral conditions)
Hospice & palliative care
Outpatient dementia clinic
Plus more!
Positions Available: 1
Application Deadline: January 2nd
NMS Code: 766654
Our Team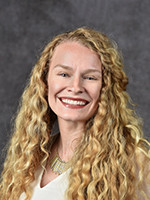 Tasha Woodall, PharmD, BCGP, CPP
Clinical Pharmacist
Program Director, Pharmacy Residency PGY2 Geriatrics
Co-Director, MAHEC Center for Healthy Aging
Associate Professor of Clinical Education, UNC Eshelman School of Pharmacy
Amanda Espinel
Pharmacy Residency Program Coordinator
Amanda.Espinel@mahec.net
---
Values Statement
Excellence: We deliver quality activities and services that our customers and partners value.
Diversity: We promote equity and inclusivity.
Integrity: We act with fairness, transparency, and the highest level of ethics.
Collaboration: We value partnerships and support interprofessional approaches.
Improvement: We continuously innovate and improve our work.
Foundational Principles
Civility: We treat all people with respect and kindness, all the time.
Inclusivity: We value the contribution of people different than ourselves and the merits of an organization that reflects differences in our teams and our community.
Empowerment: We value engagement, commitment, and ownership of MAHEC's mission, work, and budget.
Our Commitment
MAHEC is committed to creating an equitable and inclusive place to work, learn, and receive care. We actively recruit physicians, staff, and students from underrepresented minorities, and we strive to implement policies and procedures that value and support diverse backgrounds and experiences. MAHEC does not discriminate on the basis of socioeconomic status, race, ethnicity, sexual orientation, gender identity or expression, spiritual practice, geography, disability, or age.
The residency curriculum is delivered in a longitudinal fashion to allow residents to establish continuity and effective, long-term relationships with the patients they care for and healthcare teams with whom they collaborate. Blocks for the year include:
Orientation: (July/August) Introduction to pharmacotherapy clinic and home-based primary care, long-term care "boot camp" (including Medicare regulations, interpersonal skills, etc.), community resources, PACE 101, and Medicare nuts and bolts
Longitudinal Curriculum: beginning in August
Electives (longitudinal or focus block): beginning in April
MAHEC Geriatrics Clinics
Geriatric Pharmacotherapy Services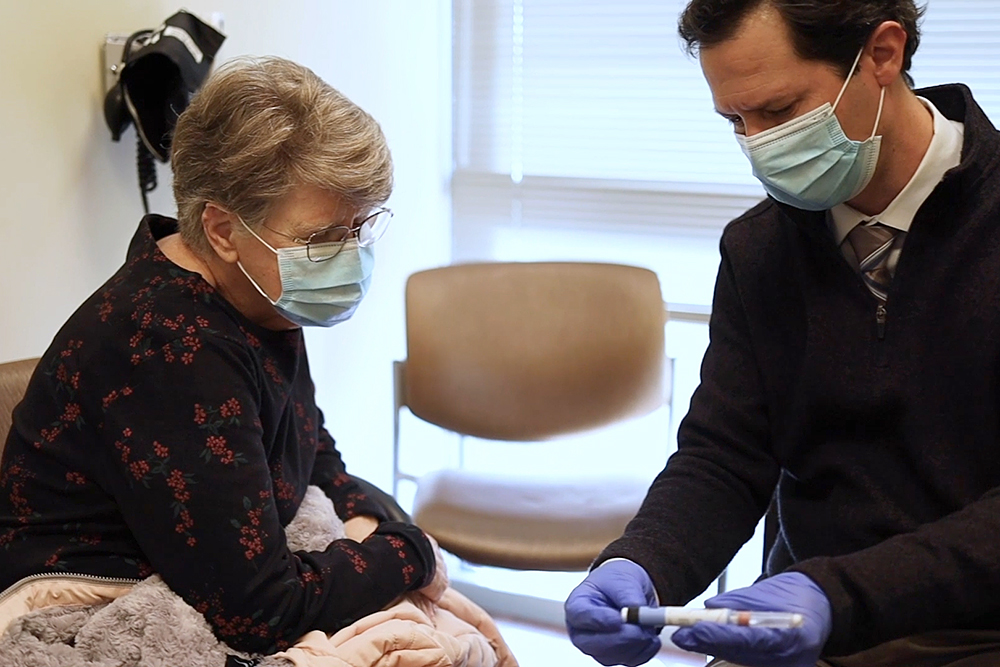 Residents will obtain their Clinical Pharmacist Practitioner (CPP) license and provide care in collaboration with a medical provider in a busy, fully established primary care clinic for ambulatory seniors. Examples of pharmacist-led services include comprehensive medication management in conjunction with Medicare Annual Wellness Visits, anticoagulation management, and diabetes education and management.
Interdisciplinary Geriatric Consultation Clinic
The consultation clinic performs comprehensive geriatric assessments for patients identified as being at high risk for geriatric syndromes such as dementia, falls, chronic pain, urinary incontinence, and polypharmacy. Residents will work alongside a medical provider and medical assistant to deliver comprehensive care during clinic and home visits.
Osteoporosis Clinic
An established interdisciplinary clinic since 2007, the Osteoporosis Clinic provides specialty consultations for patients with osteoporosis or low bone mass for either primary or secondary prevention of fragility fractures. Pharmacists in this clinic offer pharmacotherapy recommendations for treatment of osteoporosis, optimization of calcium and vitamin D supplementation, and minimization of medications that heighten fall risk.
Home Based Primary Care
This program provides continuous, team-based primary care at home for vulnerable, high-risk older adults who are homebound or mobility-limited. Residents will spend one half-day per week performing home visits with a physician or nurse practitioner to provide comprehensive medication management services and assist with care coordination.
Academia (UNC Eshelman School of Pharmacy)
UNC Eshelman School of Pharmacy was recently recognized by U.S. News & World Report as the #1 pharmacy school in the United States. In 2010, the Asheville satellite campus was founded to address the pharmacist shortage that exists in much of rural Western North Carolina. Asheville-based students learn about comprehensive medication management in settings that have been recognized as models for the nation.
Residents will grow as leaders in pharmaceutical education and research, benefitting from direct involvement in the School's innovative curriculum and the mentorship of esteemed faculty.
Learning Activities/Objectives
Participation in resident-oriented curricula in leadership, scholarship and service
Teaching around three classes per semester
Co-coordination of geriatric pharmacotherapy elective, including area-wide interprofessional exercise
Serving as primary preceptor for up to four students on their APPE rotations
Serving in a leadership role with a student organization such as Beyond Clinic Walls
Program of All-Inclusive Care for the Elderly (PACE)
CarePartners PACE is a capitated program for older patients that need support to remain safely at home. The service provides interdisciplinary care and services to sustain and promote independence of seniors who meet nursing home eligible criteria but wish to remain in their home. On site disciplines include a recreational therapist, physical and occupational therapists, dietician, physicians, nurses, social workers, chaplain, pharmacist, and speech therapist.
Learning Activities/Objectives
Review patients' medical records and medication lists to identify appropriate recommendations to optimize care for the geriatric patient
Develop and implement a comprehensive medication management plan, including dose adjustments, considerations for barriers to adherence, monitoring, and follow-up
Communicate effectively with other members of the healthcare team, including the patient and caregiver
Develop an appreciation for the patient's needs as a whole, including aspects such as environmental, social, personal and spiritual needs
Geriatric psychiatry (Black Mountain Neuro-Medical Treatment Center)
This specialized skilled nursing facility cares for adults with significant behavioral conditions that coexist with neurocognitive disorders (including dementia and neurodevelopmental disorders). All residents must have been denied placement in a community nursing facility and therefore present unique challenges, owing to their need for 24-hour supervision and assistance with activities of daily living.
Learning Activities/Objectives
Attend care plan meetings with other team members (attending physician, psychiatrist, nurses, clinical psychologist, speech pathologist, social worker, PT/OT, restorative aide)
Interact with patients on their respective floors while completing regular drug regimen reviews
Long-Term Care Consulting
Residents will provide longitudinal consulting support for skilled nursing facilities (i.e., nursing homes) directed by MAHEC geriatric medicine faculty.
Learning Activities/Objectives
Understand the roles and responsibilities of consultant pharmacists in the long-term care setting
Understand Medicare regulations and the survey process as they relate to extended care facilities
Participate in interprofessional decision making regarding appropriate, patient-centered care for individuals in the long-term care setting
Develop clinical expertise in designing, implementing, and monitoring pharmacotherapy regimens for the institutionalized geriatric population
Hospice & Palliative Care (Messino Cancer Centers and Asheville VA Medical Center)
Learning Activities
Actively participate in interdisciplinary team meetings
Perform comprehensive medication reviews and provide recommendations to minimize harms, drug interactions, and medication overuse
Communicate with patients and caregivers/family members regarding goals of care and realistic treatment expectations
Develop educational tools for patients, caregivers, and health care team members
Objectives
Evaluate appropriateness of preventive medications in the context of patient care goals, treatment targets, time to benefit, and life expectancy
Evaluate appropriateness of "potentially inappropriate" medications (such as benzodiazepines) in end-of-life situations
Apply effective pain management strategies, balancing risks of misuse, dependence, and adverse effects vs. benefits for comfort, function, and quality of life
Dementia Clinic (MemoryCare, Inc.)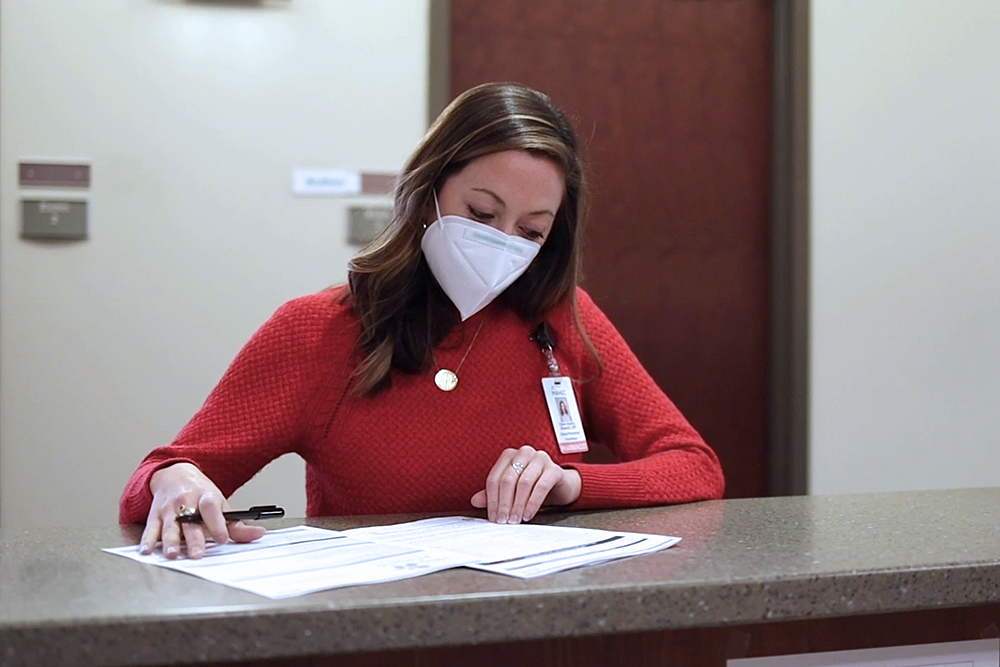 MemoryCare is a nationally revered, non-profit organization using a physician directed team based model with nurse and social worker care managers to provide specialized medical care to older adults with memory loss. The program provides education and counseling for caregivers and assists families by directing them to available community resources. Approximately 85% of the individuals and their caregivers served by MemoryCare live at home. MemoryCare strives to be a model program for quality dementia care and provides community and professional education related to aging and memory issues.
Learning Activities
Gain exposure to a physician dementia specialist practice in the community setting and an appreciation of how clinicians incorporate the elements of history, physical, and behavioral observations into decisions related to prescribing or discontinuing drug therapy at various stages of a neurodegenerative cognitive disorder
Objectives
Collaborate with the physician team on comprehensive medication reviews to minimize unwanted drug-associated impairments to cognitive or motor functioning, and contribute to the team's efforts in educating patients and caregivers on best strategies for home medication safety and adherence
Provide recommendations related to pharmacologic therapy, including drug choice and appropriate dosing, for cognitive and behavioral management
Rural Block (Cherokee Indian Hospital)
Residents will each spend 1-2 weeks at Cherokee Indian Hospital rounding in an outpatient geriatric specialty clinic and long-term care facility. Housing will be provided.
Monthly Forum
Half-day sessions will focus on a variety of topic areas including:
Literature evaluation and application of evidence-based medicine
Review of "bread and butter" geriatric syndromes and disease states
Recognizing and avoiding age-related bias
Ethical dilemmas in care of the older adult
Medicare, Medicaid, and medication assistance tools
Caring for special populations (e.g., rural/Appalachian, Cherokee Indian)
Healthcare teams (role of multiple disciplines and medical specialties)
Self-care and preventing burnout
National Meetings
Residents may attend national meetings for American Association of Colleges of Pharmacy (AACP), American Society of Health-System Pharmacy (ASHP) Midyear Clinical Meeting, and the American Geriatrics Society (AGS) or Academy of Senior Care Pharmacists (ASCP).
Electives
Possible electives include, but are not limited to:
Family medicine consulting
Geriatric psychiatry (Park Ridge Health)
Asheville VA (ambulatory or community living center sites)
Additional long-term care, including innovative practice models
Sample Longitudinal Schedule
Monday
Tuesday
Wednesday
Thursday
Friday
AM
PACE
Black Mountain Neuromedical Treatment Center

---

2nd: Osteoporosis
Coffee Rounds and Administrative Time

---

2nd: Academia
Hospice and
Palliative Care

---

4th: Memory Care
MAHEC Pharmacotherapy
PM
MAHEC Home-Based Primary Care
Monthly Forum

---

Consult Clinic

---

Leadership
Teaching Time

---

Academia