Birthplace of The Asheville Project, our community has a long tradition of innovative pharmacy practice. MAHEC offers residency training opportunities to continue this tradition. Our programs develop pharmacists who are compassionate, competent, professional clinicians who are able to enhance or develop new ambulatory care services and who share their skills with others by serving as effective teachers and leaders.
The PGY1 program's purpose is to build on the Doctor of Pharmacy (PharmD) education and outcomes to contribute to the development of clinical pharmacists responsible for the medication-related care of patients with a wide range of conditions, eligible for board certification, and eligible for postgraduate year two (PGY2) pharmacy residency training.
Our training site is a large family medicine residency practice dedicated to quality healthcare, innovative education, and best practice models that can be replicated nationally. MAHEC Family Medicine is the highest level Patient Centered Medical Home (PCMH) and part of Mission Health Partners, an accountable care organization (ACO). Our interdisciplinary teams consists of physicians, advanced practice professionals, pharmacists, dentists, behavioral health faculty, nurses, and public health professionals.
Highlights of our learning experiences include:
Longitudinal chronic disease state and comprehensive medication management in innovative collaborative models of care.
A focus on rural communities and populations underserved by health care resources, both locally and internationally. Residents will gain experience in medication assistance, volunteer in a free clinic, and participate in a medical mission trip to Honduras through Shoulder-to-Shoulder.
An emphasis in diabetes that includes clinical and population management, educational opportunities with community organizations, and service at a diabetes camp for children.
Clinical opportunities in geriatrics, women's health, transitions in care, Hepatitis C, substance use disorder, and pain.
Teaching and mentoring pharmacy students in collaboration with the University of North Carolina at Chapel Hill Eshelman School of Pharmacy Asheville Campus.
Our Team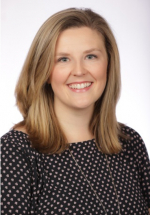 Rebecca Grandy, PharmD, BCACP, CPP
Clinical Pharmacist, PGY1 Residency Director, MAHEC
Assistant Professor of Clinical Education, UNC Eshelman School of Pharmacy
Special Interests: Hepatitis C and underserved populations
Amanda Espinel
Pharmacy Residency Program Coordinator
Amanda.Espinel@mahec.net
---
Values Statement
Excellence: We deliver quality activities and services that our customers and partners value.
Diversity: We promote equity and inclusivity.
Integrity: We act with fairness, transparency, and the highest level of ethics.
Collaboration: We value partnerships and support interprofessional approaches.
Improvement: We continuously innovate and improve our work.
Foundational Principles
Civility: We treat all people with respect and kindness, all the time.
Inclusivity: We value the contribution of people different than ourselves and the merits of an organization that reflects differences in our teams and our community.
Empowerment: We value engagement, commitment, and ownership of MAHEC's mission, work, and budget.
Our Commitment
MAHEC is committed to creating an equitable and inclusive place to work, learn, and receive care. We actively recruit physicians, staff, and students from underrepresented minorities, and we strive to implement policies and procedures that value and support diverse backgrounds and experiences. MAHEC does not discriminate on the basis of socioeconomic status, race, ethnicity, sexual orientation, gender identity or expression, spiritual practice, geography, disability, or age.
Our curriculum is designed to develop well-rounded pharmacists to practice in the ambulatory care setting while allowing residents to explore their individual interests. Experiences are designed with a special emphasis on populations underserved by health care resources and educating the next generation of healthcare professionals.

In order to develop long-term relationships with patients and members of the healthcare team, the majority of the curriculum is delivered in a longitudinal fashion. In addition to the core longitudinal experiences, the curriculum consists of longitudinal elective opportunities and required focus blocks.
Core Longitudinal Experiences
Pharmacotherapy Clinic at MAHEC Family Medicine (Biltmore Campus)
Residents will work in collaboration with a Clinical Pharmacist Practitioner (CPP) to provide care in a busy, fully established pharmacotherapy clinic. CPPs have prescriptive authority to manage a wide variety of chronic conditions including diabetes, hypertension, hyperlipidemia, tobacco use disorder, congestive heart failure, COPD/asthma, depression/anxiety, osteoporosis and anticoagulation. The clinic also offers comprehensive medication management in conjunction with Medicare Annual Wellness Visits. Additional opportunities in the management of Hepatitis C, pain, substance use disorders, and obesity are available depending on the interest of the resident.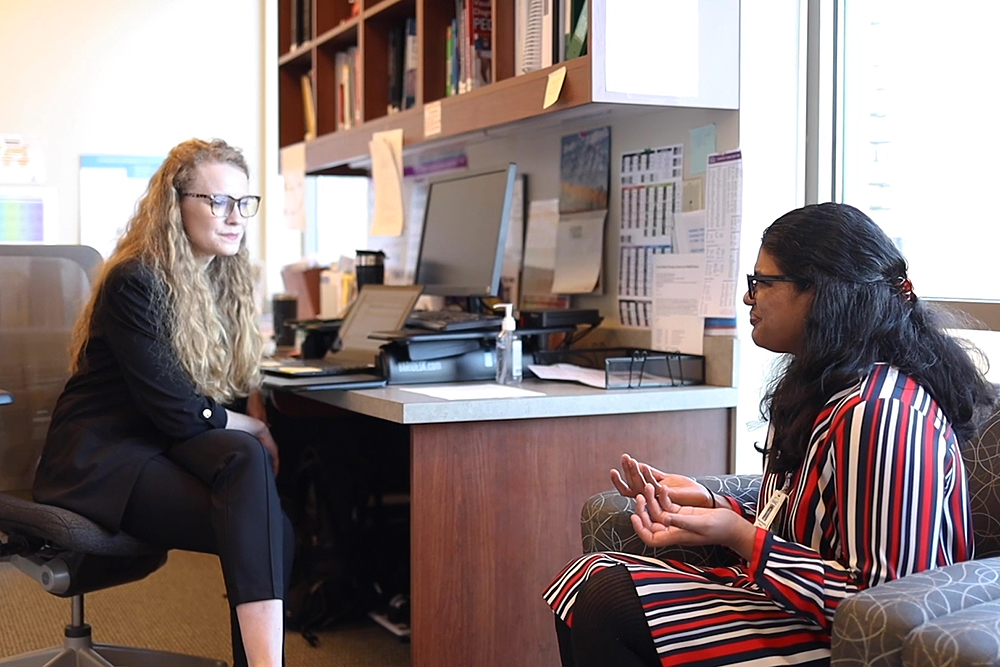 Pharmacotherapy Clinic at MAHEC Family Medicine (Satellite Locations)
Clinical services provided at our satellite locations are similar to those at our main Biltmore Campus. The intent of this experience is to expose residents to smaller, more rural practices that give residents the opportunity to work more closely alongside faculty physicians.
Geriatric Pharmacotherapy Clinic
Residents will provide clinical pharmacy services using a CPP model in a Continuous Care Retirement Community (CCRC) with a focus on geriatric syndromes.
Medication Assistance
This experience will equip residents with the skills necessary to manage the complexities of medication access for patients who are uninsured or underinsured. Residents will also explore the impact of social determinants of health on health outcomes.
Diabetes
In addition to the clinical management of diabetes in pharmacotherapy clinic, residents will have focused time dedicated to diabetes care. This will include:
Creating and implementing initiatives to help achieve diabetes quality measures as part of PCMH and ACO requirements
Providing diabetes education to the community through partnering with local agencies
Participation in diabetes-focused didactics in partnership with Mission Health
Academia
Residents will have teaching assistant and didactic opportunities with the UNC-Chapel Hill Eshelman School of Pharmacy Asheville Campus throughout the year.
Teaching Time
Residents will participate in a teaching and learning curriculum. As part of this curriculum, they will be taught effective teaching skills, lead topic discussions with pharmacy learners, and give formal presentations to interprofessional audiences.
Core Focus Blocks
| | |
| --- | --- |
| Inpatient Family Medicine | This block will include rounding with an inpatient family practice service and facilitating continuity of care with the outpatient setting. |
| Global Health | In this block, residents will participate in a two-week medical mission trip with Shoulder-to-Shoulder. |
| Diabetes Camp | Residents will serve as a camp counselor at a diabetes camp for children. |
Elective Opportunities
Electives are built into the schedule longitudinally to allow residents to explore an area of interest or strengthen skills gained in the core curriculum. Electives are planned individually with the residency program director. Possible electives include (but are not limited to):
Substance Use Treatment and Opioid Stewardship
Women's Health
Geriatrics
Transitions of Care
Psychiatry
Nutrition
Population Health Management (subject to availability)
Hepatitis C/HIV
Gender-affirming care
Ambulatory Care PGY1 Yearly Schedule-at-a-Glance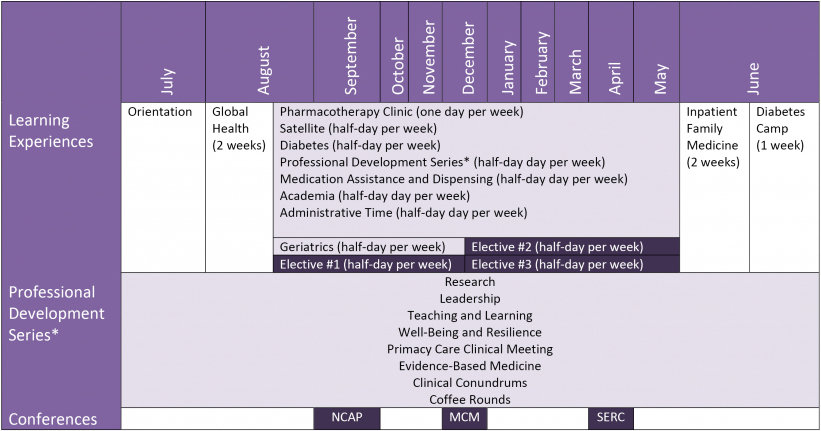 Ambulatory Care PGY1 Weekly Schedule-at-a-Glance

MAHEC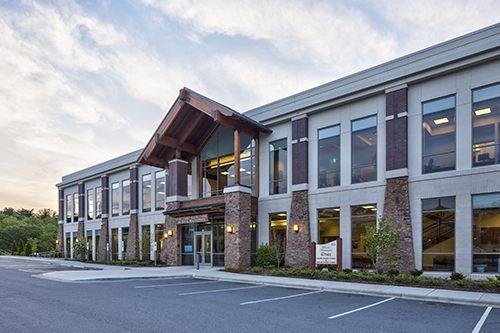 Pharmacists are integral members of the care team at MAHEC, including MAHEC's four family health centers, an internal medicine practice, an ob/gyn practice, a dental practice, a certified community behavorial health clinic, home-based primary care, and two continuous care retirement communities in Asheville. MAHEC pharmacists provide comprehensive medication management services for needs related to anticoagulation, diabetes, osteoporosis, HIV, hepatitis C, opioid and substance use disorders, safe pain management, transitions of care, and pharmacotherapy for acute and chronic conditions. MAHEC patients see clinical pharmacists for many reasons including insulin titration, managing and accessing medications, device training, and Medicare Annual Wellness Visits. Our practice model has been recognized nationally in numerous publications and presentations.
---
UNC Eshelman School of Pharmacy Asheville Campus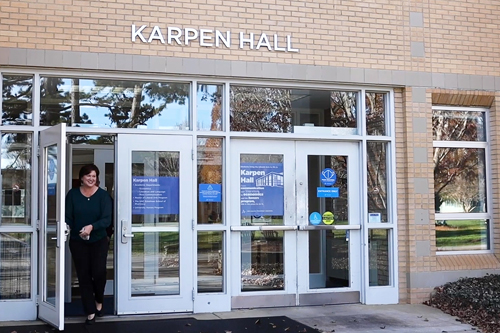 The UNC Eshelman School of Pharmacy Asheville Campus is located on the campus of UNC Asheville and maintains close ties with UNC Health Sciences at MAHEC, which houses programs affiliated with UNC's schools of medicine, public health and dentistry. All of these programs emphasize care for patients who are historically underserved, place-based and rural learning, and interprofessional education and practice. The Asheville Campus has 30 student pharmacists in each cohort, world-class faculty members and researchers, and dedicated student-centered staff members in administration and educational technology. The Asheville Campus partners with MAHEC to offer PGY2 residency programs in ambulatory care and geriatrics and with Mission Health to offer PGY2 residencies in ambulatory care, emergency department, and administration.
Application Requirements
Three letters of recommendation completed through PhORCAS.
Personal Statement. This is one of the most important components of the application. Applicants should specifically address how this residency matches your interests and career goals.
Eligibility for North Carolina licensure. NC licensure by July 1st is encouraged.
Please note that MAHEC does not sponsor a visa, so all international pharmacy graduate applicants must possess a current/valid visa option or other status governed by the U.S. Immigration Regulations to participate in a GME program.
Dates
| | |
| --- | --- |
| November | Applications may be submitted through PhORCAS |
| January 1st | Application deadline |