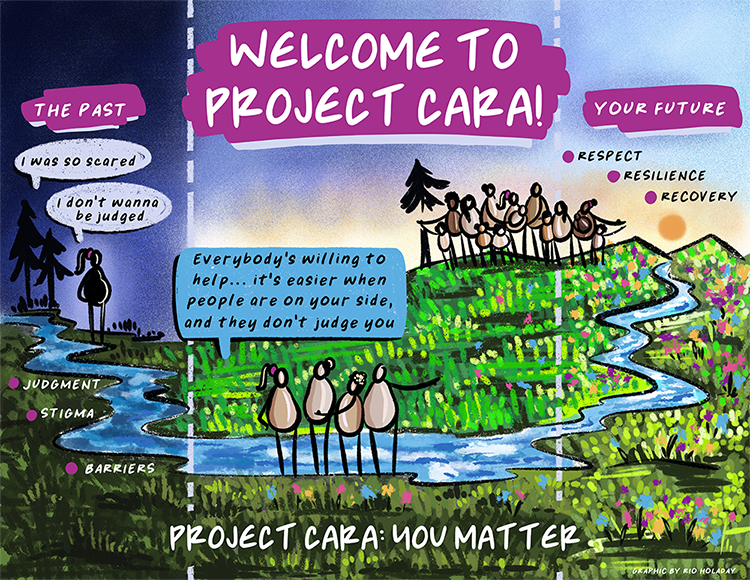 (click to enlarge)
Project CARA: Care that Advocates Respect/Resilience/Recovery for All
Welcome to the Project CARA website. Whether you are looking to explore our services, learn more about pregnancy and substance use disorders, or find resources to begin perinatal substance use treatment at your own practice, we're glad that you're here!
Founded in 2014, Project CARA has supported over 800 pregnant and parenting people with substance use disorders. At CARA, we prioritize comprehensive, integrated care. Our clinic, housed at MAHEC OB/GYN, provides medical, substance use, and additional support services so that patients can smoothly access the resources they need under one roof.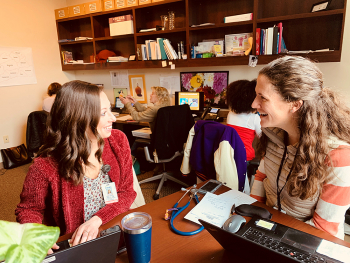 Perhaps most importantly, we provide judgment-free care to all our patients. We understand that attending medical appointments can be stressful in any situation, but particularly if someone is pregnant and using substances. Our goal is to decrease the stigma surrounding perinatal substance use disorders, and to provide a safe and supportive environment for our patients to access the high quality care they deserve.
Whether someone's last time using was five years ago or five days ago, Project CARA's multidisciplinary team is committed to helping patients have the healthiest pregnancy and birth experience possible.
Learn more about Project CARA by viewing our brochure - click here (PDF), and read this feature story about patient Becca's experience.
If you would like to request an appointment for yourself or if you need to send one for a patient, please see the options below. If you are in need of additional community resources, please click here.
Warmly,
The Project CARA Team
Mission
To ensure that all pregnant and parenting patients affected by substance use have easy access to a multidisciplinary team that is compassionate, trauma informed, and non-judgmental.
Vision
We aim to change generational patterns of substance use one pregnancy at a time.