UNC Health Sciences at MAHEC provides school nurses across the region and state with a variety of in-person and online training opportunities. Programs are tailored to meet the growing needs of nurses and their school communities in a rapidly changing educational and healthcare environment. Continuing professional development opportunities include, but are not limited to:
MAHEC Project ECHO® for School Nurses
This bi-monthly videoconference series connects MAHEC's medical experts with school nurses across the region and state. Each virtual learning session is comprised of a short didactic on a specific health topic followed by case presentations that are submitted by participants. Project ECHO® ensures school nurses can access the knowledge they need to provide the best care possible for their students with specials needs. Learn more in this article and sample course brochure.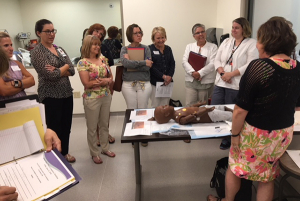 School Nurse Clinical Competency Workshops
School nurses need expanded skills and knowledge in order to meet the growing needs of students who are now attending school with more complex and chronic health needs.
This daylong training is held at MAHEC's state-of-the-art medical simulation center and includes skills training on the in-school management of diabetes, hypertension, medication administration, seizure activity, tracheostomy care and suctioning, in-and-out catheterization, G-tube feedings, and more.
School Nurse Certification Exam Review
This online, eight-week, self-paced certification examination review covers the content areas, skills and strategies needed to pass the School Nurse Certification Exam. The review includes test-taking strategies, professional issues, special health concerns, health appraisals, health promotion and disease prevention, and student health problems. Participants must be registered nurses with bachelor's degrees in nursing or a NBCSN-approved health-related field.
Continuing Education Programs
UNC Health Sciences at MAHEC's Department of Continuing Professional Development educates more than 10,000 healthcare professionals every year. In-person and online programs address a wide range of healthcare topics including school health and safety, public health, rural health, complex and chronic health conditions, behavioral health, substance use disorders, adverse childhood experiences (ACEs), trauma resiliency, nutrition, nurse leadership, team-based care, clinical skills, and more. View the course catalog.