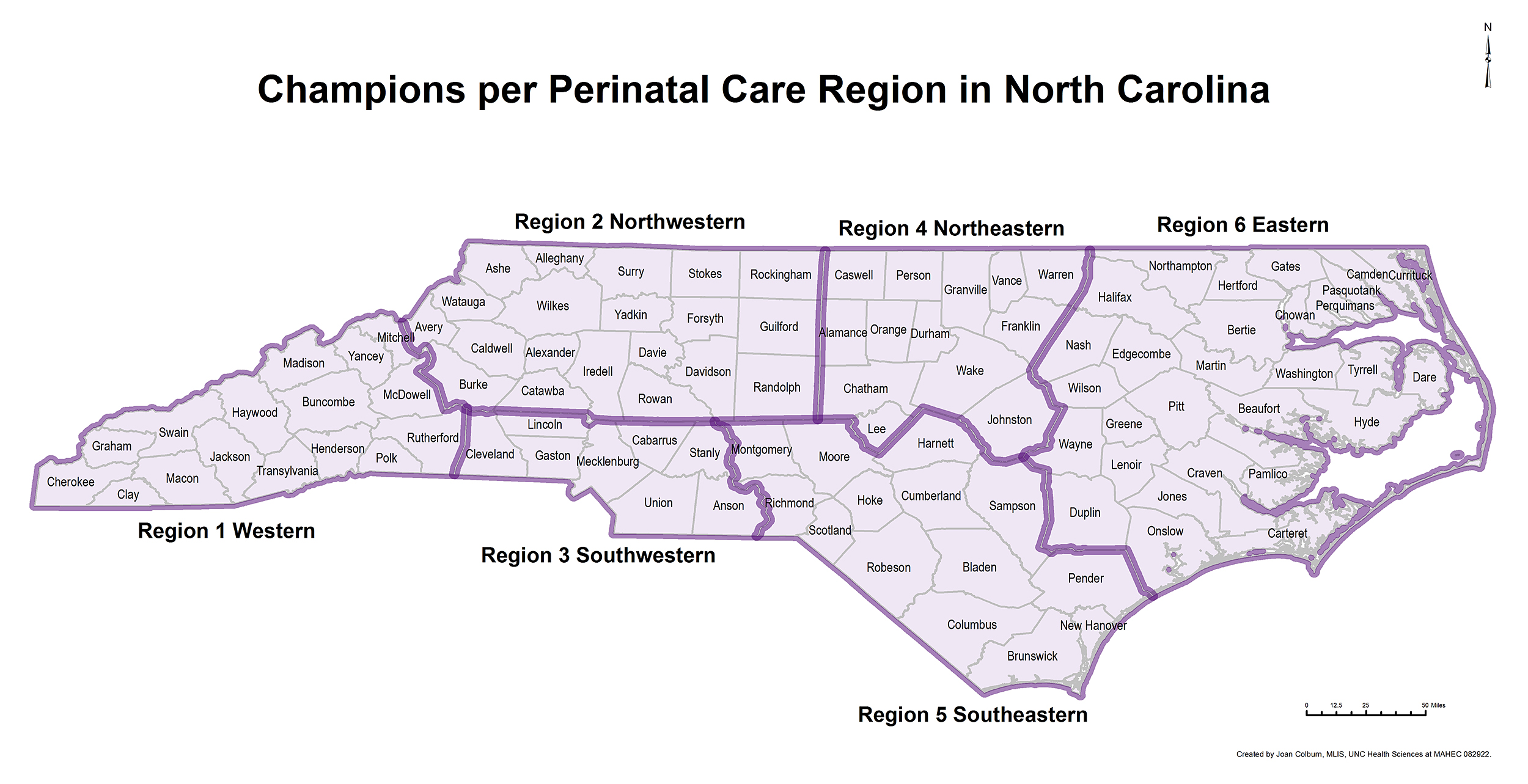 | Region | Family Medicine Champion | OB/GYN Champion | Perinatal Nurse Champion* | Pediatric Champion |
| --- | --- | --- | --- | --- |
| Region 1 Western | Amy Santin, MD (lead) | Suzanne Dixon, MD | Katlyn Moss, BSN, RN | Mary Beth Vo, MD |
| Region 2 Northwestern | Carmen Strickland, MD, MPH | Peggy Constant, MD | Tina Morris, MSN, RNC-EFM | Lia Erickson, MD |
| Region 3 Southwestern | Taiwona Elliott, MD | Pamela Cobb, MD | Karen Clark, MSN, RNC-OB, C-EFM | Morgan Walls, MD |
| Region 4 Northeastern | Narges Farahi, MD | Kate Menard, MD, MPH (lead) | Elizabeth Soto-Valdes, RN-BSN | Sarah Stephens, MD, FAAP |
| Region 5 Southeastern | Janalynn Beste, MD, FAAFP | Lydia N. Wright, MD, FACOG, MFM | Kathleen Bloomfield, MPH, RNC-EFM | Nicole Aristy, MD |
| Region 6 Eastern | Mona Xiao, MD | Jim deVente, MD, PhD | Jessica Noble, MSN-NE, RNC-EFM | TBD |
Learning Collaborative
Our intention for the learning collaborative is to increase awareness and engage inter-professional collaboration in the provision of maternal health/well-woman care. The learning collaborative is primarily comprised of Family Medicine, Obstetrics and Gynecology as well as related providers from across the 6 perinatal care regions in North Carolina. To operationalize our efforts for sharing best practices and improving communication between obstetrical and primary care providers we are offering a series of continuing education opportunities as well as technical assistance to bridge the gap between theory and practice to advance family and community health.
Perinatal and Neonatal Outreach Coordinator (PNOC)
The purpose of the Perinatal/Neonatal Outreach Coordinator (PNOC) program in collaboration with MAHEC is to engage birthing facilities and other regional stakeholders in a collaborative, data driven process to ensure that families receive high quality, evidence-based and risk-appropriate maternal and neonatal care. This program hopes to achieve these goals by guiding the region's birth facilities in the implementation of the CDC LOCATe assessment as well as through rural OB simulations and professional development opportunities. Keep an eye out for our engaging and educational podcast coming in Spring of 2022.
Maternal Telehealth Grant
The Maternal Telehealth grant aims to train maternal health health providers to provide perinatal health services using a telemedicine software platform and improve access to maternal health care through telehealth services to prenatal and postpartum individuals living in rural areas of the state. The program serves the North Carolina counties of Buncombe, Cherokee, Clay, Graham, Haywood, Henderson, Jackson, Macon, Madison, McDowell, Mitchell, Polk, Rutherford, Swain, Transylvania and Yancey.
---
This project was made possible thanks to the funding, guidance, and support from North Carolina Department of Health and Human Services - Division of Public Health - Maternal Health Branch-Women, Infant, and Community Wellness Section. This project is supported by the Health Resources and Services Administration (HRSA) of the U.S. Department of Health and Human Services (HHS) as part of an award totaling $10,216,885 with 0% financed with nongovernmental sources. The contents are those of the author(s) and do not necessarily represent the official views of, nor an endorsement by, HRSA, HHS, or the U.S. Government.