Pelvic Physical Therapy
What is it?
Pelvic floor rehab is a unique type of physical therapy. By affecting the muscles of the pelvic floor we can address pain in that area and can improve bowel, bladder, and sexual function. We can work on any of these issues in pelvic floor physical therapy, and many times patients have more than one issue at a time:
Pain in the area of the genitals, tailbone, groin, hips, abdomen, low back, sacrum, or buttocks
Urine leakage with coughing, laughing, sneezing, or movement
Feeling like you have to pee "all the time"
Abnormally strong urge to pee
Urine leakage with triggers like running water, walking to the toilet, etc
Constipation and difficulty passing stool
Stool leakage / fecal incontinence
Pain with sex
Pelvic organ prolapse
Feeling of heaviness in the pelvis
Diastasis Recti (separation of the abdominal muscles)
Pain or discomfort during pregnancy
Post-partum recovery
Post-partum return to sport
Like other forms of physical therapy, treatment involves exercises, stretches, manual therapy, and homework to help you get better. Everyone's care will look very different, depending on what is going on with their body, but generally your therapist will evaluate the muscles of the pelvis, figure out which are tight and painful and which are underactive or weak. Then we will create an individualized plan to help you find ways to stretch what is tight and strengthen what is weak. Individual plans often involve stretches, exercises using resistance bands, habit and lifestyle adjustments, manual therapy of the abdomen, hips, back, or pelvic floor itself, and lots of education.
Of course these muscles are in a sensitive area of the body so extra tact and privacy is required. Patient comfort and privacy is the highest priority for us.
Your treatment plan may last weeks to months, with coming in periodically to update your homework and receive instructions and treatments in clinic. A typical treatment plan may be once a week for a couple months, since it takes time for muscles to achieve long-term changes. However, we will work with you to find a plan that works for your life.
What to expect:
During your initial visit to pelvic physical therapy you will meet your physical therapist and she will take you through a detailed evaluation to understand your issue. Then together you will make a plan to address what is going on. The first part of the evaluation is talking about what is going on in detail, this often includes discussing your bowel, bladder, and sexual health. Then your therapist will do a physical exam that includes assessments such as checking your posture, hip strength and flexibility, and how you move. For many patients there also may be an internal assessment of the pelvic floor muscles themselves, since they play such a crucial role in bowel, bladder and sexual health. The pelvic floor can be assessed vaginally, rectally, or indirectly externally. The internal assessment of the muscles will check your ability to contract your pelvic floor properly and the strength, endurance, and coordination of those muscles. These internal muscle assessments should not be painful, and if there is discomfort or pain then we can stop and find other ways to assess. There will also be plenty of time to discuss the different parts of the exam and get any questions answered before the next step.
What to wear:
Dress comfortably in clothes that you can move in. There may be movement exercises as a part of your treatment that we can get started on in clinic, so gym clothes are great. Avoid wearing skirts, dresses, one pieces, or tight/restrictive pants please. Or bring a pair of shorts or gym pants to change into.
How to prepare:
In the time leading up to your visit, try to pay attention to your symptoms so you can report some of the details; like how often do they occur, how long does it last, what brings it on? Before your visit, the office staff may also send you some paperwork to do beforehand, if so then follow their directions. But other than that, there isn't anything you need to do. Come as you are!
The Take Away
Pelvic floor rehab does not help absolutely everyone, depending on the underlying cause of the condition, however it can be profoundly helpful for many. It is a very low risk treatment that leverages your own body's ability to heal through strength, movement, and lifestyle changes. It does take some effort and commitment on your part, including homework, but it is a great way to get to know a part of your body that is often ignored and learn skills to address symptoms on your own in the future.
Meet Havely Carsky, PT, DPT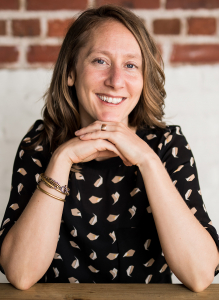 As a physical therapist I find joy in helping people fulfill their potential, get to know their bodies, and discover how movement and strength can address pain. I strive to deliver high quality, evidence-based, individualized care in pelvic floor rehab.
I have a background in yoga, mindfulness and vipassana meditation, team building, and farming. During my PT training I enjoyed seeing the parallels between yoga and contemporary understandings of pain and movement in physical therapy.
Beyond my doctorate in physical therapy, I completed extra training in pelvic health, manual therapy, pain science, functional movement, and dry needling. I have completed the Herman and Wallace Institute's series on pelvic floor rehab in order to specialize in this area.
I began my career working at Wake Forest Baptist Health in the Women's Health PT department, treating a mix of orthopedic and pelvic patients. The opportunity arose for me to move home to Asheville, North Carolina where I now treat a wide range of pelvic floor dysfunctions (bowel, bladder, sexual dysfunction and pain) and enjoy orthopedic puzzles as well.
When not treating patients I enjoy pottery, gardening, yoga, cycling, hiking, running, cooking, weight lifting, reading, and generally being in nature.