---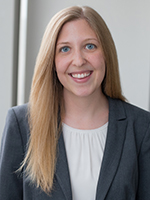 Hayley Pionk, MD
Addiction Medicine and Behavioral Health Fellow
Hello! My name is Hayley Pionk, and I am so excited to join the MAHEC family! I am originally from Hermitage, Tennessee, a suburb just outside of Nashville. I attended Vanderbilt University and majored in psychology. Through my undergraduate courses, I was fascinated by the complexity of the brain and how it affected both the human body and behavior, which inspired me to learn more. Coupled with a desire to serve others, a career in medicine seemed like a natural fit. After graduating from Vanderbilt, I worked as an ER scribe and completed post-baccalaureate coursework before being accepted to Tulane University School of Medicine in New Orleans.
While attending medical school, I quickly fell in love with the vibrant and unique culture New Orleans had to offer. Tulane also stood out because of its emphasis on community service, and serving at Tulane's student-run clinics further developed my passion for working with underserved populations. I entered medical school interested in primary care, and my clinical rotations solidified that goal. The challenging, broad scope of family medicine, along with the opportunity to form lasting relationships with patients and families, seemed to be the best path for me. Working with family physicians on rotations in rural Louisiana and Montana has led me to consider rural practice, thus allowing me to integrate myself with a community and provide care in an underserved area. My other interests within family medicine include women's health and obstetrics and behavioral health.
I feel so fortunate to be training at MAHEC. This program offers everything I am looking for: rigorous full-spectrum training, dedication to the community, and a supportive learning environment.
Outside of medicine, I fully intend to get outdoors and hike in the Blue Ridge Mountains as much as possible. I'm a former competitive bowler, and I look for any excuse to get back on the lanes. I also can't wait to explore the city, trying the many restaurants and breweries in the area. I'm thrilled to call Asheville my new home!