Procrastinator's Marathon 2022 Hybrid Program for Pharmacists and Pharmacy Technicians
Dec 11, 2022
Closed
Pharmacy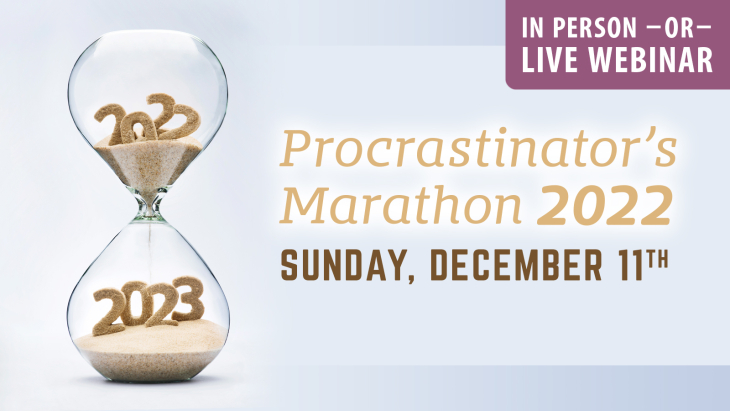 Description
In-person online registration is now closed.
Walk-ins are welcome.
Live webinar registration can be accepted until the course begins.
This is your last chance to obtain live continuing educational credits for pharmacy license renewal. This knowledge-based continuing education program (offered either in-person or via Webex) will update the participant regarding PrEP, Buprenorphine for Opioid Use Disorder, 2022 New Drug Update, and Updates in Safe Medication Use for Older Adults. Don't miss this very relevant information!
Co-sponsored by:
Target Audience
Pharmacists and Pharmacy Technicians in all aspects of Pharmacy
Objectives
Review the role of medications for opioid use disorder (P/T)
Describe the unique pharmacokinetic and pharmacodynamic of buprenorphine (P/T)
Devise induction, maintenance, and treatment plans based on patient-specific characteristics (P)
Identify the physiological changes of aging (P)
Review the oral health changes of aging (P)
Recognize common dental procedures seen in older adults (P)
Determine which dental products in a pharmacy are helpful (P/T)
Identify new pharmaceutical agents approved by the FDA in 2022 (P/T)
Describe mechanism of action, monitoring, and adverse events for new drugs (P)
Summarize newly approved drugs' roles in therapy (P)
Identify additions to the Beers Criteria list of potentially inappropriate medications (PIM) in older adults (P/T)
Discuss the rationale for adding these medications to the list of PIMs (P/T)
Summarize additional changes to the Beers Criteria made or proposed in 2022 (P/T)
Outline medication use and devise a plan to address drug therapy problems for an example patient scenario (P)
Recognize patient-specific risk factors for HIV (P/T)
Identify appropriate therapies for patients seeking HIV PrEP (P)
Counsel on PrEP access, adherence, and monitoring (P)
Faculty
Abby Block, PharmD
Susan C. Buchenberger, RDH, BSDH, MEd
Olivia A. Caron, PharmD, BCACP, CPP
Tasha R. Woodall, PharmD, BCGP, CPP
Pam Xu, PharmD
Brochure / Registration Form