MAHEC Project ECHO® for School Nurses (8-Part Video Teleconference Series)
Dec 31–Dec 14, 2022
Canceled
Nursing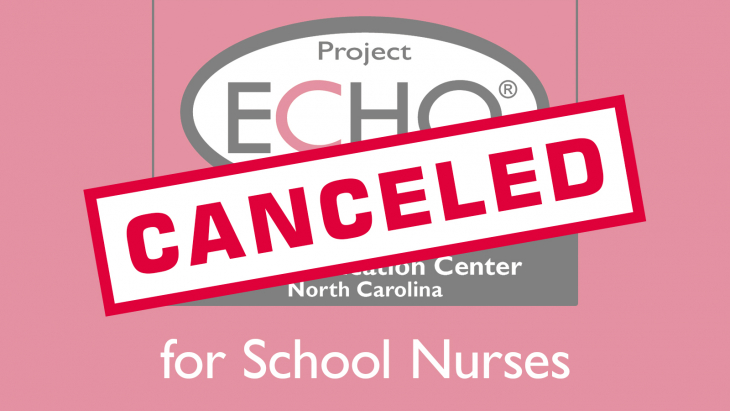 Description
Project ECHO® is a lifelong learning and guided practice model that revolutionizes nursing education to provide best-practice specialty care and reduce health disparities. ECHO is led by an expert team that uses multi-point videoconferencing to conduct virtual learning sessions comprised of a short didactic followed by case presentations provided by participants. The ECHO model includes case discussions, presented by attendees. This is the participants chance to discuss difficult patient cases with expert panelist and colleagues to gain feedback. When registering for this Project ECHO®, please be prepared to share a case discussion during one of our sessions. .

New to the ECHO model? Click here to find out how Project ECHO® is changing the world.


This tele-videoconferencing series, guided by experts, takes place bi-weekly over 8 modules (one-hour each) and will cover topics specific to school nurses, including:


Diabetes Management in Schools


Pediatric Seizure Disorders


Pediatric Asthma


Pediatric Hypertension


Return to Learn: Concussion Management


Dermatology: Safe at School? When to Refer


Mental Health: Depression and Suicide Screening


Motivational Interviewing (MI)
All program dates are streamed on the ECHO Zoom Platform from 3 PM to 4 PM EST.
Participant must login at 2:50 PM for attendance.
One credit hour is earned for each session attended.

Module 1: September 7, 2022
Module 2: September 21, 2022
Module 3: October 5, 2022
Module 4: October 19, 2022
Module 5: November 2, 2022
Module 6: November 16, 2022
Module 7: November 30, 2022
Module 8: December 14, 2022

Please note: School nurse participants will be asked to present a real world case to faculty and peers for direct feedback. Nurses will be awarded Nursing Contact Hours per session and are encouraged to have video turned on for attendance verification.
MAHEC engages in evaluation activities to better understand the impact of our programs. By registering for this course, you agree that we may use your personal information in evaluative research regarding this program. Any reports published will be de-identified and reported in aggregate format.
Target Audience
School Nurses in North Carolina
Objectives
Identify interventions for assessing and managing dermatological conditions, hypertension, managing diabetes, mental health disorders, asthma, seizure disorders and concussion management
Develop skills to conduct Brief Negotiated Interviews (BNI) and use Motivational Interviewing (MI) skills in student interviews, healthy behavior reinforcements conversations, brief interventions, and referrals during the SBIRT process
Faculty
Susan Alexander, MD
Andy C. Carrington Warren, PharmD, BCPS, CPP
Steven Julius, MD
Jessica K. Knapp, DO, CAQSM
Josh Schactman, MSW, LCAS, LCSW
Jojo Yang, MD