Stroke Rehab Series: Core Stabilization Interventions & EStim Techniques for the UE & LE ©
Dec 10, 2022
Closed
Allied Health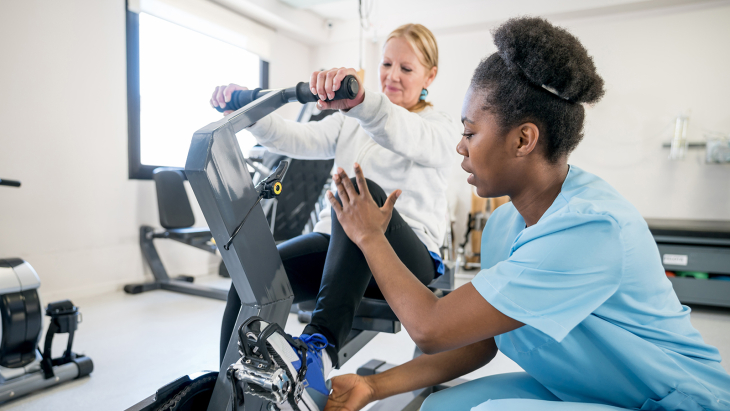 Description
In-person online registration is now closed.
Walk-ins are welcome.

This lecture- and lab-based class provides a review of functional anatomy and kinesiology as it relates to the trunk and upper and lower extremities. The importance of core stabilization and its influence on trunk control in the person with hemiplegia as a result of stroke is discussed. Evidence-based practice—particularly for stroke and/or other acquired brain injuries—is used to support therapeutic interventions for stroke impairments related to the trunk (core stabilization) and hemiplegic extremities as it pertains to electrical stimulation (EStim).
Participants are shown and have the opportunity to practice specific clinical techniques to facilitate skeletal muscle activity of the trunk and hemiplegic extremities. Selected functional activities are analyzed and participants have the opportunity to demonstrate interventions using the extremities in weight-bearing and non-weight-bearing positions as evidence of skills learned using case studies. Additionally, this course emphasizes assessment of the subluxed shoulder and offers specific techniques via EStim to address scapula and humeral muscular weakness as well as those for wrist drop, knee hyperextension, foot drop, and equinovarus. The course appraises the literature for EStim interventions for appropriate and effective use as an adjunctive therapy for the hemiplegic extremities. It also includes examples of daily living activities for participation in life roles and successful achievement of functional skills as related to the content. Social determinants of health are addressed using concepts of diversity, inclusion, equity, and/or belonging in a person-centered manner so that skills learned can be immediately applied to therapy plans of care—specifically, therapeutic interventions in acute care, inpatient/outpatient rehab, and home health.
This is an intermediate-level class that assumes participants have a general familiarity with anatomy and kinesiology of the trunk and upper and lower extremities. The focus is to increase understanding and application of EStim for hemiplegic extremity impairment and developing therapeutic interventions to enhance core stabilization of the trunk for improved trunk and hemiplegic extremity function.
Note:
Participants should wear comfortable lab clothes. Electrical stimulation units and supplies will be provided in-kind for use during the class by Zynex Medical.
Interested in this topic and want to learn more? Dr. Brown will present these short live webinars via Charlotte AHEC:
09/15/2022 -
Motor Recovery Post CVA
11/12/2022 -
S2R: Strengthening for Stroke Recovery: Foundational Concepts©
01/26/2023 -
S2R: Strengthening for Stroke Recovery: Clinical Applications for Treatment©
This project is supported by funds from the Bureau of Health Professions (BHPr), Health Resources and Services Administration (HRSA), Department of Health and Human Services (DHHS) under grant number # 2U1QHP28734 Carolina Geriatric Workforce Enhancement Program. This information or content and conclusions are those of the author and should not be construed as the official position or policy of, nor should any endorsements be inferred by the BHPr, HRSA, DHHS or the U.S. Government. The Center for Aging and Health, Carolina Geriatric Workforce Enhancement Program also provided support for this activity.

Target Audience
Occupational Therapists & Assistants, Physical Therapists & Assistants
Objectives
Upon completion of this lecture and lab-based class, the participant will be able to:
Explain the role of anatomy and kinesiology as it relates to core stabilization for the trunk and movement of the hemiplegic UE/LE for functional activities needed for daily living.
Propose different positions of the extremities creating lever arms to facilitate eccentric, concentric, and isometric muscle activity in the trunk the trunk and different segments of the hemiplegic UE/LE based on case studies.
Develop therapeutic interventions to generate force control in muscles affected by stroke for different components of functional activities based on case studies.
Articulate the principles of EStim that make it appropriate for neurologic impairment.
Adapt EStim techniques to alleviate impairment due to stroke for the shoulder girdle, wrist, knee and ankle based on case studies.
Justify interventions that consider issues of diversity, inclusion, equity and/or belonging based on information presented as social determinants of health.
Integrate information learned to justify treatment interventions for neurologic rehabilitation practice.
Faculty
Jennifaye V. Brown, PT, PhD, NCS, CAPS
Brochure / Registration Form