Southern Obstetric and Gynecologic Seminar Annual Meeting
Jul 20–Jul 23, 2022
Closed
Medicine
Nursing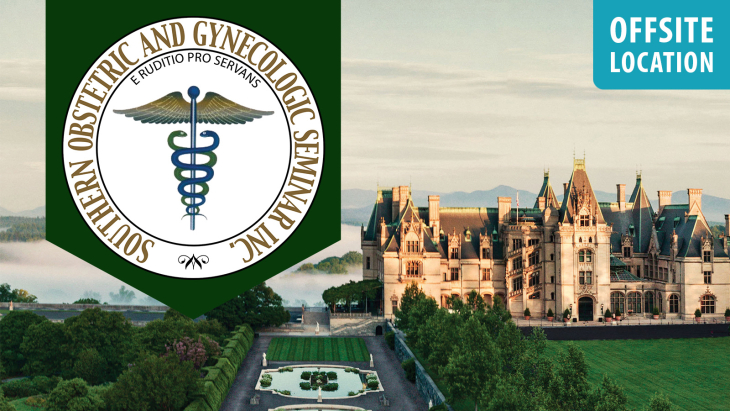 Description
Online registration is now closed.
Walk-ins are welcome!


Now in its 68th season, the Southern Obstetric and Gynecologic Seminar is a three-day educational event designed to address relevant and timely topics in women's health for the busy provider. Distinguished lecturers and leading experts in the field of obstetrics and gynecology will present clinical best practices and care recommendations that the provider can easily implement to improve patient care and outcomes.

The content covered in this year's conference was derived from assessing the information needs and educational gaps reported by Southern's physician and advanced practice provider (APP) membership. Information will be delivered through a series of four lectures each day, case studies, and question-and-answer sessions. Lectures will address chronic pelvic pain, medical malpractice, gender-affirming care, advances in minimally invasive surgery, fibroids, obstetric positioning techniques, legislative updates impacting Ob/Gyns, and opioid prescribing in obstetrical practice.

Accompanying the academic portion of the annual meeting, Southern's members value the opportunity to interact socially with longstanding and new members. This year, Southern returns to the Biltmore Estate—George W. Vanderbilt's summer house.

Activities during the Annual Meeting include:
Wednesday evening's Welcome Reception will be held in The Loft at Cedric's Tavern located in Antler Hill Village®.

Friday evening Dinner Reception is at the Antler Hill Barn.

By registering for this annual meeting, you are granting permission for your contact information to be shared with Southern Obstetric and Gynecologic Seminar Inc., which is a joint provider of this continuing education activity.

Visit the Southern Obstetric and Gynecologic Seminar website here. We hope to see you at the Biltmore Estate!


Fees
Everyone registering for the program will receive a one-year membership to the Southern Obstetric and Gynecologic Society and one complimentary ticket for Friday's Dinner Reception.
Lodging
Village Hotel on Biltmore Estate
To obtain a discount, the hotel must receive individual reservations
no later than June 20, 2022
. Reservations can be made online by using the link or by calling (866) 779-6277 and referencing the group name.
Please click here to reserve a room.
Target Audience
Physicians, Advanced Practice Providers, Certified Nurse Midwives and Nurses
Objectives
Review appropriate steps for thorough work-up of chronic pelvic pain
Identify appropriate surgical and nonsurgical treatment modalities for pelvic pain based on history and physical exam findings
Outline the stages of a malpractice case and share practical tips when facing actual or potential litigation of a difficult case
Recognize the stigma faced by gender and sexual minority patients and learn the basics of gender-affirming care for trans and non-binary patients
Explore labor positioning techniques for non-pharmacologic pain relief, optimal fetal positioning and descent
Review the recommendations particular to Medication-Assisted Treatment of addiction in pregnancy and postpartum patients
Discuss appropriate management of fibroids
Review proper techniques for patient positioning and peritoneal access to avoid injury
Review strategies to avoid bladder injury and cuff dehiscence at hysterectomy
Review the advantages, disadvantages and safety issues of antidepressant medication use during pregnancy
Recognize and provide appropriate prenatal care and treatment for complications of bariatric surgery in pregnancy
Examine legislative update on current priorities and issues relevant for Ob/Gyns in the 2021 and 2022 legislative sessions
Faculty
Amy N. Broach, MD, MS
Mark G. Glidwell Newman, MD
Beverly Gray, MD, FACOG
Rob Lamme, BA
Heath Miller, MD
Patricia Overcarsh, MD, MPH
Melinda A. Ramage, MSN, FNP-BC, CARN-AP
Pennilee S. West, MSN, CNM
Brochure / Registration Form