Read our Stories
Working Towards a Solution
WCU Behavioral Health Intern Mary Lewe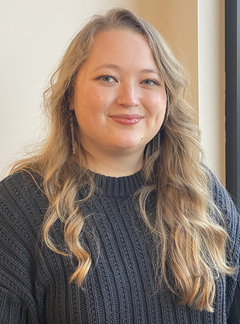 When Mary Lewe was deciding what career path to follow, the one thing she knew for sure was that she wanted to have a direct impact on people's lives. After she took a counseling theories and practices course as an undergrad, she decided counseling was the right fit for her. She had enjoyed interviewing people one-on-one when she wrote for her college newspaper. Plus, she knew from personal experience the positive impact counseling can have on a person's life, having received it herself.
Currently, Mary is in her second year of a two-year clinical and mental health counseling program at Western Carolina University. When she finishes this May, she'll have a Master of Science in Counseling. She'll also have plenty of hands-on experience from her internship here at MAHEC.
As a behavioral health intern, Mary works directly with MAHEC patients under the direction of Valerie Krall, MA, LCMHC, director of behavioral medicine. All of the patients that Mary works with are adults who are either uninsured or underinsured and don't qualify for financial assistance through MAHEC. "It's a good way to increase access to mental healthcare while also giving interns an opportunity to spend time with patients," Mary explained.
Mary's goal this semester was to complete 100 internship hours, but she ended with 140 hours. Next semester, she'll be at MAHEC full-time. Working in the field for the first time, it could be easy to get overwhelmed; but Mary says she's received plenty of support from both MAHEC and WCU.
"There's been a good balance between trust in me and my training at the university and really strong support and supervision," Mary said. "The internship has been really well scaffolded to the point where I feel like I'm being challenged, but I also feel like I have the support I need to give patients good quality of care."
MAHEC's use of an integrated care model, a technique that blends medical and mental health, was a big draw for Mary. MAHEC uses a common patient health questionnaire called the PHQ-9 assessment that screens patients for depression. If a patient has a positive screening, someone will follow up to offer to schedule a counseling session and provide resources.
"Getting to participate in primary care consultations is something that has been unique to my experience at MAHEC versus other internship experiences in the area," Mary explained. "It's something I really appreciate, and I'm looking forward to getting more experience in integrated care next semester."
One of the goals of the integrated care model is to increase access to mental healthcare by providing patients with resources they might not have the time or ability to seek them out themselves.
"Traditionally, counseling has only been for folks who are wealthy or who have the time and resources to access counseling," Mary said. "One great part of integrated care is that it makes mental healthcare accessible for folks who don't fall into that category, who maybe are lacking resources to access mental healthcare."
After Mary finishes her degree this spring, she hopes to continue working in an integrated care setting or work in community mental health. "I think a lot about access when it comes to counseling. I want to be a solution to that problem rather than continuing to participate in a system that has traditionally not lent itself to helping everyone."