Read our Stories
Pursuing a Life of Service
CHPE Student Spotlight: Neena Phommahaxay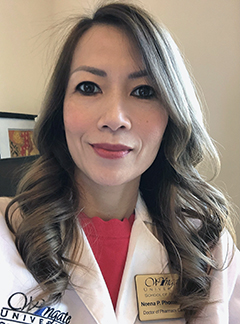 Since moving to Upstate New York from Laos when she was nine, Neena Phommahaxay has always struggled in school. She's used to working harder in class than her English-speaking peers.
"I always doubted myself," said Neena. "I didn't think I would go into healthcare because I thought that I wasn't smart enough. English is not my native language, and I do struggle a lot, even today. I still have to translate things in my head. I guess when other students put in about an hour, I have to put in about three or four hours studying."
Art was one of the few subjects that came naturally to her, so, after high school, Neena went to the Rochester Institute of Technology to study art, but soon decided to leave and became a certified esthetician.
Neena enjoyed working with her clients to improve their skin and loved to see their confidence grow, but she wondered if she could help people in other, better ways. "I always thought in the back of my mind that I could actually contribute even further," Neena said. "I could not only help patients with their skin and how they feel on the outside, but with how they feel on the inside as well."
Neena was in her late 20s when she decided to go back to school in 2011. She started going to community college and was considering becoming a nurse, but soon realized that it wasn't the right fit for her.
"When I started nursing I shadowed doctors and physician assistants, and I was around a lot of sick patients, and it got to me," Neena shared. "I was really emotional. I guess I had a lot of empathy and was sensitive to patients who were suffering. I cried a lot, and I thought, "Is this what it's going to be like for me every day? Will I be able to handle this?'"
Around the same time Neena was struggling with her decision to become a nurse, one of her friends was accepted to pharmacy school, and Neena realized that pharmacy could be a better fit for her than nursing. She would still be able to help people but without the intense contact with patients that she found emotionally overwhelming.
Today Neena's in her fourth year at Wingate University School of Pharmacy and her second year of the NC AHEC Scholars at MAHEC Program, a two-year interdisciplinary, program that is helping her gain additional knowledge and experience in underserved settings.
"This program has given me opportunities to learn about working with a multidisciplinary team where members have different levels of skills and experience. It has shown me how each member plays a vital role in providing patient care," Neena said. "Overall AHEC Scholars has not only helped validate my desire to work with underserved populations, but also it inspires and motivates me to see my classmates in the same boat that I am."
"Neena is what every patient hopes their caregiver or clinician will be," said Jacquelyn Hallum, MBA, MHA, director of health careers and diversity education at MAHEC. "She is passionate in her work and it shows in her interactions with fellow students, faculty, mentors, and patients. She is 'woke' to the needs of her patients and recognizes that one size does not fit all!"
As Neena works tirelessly to achieve her goals, she hopes to serve as an inspiration to other immigrant students. "Being an immigrant child who didn't speak English, I would definitely encourage anybody to go for their goals. At my age, if I can do it, anybody can do it, and MAHEC has great opportunities for anyone who wants to pursue a career in healthcare."
If you know someone enrolled in a college-level health professions training program who might be interested in becoming an AHEC Scholar, please encourage them to learn more by clicking here.