Read our Stories
MAHEC Resident Alumni Spotlight
Christine Posner, MD, Buncombe County Health Department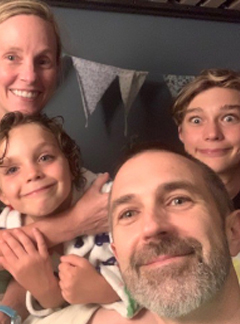 First-year family medicine resident Graham Custar, MD, sat down with Christie Posner, MD, to learn about her experience in the MAHEC Family Medicine Asheville residency program and how it prepared her for the career in public health that she enjoys today.
After growing up in Dallas, TX and attending medical school in New Orleans, Christie Posner came to Asheville as a 29-year-old open-minded, fun-loving mother to an insulin-dependent diabetic cat Bubba. By her first week in Asheville, she had also adopted a six month-old hound dog Rosie. She was a MAHEC family medicine resident from 2001-04, followed by a fourth-year community medicine fellowship in which she divided her time between primary care at the local health department, working with the newly formed sports medicine fellowship, consulting at the MAHEC Family Health Center, and serving as an attending on the Family Practice Service (including deliveries). She also worked with the teen OB clinic at MAHEC Ob/Gyn Specialists.
Graham: Tell me about a patient you saw or an experience you had during residency that you still think about today.
Christie: There are several firsts I think about. The first death I experienced was my first night of residency while on call at the hospital. I had admitted an elderly woman who had just settled into her room. Her husband went to move the car and a Code Blue was called. I was encouraged to be involved running the code and doing chest compressions. It felt surreal...all those emotions. That stuck with me.
I also remember the first time I recognized that a patient needed to go to the hospital - I'll never forget watching him be wheeled away. Interestingly, when I moved back to Asheville years later, that patient learned that I had returned and established care with me again.
Then there was the feeling of truly realizing that I was in the right field since there were so many aspects of family medicine that I enjoyed.
Graham: What was the biggest current event you remember from your training years?
Christie: I was post-call in the NICU on a September morning during my intern year. It was Tuesday, September 11, 2001. I couldn't believe what was happening. I made my way to the pediatrics floor to find my co-interns. Along with the pediatrics attending, we went into an empty room to watch the news on the TV and try to process it all.
Graham: What was the hardest part of residency for you?
Christie: My cohort was involved in the transition from paper to electronic records. It was hard to bring the EMR into the exam room and have to pay attention to something other than the patient. We used tablet-like devices with a stylus. One of them had a large crack in the screen, from (it was rumored) an attending physician who had tossed on the floor out of frustration. We were also issued Palm Pilots to access digital pocket references like Epocrates, but many of us used them to play downloadable games as well.
Graham: What did you do for fun during residency?
Christie: We spent a lot of time laughing. I remember sitting around a kitchen table or on a back deck just laughing with friends from residency.
Graham: What was your favorite song or movie during your residency?
Christie: It's a blur in terms of what's going on in the outside world while you're in residency. I do remember seeing several movies at the Asheville Pizza and Brewing Company. I just can't remember which ones. I do remember the good food and enjoying the escape from reality.
Graham: How has your practice evolved over the years?
Christie: After MAHEC, I moved to San Francisco and worked at a federally qualified community health center in Oakland. At La Clinica de La Raza, I practiced prenatal care including deliveries, primary care, and inpatient adult medicine. It was full-spectrum medicine for a predominately Spanish-speaking population. The clinic had been around since the 70s, and I was happy being part of a community of people committed to working with the underserved. However, the cost of living was high, and I felt married to my job. I recognized that I wanted to settle down and start a family. In some ways, La Clinica de La Raza was the best job ever; it was hard to leave.
Even while living in California, I came back to visit Asheville every year. In 2009, I moved back to stay. I worked at Western North Carolina Community Health Services (also known as Minnie Jones) until 2014. I married another MAHEC graduate, Andy Runkle, MD, who co-founded Vista Family Health, and we had our son Jonah. In February 2017, I started at Buncombe County Health Department, which now focuses on family planning; counseling and treatment for sexually transmitted infections; and North Carolina's breast and cervical cancer control program.
Graham: What are you passionate about?
Christie: Ensuring patients feel they're being heard.
Graham: What are you doing now that you didn't expect to be doing?
Christie: I didn't realize how important family planning is. How important it is to talk about and how it can empower patients. The biggest bonus of my job is getting to work with residents.
Graham: What advice do you have for current and future MAHEC residents?
Christie: Try different things. Value your support system. Help patients feel heard. Get an animal. Laugh often!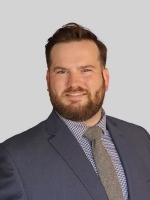 Special thanks to PGY1 resident Graham Custar, MD, for contributing to this alumni spotlight. You can learn more about Dr. Custar and our family medicine residency program by clicking here.