Read our Stories
All Things are Possible With a Little Magic
Community Spotlight: Ricky Boone, local magician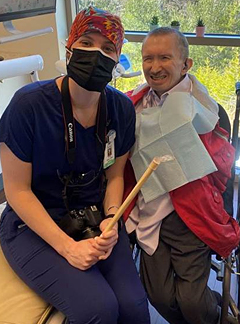 When Dr. Keller created a special device to help her patient use his new dentures, he told her it was magic. He should know. Now in his early 60s, Ricky Boone has been a professional magician most of his life. He also owns one of the few remaining brick-and-mortar magic shops in the United States, Magic Central in North Asheville.
"Who else would take the time to figure out how to help me?" Ricky shared. "My new mouth full of teeth is amazing!"
Ricky came to MAHEC for dental care, and several of his teeth had to be removed due to damage caused by periodontal disease. Creating custom dentures wasn't a problem. This is something dental residents like Dr. Keller do frequently; but ensuring Ricky could use them presented a unique challenge. Ricky was born with a rare bone disorder, Morgani's Syndrome, which severely limits his range of motion and keeps him wheelchair bound. He lives independently, so inserting and removing his new dentures would be difficult.
Channeling Ricky's conviction that "all things are possible," Dr. Keller reached out to residency director Amadeo Valdez, DDS, MAS, and former MAHEC dental resident Ian Alvey, DMD. They experimented with MAHEC's 3D dental printer and, after several attempts, created a device Ricky can use to insert his dentures. With a little resin and a lot of determination, they helped make Ricky's disability disappear.
"Who would have thought this small investment would change lives," Dr. Valdez mused. "I love working at MAHEC, but this was a particularly special day for me."
The magic was not lost on Ricky, whose smile stretched from ear to ear when Dr. Keller shared their invention at his next denture fitting. Ricky's nonprofit The Vanishing Wheelchair teaches the same art of misdirection to help youth overcome perceived limitations and discover their unique abilities, talents, and full potential.
After Ricky was born, doctors told his mother he would never live past four. Decades later, he's still proving them wrong. Along the way, he has inspired generations of children and adults through magic performances, workshops, inspirational talks, national media coverage including an Emmy award-winning feature, and a biography.
Here at MAHEC, we share a little bit of Ricky's never-give-up spirit. All things are possible, and they're much more likely when you work with a talented and dedicated team.