Read our Stories
Latosha Plummer, Registered Nurse at MAHEC OB/GYN
Faculty Spotlight: Worth the Wait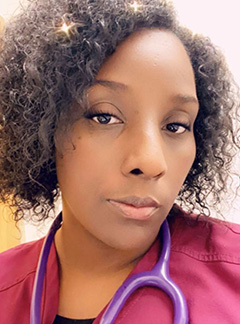 For Latosha Plummer, RN, 2020 was the year her father was sick with COVID-19 and spent 45 days in the ICU. It was the year she worked in healthcare during a pandemic while also going to school. And it was the year she lost three close family members. But 2020 was also the year Latosha achieved her life-long goal of graduating from nursing school, and 2021 is the year she officially became a Registered Nurse.
"I had to overcome a lot in these last two years," Latosha shared. "God was a big part of getting me through it. Talking to God and praying 'Is this what I'm supposed to do?' But I felt like I was put in that place for a reason. Everything happened for a reason. While I was learning to think like a nurse, I was also learning how to help my mom make decisions for my dad. It was hard."
But Latosha's obstacles to becoming a nurse didn't start in 2020. They started when she was 23.
At 23 Latosha had a daughter, a fiancé, and a job at Burger King. She was also in school, taking the prerequisites she needed to get into a nursing program, but her job and schooling came to a halt when she became sick with hyperthyroidism. She had to receive radiation treatment, and her health went downhill. She was out of work for about eight years.
"My husband, who was my fiancé at the time, pretty much took over everything," Latosha said. "He worked and provided for us by himself. I decided that I couldn't continue to do that. I couldn't watch him do everything on his own. So I went back to school."
Latosha went to South College and became a Certified Medical Assistant in 2014. Right out of school, she applied for and got a job at MAHEC Ob/Gyn Specialists, but she hadn't given up on her dream of becoming a nurse. In August of 2018 she was accepted to the nursing program at A-B Tech.
"I kept trying and trying and trying to get into the nursing program, and I kept failing," said Latosha. "And once I got in to A-B Tech, it was tough. That's the hardest thing I've ever done."
Latosha credits MAHEC and the support she's received from her managers and coworkers with helping her "finish strong." But as her manager Tiffany Woods would tell you, Latosha's the kind of person who makes you believe in her dream.
"Latosha's tenacious personality and faith made it easy to support her during her path to becoming an RN," said Tiffany. "Latosha had obstacles to overcome but did not let anything get in her way to complete her degree and pass her NCLEX. She is a great example of how working at MAHEC and offering support to staff for continued education can help them to grow."
Latosha is surrounded by a large support system outside of MAHEC as well, including her parents (her father eventually recovered from COVID-19 and is doing well), her husband, and her four children. Latosha says she's "so appreciative for all of the love and support throughout this ordeal because I would have been broken without them."
But as much as her family has supported her, Latosha knows that her example of perseverance and hard work has also inspired her family, especially her children.
"They've learned from me to continue to reach for your goals, to always strive," said Latosha. "Seeing me not give up and seeing me frustrated but continue to keep going, that's what really pushes them to work hard for what they want in life."
Latosha's oldest daughter has even decided to follow in her mother's footsteps and pursue a career in medicine. She's currently in her freshman year at UNC Chapel Hill on a full academic scholarship. She hopes to one day be a family physician.
Latosha is enjoying her new role as a registered nurse and achieving this life-long goal, a feeling she describes as, "the best thing in the world. It feels like I'm walking on cloud 9." But she's not planning to rest on her laurels for too long. She wants to get her bachelor's degree, and then, she says, she'll be done.
Throughout her journey to becoming a nurse, Latosha's motto has been "Worth the wait." Now that it's over she knows that is has been.