Read our Stories
Experience helps student connect the dots and find her calling
CHPE Student Spotlight: AHEC Scholar Skyler Chillson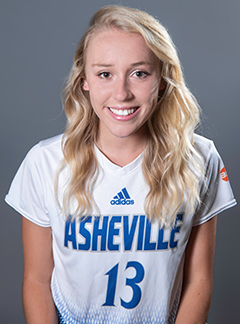 Before Skyler Chillson knew she wanted to become an occupational therapist, she had several different career ambitions. At first, when she was little, she had dreams of becoming an artist or interior designer. Then, when she was a little bit older, she wanted to be a veterinarian. In high school, she thought about going into criminal justice. It wasn't until college that she discovered a passion for healthcare.
Her interest was sparked in a human physiology class she took her freshman year. The professor taught about muscle movement from the cellular level all the way up to the functions of the heart. That in-depth look at the human body was fascinating to Skyler, an avid soccer player, and it made her want to learn more.
She got involved the pre-health professions program at UNC Asheville, but Skyler still wasn't sure exactly what she wanted to do in the healthcare field. Then she heard about MAHEC's AHEC Scholars program. The opportunity to shadow a variety of health professionals and learn more about different healthcare fields was a big draw for Skyler.
"Being able to spend a full day, or days, shadowing a medical doctor, a physician assistant, or whoever you choose is really interesting," Skyler said. "It was enlightening to just immerse myself in that culture for a couple of days."
Skyler finally landed on occupational therapy, and, in the end, it was her grandfather's miraculous recovery that inspired her. A few years ago, Skyler's grandfather had a stroke and lost most of his motor functions. Two years later, he had recovered so much that people were traveling across the country for the chance to work with him and see his progress up close.
"Once I got into healthcare and the AHEC Scholars program, I started to learn more, and I was able to understand what was happening to my grandfather on a different level," Skyler explained. "The work that the occupational therapists did with him made me want to be an OT."
The AHEC Scholars program was a perfect fit for Skyler, who needed to get hands-on experience in different fields before she could decide on a career path. Through this program, Skyler has had the opportunity to work in a variety of settings that allowed her to experience what it would be like to work in different fields.
"I think if somebody is like me and is interested in healthcare but doesn't know exactly which route they want to go, it's a very good way to figure it out," Skyler said. "AHEC Scholars helps you make those connections to be able to get experience in shadowing and figure out what is interesting to you."
Skyler plans on graduating this fall and then getting her doctorate in occupational therapy. After she's through with school, she wants to continue working in a variety of settings by becoming a traveling OT, at least for a few years. We know she'll make a great one!