Read our Stories
Putting a Dent in the Problem
CHPE Student Spotlight: AHEC Scholar Kamal Sharpe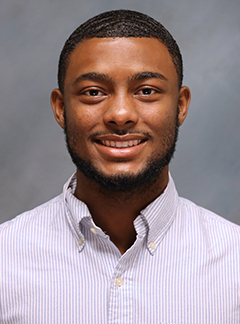 In middle school, Kamal Sharpe's life revolved around basketball. He wanted to go into the NBA but knew that was a long shot. So, inspired by his grandfather, a pharmacist, and his mother and grandmother, who worked in the mental health and foster care systems, Kamal decided to go into healthcare. His dream changed from being a basketball player to being a physical therapist for the NBA.
Now Kamal is a senior at UNCA pursuing a major in health and wellness and a minor in Africana studies, and he's just completed his first year in the NC AHEC Scholars program at MAHEC. Although being an AHEC Scholar has looked a lot different this past year because of COVID restrictions, Kamal says he's still gotten a lot out of the program.
"The best part so far has definitely been the information about how to promote equity within the community," Kamal explained. "We've been learning about different microaggressions. Being able to get over my own biases is such an important part of becoming the best healthcare professional that I can be."
Between AHEC Scholars didactics and his Africana studies, Kamal has been thinking a lot about the inequalities he witnessed while growing up in Gastonia, NC, and he is actively searching for solutions to those problems now that he has access to equity and diversity education through this program.
"I don't think it's fair for people to have to put food over an education or food over getting medical treatment," Kamal said. "I've seen that growing up a lot. I don't necessarily think I can do something by myself to help solve those issues, but I might be able to put the smallest dent in the problem. That's my main goal."
When asked if he's hopeful that one day health inequality will be solved, Kamal says he can feel both hopeful and discouraged, sometimes cycling through both emotions in the same day. "I know there's been so much progress and change, especially within the past five years," Kamal said. "I don't know what the next five years will look like, but I'm hopeful that it will be more change than has happened in the past."
"I think one of the biggest problems is that people find it easier to talk than to listen," Kamal explained. "Once we're able to listen to others' problems and figure out their needs, I think that we will be able to create the solution that we're looking for."
After he's finished with school, Kamal plans to work in low-income neighborhoods before pursuing a career as a personal trainer in the NBA. He's not sure what that work will look like. He might be providing affordable physical therapy to people who need it, or working with other healthcare professionals to provide needed health resources, but whatever it looks like, he will be putting a dent in health inequalities.