Read our Stories
CHPE Student Profile – Summer Intern Kory Price
CHPE Student Spotlight: Exploring a Career in Healthcare at the Simulation Center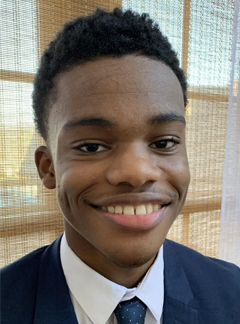 Kory Price, a senior at TC Roberson High School, spent his summer working at MAHEC's Simulation Center. For 16 hours a week, Kory got a backstage view of everything that goes into a medical simulation – from setting the scene to cleaning up the fake blood.
Kory's internship is part of his City of Asheville Youth Leadership Academy (CAYLA) experience. CAYLA trains Asheville high school students in real-world job skills and places them in summer internships with organizations in the community. CAYLA students are also involved in community service projects and leadership training.
"CAYLA helps high school juniors and seniors become professionals," Kory explained. "It helps seniors, specifically, to bolster their applications to help them get into good colleges. It's a great experience, and you really learn a lot about what professionalism is and how to act in a professional setting."
For his CAYLA summer internship, Kory worked at MAHEC's Simulation Center in order to explore his interest in the healthcare field. In addition to helping set up and clean up, Kory was able to sit in on simulations for a variety of medical situations, from routine healthcare procedures to trauma and serious injuries. His most memorable experience was watching a simulation of a C-section. "It was pretty graphic. There was a lot of fake blood," Kory said.
"I've always been interested in healthcare," Kory shared. "I like anatomy, and I'm interested in helping people, so it just felt like a natural fit for me."
Kory's experience in the simulation center has solidified that he does indeed want to pursue a career in healthcare. Right now, he's considering going into dentistry. His focus is making sure whatever career he chooses allows him to maintain a good work-life balance. One of the big draws of dentistry, in addition to helping people, is the ability to set your own hours. Kory says being able to spend time with his family and friends is very important to him.
Kory's looking forward to college, his career beyond that, and being able to explore and live in new places. But, for now, he's most excited to actually be in a classroom for his senior year.
We wish Kory the best of luck in his senior year and beyond!