Read our Stories
The Flavors of Healthcare
CHPE Student Spotlight: AHEC Scholar Michelle Angeles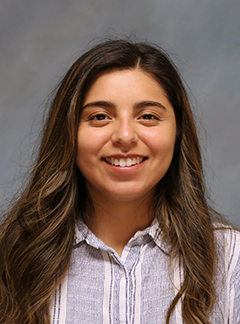 Michelle Angeles grew up in Hendersonville, NC, but she's not a stranger to the rural parts of Western North Carolina, where some of her family lives. In fact, her knowledge of rural medicine and the lack of access to healthcare in some areas, has her considering a career as a rural primary care physician.
While she's still deciding on exactly what kind of career she wants to have, Michelle is getting a taste of all her options through the AHEC Scholars program at MAHEC.
"It's a really good opportunity to look at all the different pieces that come together in healthcare and see all the different positions and how they work together for the same purpose, for helping this one patient," said Michelle. "MAHEC and the AHEC Scholar programs are really good at giving you direction by giving you a lot of exposure to different fields, so it gives you a sense of what each of the flavors are."
Michelle first started thinking about a career in healthcare after her aunt passed away a few years ago from a rare autoimmune disease. "Ever since then, I've been interested in healthcare because I was interested in learning more about her disease," said Michelle.
Later, she started interning at a hospital and was able to shadow different healthcare providers to see what different jobs actually look like. That experience confirmed for her that healthcare is where she wants to be.
Michelle first got involved with MAHEC as a UNC Asheville MAHEC WNC Bridge Foundation Pre-Healthcare Professions Intern. After that, she applied to the AHEC Scholars program in order to continue learning and exploring the different areas of healthcare including mental health. "I was a part of a research analysis of the different mental disorders that are around WNC," said Michelle. "I learned a lot about that aspect of medicine."
As a senior at UNC Asheville, Michelle is getting ready for her next steps: taking the MCAT and applying to medical school. While she's working on that, she's also hoping to get a job as an EMT in Henderson or Buncombe County to get more clinical experience.