Read our Stories
Serving the Community
CHPE Student Spotlight: AHEC Scholar Carlos Pena Magos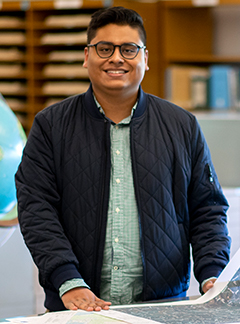 Carlos Pena Magos has wanted to be a physician since he was a child, but growing up in a low-income neighborhood, he didn't think that dream could be a reality until he got to high school. Because of his good grades, teachers started telling him about different scholarship opportunities and encouraging him to apply. That encouragement, plus an internship shadowing healthcare providers at a local hospital, convinced Carlos to try for a career in the medical field.
With the support of scholarships, Carlos was able to attend Western Carolina University, where he's now a senior majoring in emergency medical care. Next, he wants to go to medical school and eventually return to his hometown of Hickory, NC, to open a clinic, and help those that need it the most while giving back to the community that raised him.
"Lately I've been observing how expensive it is to get healthcare," Carlos said. "With my clinic, I really want to focus on long-term benefits. I want to be able to educate patients and give them routine service at an affordable price. So that even if you have economic issues, there's always an opportunity to get help, something that is not offered as much in my community."
As an AHEC Scholar at MAHEC, Carlos completes at least 40 hours of community-based, experiential, or clinical training each year. For his spring semester hours, he decided to volunteer at WCU's vaccine clinic. As an emergency medical technician, Carolos was able to step in and start administering vaccines.
"It felt like a sense of duty," Carlos said. "It was an opportunity to help out the community because they really needed volunteers. They needed help and I had the skills to do it, which felt really good."
In addition to getting hands-on experience serving the community, Carlos enjoys hearing from other medical professionals through AHEC Scholars about how they're helping their communities. It's a great opportunity for him to hear about different needs and unique ways healthcare workers are striving to meet those needs.
"AHEC Scholars is great for anyone interested in the medical field because you get so many opportunities to discover new interests or new ways to learn and serve the community," Carlos explained.
We know wherever he ends up, Carlos will find a way to serve his community and make it a better place!