Read our Stories
Spotlight on Dr. Stephanie Call, Chair of the Department of Internal Medicine at MAHEC
Faculty Spotlight: Beginning at the End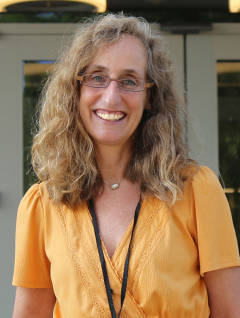 Dr. Stephanie Call dreamed of moving to Western North Carolina, but there was one problem: she wasn't ready to give up the job she loved. Dr. Call was the program director for internal medicine at Virginia Commonwealth University in Richmond, Virginia, where she had worked for the past 17 years. She was not daunted by this challenge, however; in fact, her love of problem solving was what drew her to internal medicine in the first place.
"Internal medicine is such a great field for thinking intellectually," Dr. Call explained. "There's complex physiology and science, but you also have to learn about the patients' interests, beliefs, and values, and then you try to fit it all together."
Dr. Call was ready to start a new phase of her life and career in Western North Carolina, but there were no internal medicine teaching jobs in the area.
When she heard that MAHEC was adding an Internal Medicine Residency Program, it felt like fate. When she visited the campus, she knew it was the perfect fit. "Thank god MAHEC thought the same thing!" Dr. Call said.
A month later, she became MAHEC's first internal medicine program director and started working to create a residency program from the ground up.
Dr. Call was very familiar with what it takes to run a residency program, but developing a program from scratch was a new challenge for her. She began at the end by using input from the community to determine the qualities an internist working in WNC should have.
"We want to create internists who are caring and compassionate and community-oriented," Dr. Call explained. "People who are really going to lead and serve communities like ours that are rural and underserved."
Then Dr. Call and her team worked backwards, thinking through what types of educational experiences are needed to create the physicians that WNC needs.
"It's so much fun!" Dr. Call shared. "It's so different than anything I've ever tried to do, and I'm really proud of the program. It's been a big privilege, but it takes a lot of creativity, innovative ideas, partnering, and good communication."
Since joining MAHEC in late 2019, Dr. Call has also been able to dive into several clinical projects. Launching an internal medicine department just before a global pandemic proved to be an interesting challenge.
"The COVID pandemic actually allowed opportunities for me to start serving MAHEC in what I felt was a meaningful way," Dr. Call explained. "One of the really important things for me in starting the internal medicine program was: how are we going to contribute to this already amazing institution?"
She's already begun to answer that question by launching two pandemic-related initiatives in response to needs she saw in the community: the COVID-19 Monoclonal Antibody Treatment Program and the Post-Acute COVID-19 Care Clinic.
"I've learned that if you have innovative ideas, MAHEC will work to move things forward," said Dr. Call. "I love organizations that are nimble, where people are allowed and encouraged to think outside the box. It's just another example of why MAHEC is such an amazing place."