Read our Stories
MAHEC's MMMP Exceeds Expectations
CHPE Student Spotlight: MMMP Intern and AHEC Scholar Naomi Llamas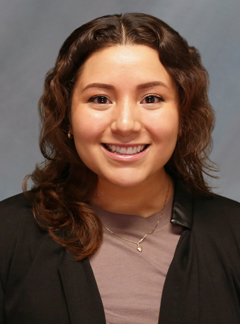 Naomi Llamas spent her entire high school career anxiously awaiting the day when she would be a senior and could apply to be in MAHEC's Minority Medical Mentoring Program (MMMP). She had spotted a flyer for MMMP on a tour of high school when she was in eighth grade and instantly knew she wanted to be a part of it. From that day forward, Naomi never lost sight of her goal of becoming an MMMP intern.
Once Naomi finally reached her senior year, she applied and was accepted. The program lived up to all those expectations and then some.
"With MMMP, I got a lot more experience than I thought I would," Naomi shared. "I got trained to become a doula, which I thought was pretty cool. They also offered a medical interpreting class, which was very helpful. I'm honestly blessed to have this experience."
The most memorable part of the MMMP program for Naomi was getting to watch doctors and nurses training in the MAHEC Simulation Center. She remembers sitting behind the glass with the simulation instructor as she explained to them what was going to happen next.
"It was interesting to see how the doctors and nurses reacted and what steps they took in each situation," Naomi said. "It was one of my favorite parts of the whole experience."
Naomi has known from a young age that she wanted to pursue a career in healthcare. Her older brother has health issues that cause him to be in and out of the hospital, so Naomi has spent a lot of time caring for him and translating for her parents, both of whom are from Mexico. She discovered early on that she has a passion for helping people.
With all the time spent in hospitals, Naomi couldn't help but notice the lack of Hispanic people working there. That lack of representation is another motivating factor in Naomi's career choice. "We're a minority in the healthcare field, and I always wanted to see someone who looks like me," Naomi said.
Now Naomi is a junior at Mars Hill University and in her first year of nursing school. She's also in her first year of another MAHEC program: the AHEC Scholars. She says a lot of what she's learning in didactics has helped her in her nursing classes.
"I can align what we learn in class with the didactics, and I can find ways to connect them," Naomi said. "So it's helping out with my school as well as allowing me to learn new things and broaden my experiences."
We wish Naomi all the luck as she continues learning and gaining experiences, in and out of the classroom!