Read our Stories
Planting Seeds
Faculty Spotlight: Dr. Valdez is training the next generation of dentists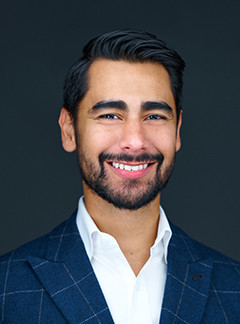 Amadeo Valdez, DDS, MAS, director of the General Practice Residency (GPR) Program here at MAHEC, grew up in Coahuila, a small border town in Mexico. There, students have to decide their career path early on. At a young age, he narrowed down his options to lawyer, physician, or dentist. He quickly ruled out lawyer and decided being a physician and having to treat terminally ill patients wasn't the best fit for him. He ultimately settled on dentistry, which he considered the best of both worlds. Dr. Valdez has strong memories of going to the dentist as a child. He remembers loving the smell of the alginate that was used to make dental impressions. "I guess it planted a seed," Valdez said.
After completing dental school, Dr. Valdez received a scholarship to go UCSF for a two-year program in clinical research where he focused on oral health and diabetes. As he approached graduation, he realized he missed interacting with patients so he decided to go into a general practice residency at Atrium Health Carolinas Medical Center.
A residency is not required to practice general dentistry, but, according to Valdez, dental residencies provide practitioners with valuable skills that can't be learned in the classroom. He uses the metaphor of learning to ride a bike. If dental school is the tricycle phase and residency is the training wheels, then private practice is like biking the Rocky Mountains.
"Not only does residency teach clinical skills, we teach you how to take care of your community," Dr. Valdez explained. "We teach you how to be a dental professional: how to work with staff, how to work with patients, and how to work with insurance."
According to Valdez, MAHEC's General Practice Residency Program has it all: a private practice environment with opportunities to gain hospital experience and use innovative equipment like intraoral scanners and 3d printers.
Residents also get to learn from highly qualified general dentists as well as dentists with specialties like prosthodontics, pediatrics, periodontics, and oral medicine, Dr. Valdez's specialty. These specialties are especially important in rural communities like Western North Carolina. Dr. Valdez, for example, is the only oral medicine specialist in a two-hour radius.
Dental residency is also a time to learn about patients' real life social determinates of health.
"When we are in dental school, we get to be very focused on dental procedures," Dr. Valdez explained. "We can forget about the patient as a whole, forget about their diet and their access to healthy food. We forget that some patients can't spend 3 hours in a dental chair because they have to go back to work. They have to have access to transportation and child care. They may have to take two or three buses to get to appointment. You have to learn to be flexible."
That flexibility and understanding is one of the many lessons Dr. Valdez is passing down to the next generation of dentists.