Read our Stories
Changing Perspectives
CHPE Student Spotlight: MMMP Intern Fabiola Patricio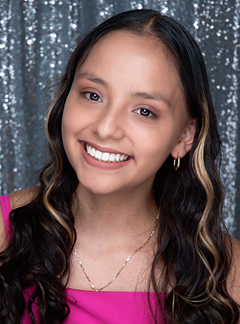 During her time as a MAHEC Minority Medical Mentoring Program (MMMP) intern, Fabiola Patricio has built relationships with people from across the medical field, learned more about what she wants to do in the future, and even helped deliver a baby, but the experience that had the biggest impact on her occurred early on in her internship.
It was her first day at MAHEC's Ob/Gyn office, and the physician she was shadowing was following up with patients that had recently visited the ER. That day Fabiola witnessed a miscarriage, and it opened her eyes to a side of health care that she hadn't expected.
"At that point the doctor wasn't being a doctor; she was speaking from the bottom of her heart as a human," Fabiola shared. "At the end of the day, we're all the same people, we all have feelings, and we all cry. I think that was one of my big takeaways. It really changed my perspective throughout my internship on how I connect with people and patients during rotations."
While her time at MAHEC taught her about the provider side of health care, Fabiola has had a lifetime of experience with the patient side. Growing up in an immigrant family, Fabiola took on the role of interpreter, especially during medical appointments.
Last year, when her grandfather had a stroke, Fabiola was the one that spent the night in the hospital with him. She was the one to help him with his outpatient physical therapy. Even through all of the sacrifices she's had to make, Fabiola never resents her role in her family. In fact, it inspires her to keep going.
"Family has always been my motivation," Fabiola explained. "Whether it be for education or for a job, it's that sense of, 'I'm going to make you guys proud. Your sacrifices and everything you did for us, it's all been worth it.'"
Her time spent representing her family has prepared Fabiola well for her current advocacy work. Fabiola is a student representative for her district; she's on several leadership teams at the United Way of Asheville and Buncombe County; and she's a youth leader for North Carolina at the Institute for Educational Leadership. As a former senior and student leader at Nesbitt Discovery Academy, Fabiola found herself advocating often for both students and parents.
"Really my role and my goal at the end of the day is to uplift student- and parent-voiced concerns." Fabiola said. "I have found this work to be especially important now with the pandemic and everything that has happened and continues to happen with COVID."
Fabiola will be heading off to Appalachian State University on a full scholarship in the fall, and she will be the first person in her family to receive a college degree. We wish Fabiola the best of luck in this next chapter of her life!