Read our Stories
Employee Spotlight: Shanya Whiteside, CMA Pathways Graduate
A Lifetime of Care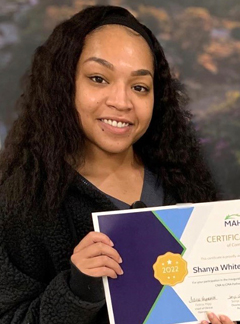 Shanya Whiteside, CMA, learned how to be a caretaker before she ever stepped foot into a classroom. Growing up, she and her mother took care of her grandmother. Every morning, Shanya would make her grandmother's breakfast, take her sugar levels, and give her insulin if she needed it–all while getting herself ready for the day. After school, she would do it all again.
That experience inspired Shanya to pursue a career where she could continue caring for people. In 2016, she graduated from Brevard High School as a certified nurse assistant (CNA). She worked several different CNA positions before she heard about MAHEC's new CMA Pathways program that helps CNAs receive their certified medical assistant (CMA) certification. She applied and became one of two CMA Pathways graduates working at MAHEC's Internal Medicine Clinic.
This innovative program provides CNAs with the opportunity to receive continuing education and on-the-job training. MAHEC partners with Blue Ridge Community College, where participants take a medical assistant training class. After completing the course, CNAs are ready to take the National Healthcare Association exam.
Shanya says she's enjoyed being able to learn techniques in the classroom while getting hands-on practice with them in MAHEC's Internal Medicine Clinic. However, her favorite part of the program was the opportunity to gain more confidence in her skills as a CMA.
"Drawing labs is kind of scary before you actually do it, but once you start doing it, you see that you can basically do whatever you put your mind to," Shanya shared. "That was the best feeling for me, being afraid to do something and then realizing that I'm actually pretty good at it."
Shanya's not done learning and growing in her healthcare career. She's currently deciding what's next on her career journey. Her original goal was to become a nurse, but she's keeping her options open. "I'm also certified in billing and coding, so I'm still trying to figure out where I want to be in the next 5-10 years, but I've got some ideas brewing."
Even though she's a few years into what is sure to be a long and successful career in healthcare, Shanya says taking care of people is as fulfilling now as when she started.
"Knowing that you helped improve a patient's mood or day, or that you're able to give them some clarification on what's going on with their body, that's still a great feeling," Shanya shared.