Read our Stories
MAHEC Rural Fellow Spotlight: Ruslan Garcia, MD
Going Strong in Murphy, NC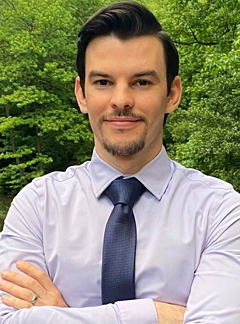 Dr. Ruslan Garcia was born in Cuba, grew up in Miami, and did his residency in New York City, so when he accepted a position at Appalachian Mountain Community Health Center (AMCHC) in Murphy, North Carolina, most people thought he wouldn't last long. That was two years ago, and Dr. Garcia is still going strong and loving his work.
When he was looking for his first job out of residency, Dr. Garcia new he wanted to work in a rural environment where he could provide a broad scope of care and continue to learn and grow in a variety of areas. During his residency in New York, he started to get frustrated with the way medicine works in a big city.
"There are many specialists, and sometimes that's really good, but sometimes it's not. You could go to seven different doctors and if they don't all talk to each other, you get very fragmented care," Dr. Garcia said.
Over the past two years, Dr. Garcia has helped transform the clinic from a general practice that served basic primary care needs to an integrated practice that supports patients with opioid use disorder and hepatitis C. AMCHC also now has one of the most robust diabetic clinics in the area.
Dr. Garcia credits a lot of his success to his connection with MAHEC. When he first arrived in Western North Carolina, Dr. Garcia applied for a MAHEC rural fellowship and was accepted.
The first year of the fellowship focuses on helping physicians transition to practicing primary care in a rural setting and navigating all of the challenges that come with that. The fellowship provides ties to MAHEC's academic health center, mentors, and continuing professional development and research opportunities. It also provides fellows with one day a week of protected time, which they can use to continue learning.
"I think one of the issues that I certainly struggle with, that other people struggle with as well, is the learning curve when you're moving from residency to a practice," Dr. Garcia explained. "I think when you have five days a week where you're constantly expected to see patients and don't have time to keep learning or adjust to the community or find community resources, it can be hard. Having protected time to catch up is really helpful. I think it's helped me stay here longer."
An optional second fellowship year is all about innovation. Dr. Garcia decided to focus on integrating a pharmacist into the primary care clinic, which he modeled after MAHEC's own family health centers. He says this effort has been really successful, especially with managing chronic conditions like diabetes.
"When I first came here, my company was looking to serve more of the underserved needs of the area like opioid use disorders, methamphetamine use disorders, psychiatric disease, along with others," Dr. Garcia said. "A lot of that was new to me, and also exciting, but having the MAHEC fellowship really allowed me the time to learn about these conditions."
We're grateful to support healthcare professionals like Dr. Garcia as they strive to improve health in rural Western North Carolina.