Read our Stories
Following a Passion for Whole-Person Care
UNC Programs: A UNC Asheville campus medical student never strays far from her purpose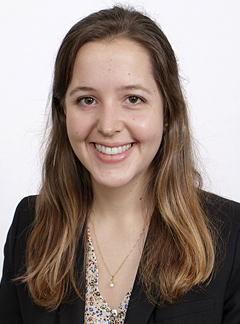 When Charlottesville-native Katie Leiner headed to North Carolina for college, she wasn't quite sure what she wanted to study. But she was curious about the human condition and what contributed to making it better. This curiosity led her to take courses in psychology, sociology, chemistry, and political science at Davidson College. A study abroad experience in Denmark sparked her interest in addiction, a field that drew from many of the approaches she had studied and informed her growing understanding of the opioid crisis back home.
As she neared graduation, Katie decided to apply for a Davidson Impact Fellowship at MAHEC focused on addiction. She didn't regret her decision and enjoyed supporting an interdisciplinary team of health professionals working with communities to address substance use and its impacts. Katie was so inspired, she stayed on for a year after her fellowship to work with MAHEC's perinatal substance use treatment program Project CARA. As the program's rural practice coordinator, Katie contributed to research on perinatal substance use and helped rural medical practices support birthing people with substance use treatment needs. Along the way, she decided to answer the call to medicine.
Working with MAHEC's substance use team taught Katie that healing did not just come from medications in the clinic. Providers approached their patients with curiosity and listened to their stories and goals while addressing barriers that their patients had to navigate to access care.
"They showed me this was the kind of physician I want to be – one that cares for the person in front of them holistically and compassionately, and advocates for them beyond the clinic walls," she explained.
Katie's choice of medical schools was easy. Many of the physicians she worked with at MAHEC had trained at the University of North Carolina and served as faculty. She had a number of friends who were medical students at UNC's Asheville campus, and she appreciated the value UNC placed on primary care. She also wanted to learn more about the disease process underlying addiction and knew that UNC would expose her to experts in the field at Chapel Hill in addition to those she had come to know at MAHEC.
"My mentors at UNC were focused on understanding the broader systems that impact their patients," Katie shared. "They treated the whole patient. This is what drew me into medicine in the first place."
Returning to Asheville for her clinical year of training was also an easy decision. Katie loved living in the mountains and the friends she'd made, and she knew she'd get a lot of support at UNC's smaller campus. Katie also believed she would learn better in a longitudinal curriculum that allowed her to follow her patients' progress over time. The Asheville campus provided flexible individualized learning opportunities that allowed Katie to explore outside interests.
"Katie maximized her time here and excelled in academics, research, service, leadership, and her commitment to diversity, equity and inclusion," explained Robyn Latessa, MD, UNC SOM Asheville campus director and assistant dean. "In her role as a student leader, she collaborated with faculty and students to develop activities that fostered community among the medical students during a challenging pandemic year."
These qualities made Katie a natural for induction into Alpha Phi Omega, an honor given to a handful of medical students from across UNC's four campuses each year based on academic performance, leadership capabilities, demonstrated professionalism, service to the school and community, and a focus on activities that advance diversity, equity, and inclusion. When asked about being invited to join UNC's medical honor society, Katie confessed she's not sure how it happened.
"I've just followed my passion," she admitted. "I needed to pursue my other interests to sustain myself through medical school, which can be really challenging at times. Especially during the pandemic. I needed to remind myself why I'm here."
Following her passion is a consistent theme for Katie, and it continues to lead to new opportunities.
"Katie came to MAHEC as a Davidson Impact Fellow with a passion for persons with substance use disorders," shared Blake Fagan, MD, chair of MAHEC's Department of Family Medicine. "She jumped right into our special projects team and started solving problems." Dr. Fagan also served as her preceptor for family medicine when Katie returned to the Asheville campus for clinical training. "Her intelligence, compassion, and team spirit shone through. She taught me as much as I taught her."
The continuity of preceptors over time is another facet of the Asheville program that has yielded unexpected benefits and a few curve balls.
"I came in to medical school with ideas of what I wanted to do. I was sure I didn't want to go into pediatrics," Katie explained. "And then I had the opportunity to work with Ora Wells, a pediatrician in Brevard. Over the past 40 years, Dr. Wells has worked not only with children and families but also with local police, schools, lawmakers, and the hospital. He did whatever it took to promote justice. Everybody knows and loves him. He made such an impact on his community and on me. When he said he was going to retire, I cried."
Katie's not sure if she'll pursue pediatrics, but she's definitely more open to it than she was. Luckily, she still has a little time to decide. She plans to get her master of public health degree from UNC next year so she can build her public health skills, particularly around policy transformation and epidemiology. After that, she's pretty sure whatever specialty she chooses will include addiction medicine.
"At the end of the day, this brings me a lot of satisfaction, and it's a cause that I care about," Katie shared. "Addiction impacts a lot of people and sits at the intersection of socioeconomic inequality, racism, and gendered bias. Those are all things I'm passionate about addressing."
In fact, she already is.