Read our Stories
Healthy Competition
CHPE Student Spotlight: NC AHEC Scholar Gillian Oyos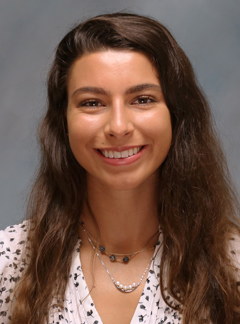 Gillian Oyos was an anxious kid growing up in the small town of Abingdon, Virginia. She discovered that playing sports, especially soccer, was a way to relieve her anxiety. However, as she got older and the stakes got higher, she realized that soccer was no longer helping her with her anxiety but making it worse.
"As sports start to become more competitive there's a certain level of anxiety that comes along with it," Gillian shared. "That's one of the biggest reasons why sports psychology is such a passion of mine. I want to help people harness the power of sports to decrease anxiety but also help those that are suffering from anxiety because of their sport."
Gillian started playing soccer when she was seven years old, and it's the reason she ended up in Asheville. She's currently a senior on the soccer team at the University of North Carolina Asheville and double majoring in psychology and health & wellness.
Gillian's also in her second year of the NC AHEC Scholars Program at MAHEC. She first heard about the program through some of her teammates and knew it was something she wanted to be a part of.
"I'm so, so glad that I applied," Gillian said. "The shadowing experience has just been unreal. This past spring, I was able to literally sit in on counseling sessions. I learned a lot of things about the field of psychology that I wouldn't have seen without AHEC Scholars."
Gillian has used what she's learned in the classroom as well as AHEC Scholars to help improve her own mental health around sports. "I really struggled with anxiety my freshman year. Using techniques like mindfulness and imagery and going to a counselor has dramatically helped decrease that anxiety and bring a lot more joy into the sport again," Gillian said.
Next year, Gillian will be completing her master's degree at Northumbria University in Newcastle, England, while also playing soccer. She's excited to see where her soccer career goes and is open to playing professionally if the opportunity arises. Regardless, she'll be in a hot spot for both soccer and sports psychology.
"A lot of the leading research surrounding sports psychology comes out of the UK, and the field is much more widespread there," Gillian explained. "Mental health is just a bigger priority overseas, so being able to be a part of that and being in proximity to the leading research will be huge."
We wish Gillian luck as she embarks on a new chapter in England!