Read our Stories
Improving Nutrition, Improving Lives
CHPE Student Spotlight: Dietetics Intern Shawnda Martin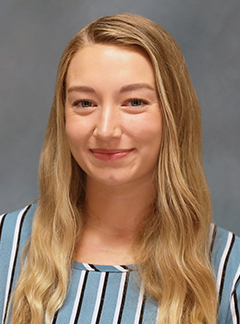 As a former high school and college athlete, Shawnda Martin learned from a young age the power of nutrition and the effects it can have on your body. She was also interested in learning how nutrition helps prevent many chronic diseases, several of which run in her family. It's not surprising that when it came time for Shawnda to choose an undergraduate major at Western Carolina University, she chose nutrition and dietetics.
Now Shawnda is pursuing her master's degree through a combined dietetic internship and master's program at WCU. "I've always had a passion for health and fitness, and I've always wanted to do something that allows me to help other people," Shawnda explained.
Shawnda certainly picked the right career. As a registered dietitian, she will have the opportunity to equip providers with the knowledge and resources needed to engage patients in conversations about lifestyle interventions for disease prevention and management.
As part of the internship component of her WCU program, Shawnda has had several rotations at health centers around WNC, including a rotation at MAHEC with registered dietitian Fred Stichel, MS, RD, LDN. Fred provides medical nutrition therapy, nutrition education, and counseling to MAHEC patients across our practices as well as non-MAHEC patients referred from practices in the community.
During her time at MAHEC, Shawnda worked in the pediatric healthy living clinic, shadowed our regional lactation consultant and sports medicine physicians, and interacted with many of our residents. Her favorite part of the internship was counseling patients one on one, a skill she hadn't yet had a chance to master outside of role-playing scenarios in school.
"I learned that you have to be okay with awkward silences," Shawnda shared. "It's different when I'm watching Fred do it. When you're on your own, it's kind of nerve wracking. It took me about five or six times before I got really comfortable talking to a patient on my own."
Fred says the hands-on experience that dietetic students get at MAHEC is one of the things that make this internship unique. "Interns at MAHEC are viewed as an extension of the care team as opposed to simply an observer," Fred explained. "We have specific clinical roles and learning opportunities built in to our nutrition clinic design."
After she completes her master's program and passes the registered dietitian exam, Shawnda hopes to work in an outpatient setting similar to MAHEC. She's also interested in becoming a traveling dietitian and working with kids.
"Shawnda was passionate about working with people to help them improve their health," Fred said. "She was compassionate, nonjudgmental, and patient-centered. I enjoyed seeing her navigate the path from provider of knowledge to facilitator of change and sharing her sense of fulfillment from the journey."