The Healthy Opportunities Pilot: How Care Managers Can Obtain Pilot Consent
Feb 22, 2023
Canceled
Public Health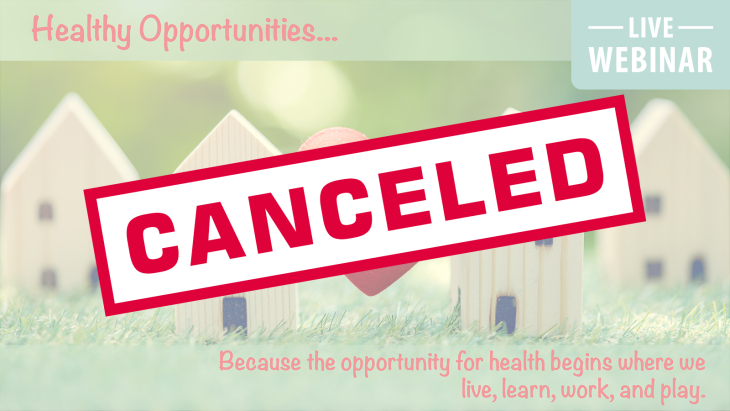 Description
The Healthy Opportunities Pilot: How Care Managers Can Obtain Pilot Consent

This module will provide Care Managers updated guidance on the Healthy Opportunities consent process and requirements per Pilot updates made in January 2023. Learners will review the requirements and steps they need to take to obtain member consent, be able to describe next steps should member's consent or not consent, and explain procedures and policies for member information sharing and storage.

Length of live event: 60 minutes

The Framework:

North Carolina's Healthy Opportunities Pilot program is an unprecedented opportunity to test the integration of evidence-based, non-medical interventions into the state's Medicaid program. The Pilots will provide non-medical services to qualifying Medicaid members across four domains: housing, food, transportation and interpersonal violence/toxic stress. Critically, frontline care managers working in Pilot regions will play an essential role in identifying members that may benefit from Pilot services, recommending appropriate services and coordinating their care.


In Collaboration with
Disclaimer
By registering for this workshop, you are granting permission for your contact information to be shared with DHHS which is a collaborating partner of this continuing education activity.
Target Audience
Care Managers
Objectives
By the end of this module the care manager will be able to:
Explain how the new consent form (as of early 2023) differs from the previous consent form
Apply the updated Pilot consent process including the use of the new materials (specifically the new Consent Form, Rights and Responsibilities, and Job Aid documents)
Describe the requirements needed to obtain member consent for enrollment in the Pilot
Understand next steps should a member consent or not consent to participating in the Pilot
Explain Pilot information sharing and storing procedures
Faculty
Katie Bartholomew, RN, MSN
Elizabeth Vernau, RN