Subtle® Yoga for Positive Mental Health: Brief Interventions
Dec 2, 2022
Closed
Mental Health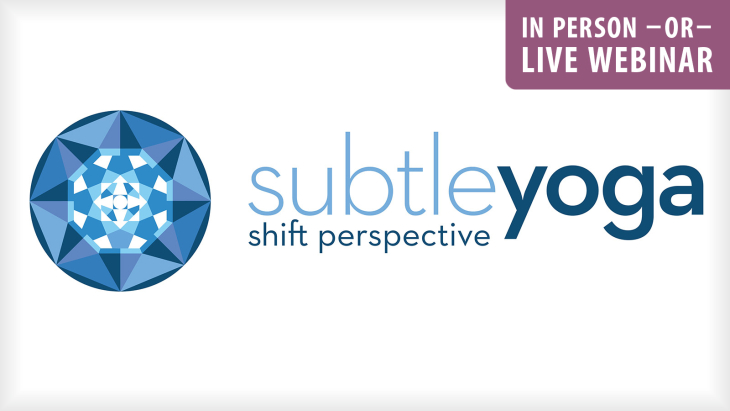 Description
A growing body of research demonstrates the efficacy of yoga for mental health, including the neurobiologic benefits of these ancient practices. Health care is often delivered in a fast-paced, volume based context. During this one day workshop, participants will learn how to guide clients through several safe and effective yoga-based interventions which can provide clients with tools for self-regulation, grounding, and empowerment. With minimal training or athletic or physical capacity, most people can learn some of these safe skills. Health care professionals may begin to experience the powerful benefits and share these practices safely with others.

Subtle® Yoga courses are a unique offering of holistically oriented, mind-body behavioral health care. You are welcome to take any Subtle® Yoga modules on an individual basis (as multiple or sole trainings) or in any order, except for the Subtle® Yoga Teacher Training Certification for Behavioral Health Professionals: Teaching Yoga to Individuals and Groups (RYT200) which begins in Fall of 2023. If you would like to attend this training, you must fulfil the pre-requisites listed as 1, 2, 3 and 4 below, before attending 5, which is the full teacher training. The combined hours of the trainings listed below will qualify participants to apply for registration with the Yoga Alliance as a 200-hour Registered Yoga Teacher (RYT).

1. Any one of the following One-Day Introductions:
(a) October 28, 2022 - Subtle® Yoga for Trauma Recovery: A One-Day Introduction
(b) November 11, 2022 - Subtle® Yoga for Chronic Pain: A One-Day Introduction
(c) December 2, 2022 - Subtle® Yoga for Positive Mental Health: Brief Interventions

2. February 9-10, 2023 - Applying Subtle® Yoga in Clinical Practice (you may substitute 2 of the above one-day trainings for this two-day requirement)

3. March 9-11, 2023 - Subtle® Yoga for Behavioral Health Intensive: Anxiety and Depression

4. April 14-16, 2023 - Subtle® Yoga for Behavioral Health Intensive: Trauma, Addiction, and Recovery

5. September 7-10, 2023 / October 26-29, 2023 / November 16-19, 2023 / December 14-17, 2023 - Subtle® Yoga Teacher Training Certification for Behavioral Health Professionals: Teaching Yoga to Individuals and Groups (Four, 4-day Trainings with 102.0 Hours and 4.0 Ethics Hours)

Subtle® Yoga is an exceptionally adaptable approach to yoga practice which is person centered and can be tailored to clients with differing abilities. It fosters the development of attention and mindfulness, and promotes spiritual development in the context of any belief system. Please wear comfortable clothes to move in and dress in layers. You are welcome to bring a yoga mat.


"It's interesting that right now there are about six to ten million people in America who practice yoga… They've discovered that there's something they can do to regulate their internal systems."
- Bessel van der Kolk, MD author, "The Body Keeps the Score"
Group Registrations
Registering 5 or more participants with one payment? Please use the paper registration form at the end of the PDF brochure. Send completed paper registrations for the full group to the Registration Team at MAHEC.
Fax: 828.257.4768 | Email: MAHEC Registration
Group Rate Available
$145/person
Five or more from same agency, registering & paying at same time
(add $15 to fee if registering within one week of the event)
By registering, participants agree that information may be shared with Subtle Yoga instructors.
Subtle® Yoga Series
To learn more about and/or register for individual trainings in the series, please click HERE.
Register for all workshops in the 2022/2023 season, including the Teacher Training at a discounted rate!

$ 3,300.00 if paid in full by October 21, 2022.

Please click here to register for the entire series.
Target Audience
Mental health professionals including substance abuse counselors, social workers, psychologists, counselors, marriage and family therapists, school counselors and other professionals interested in this subject
Objectives
Upon completion of this workshop, participants will be able to:

Demonstrate the ability to teach several brief Subtle® Yoga interventions which can support clients' self-regulation
Exhibit at least 5 postures and/or breathing and meditation practices which may be integrated into individual and group interventions to help mitigate symptoms of depression and anxiety
Describe the top-down and bottom-up neurobiological basis for the effectiveness of Subtle® Yoga interventions
Faculty
Ashley Lester, LISW-CP, RYT500
Kristine Kaoverii T. Weber, MA, c-IAYT, eRYT500
Brochure / Registration Form