Read our Stories
Creating a Healthier WNC
MAHEC Takes a Leadership Role in HOP Initiative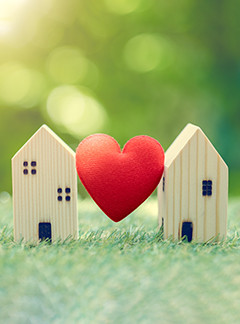 For years it has been recognized that the determinants of a person's health are equally related to social factors as to traditional risk factors—if not more. For example, up to 60% of one's health status can be predicted by zip code alone.
Now, MAHEC is taking a leadership role in supporting an innovative initiative expected to improve the social determinants of health and thereby create a healthier Western North Carolina.
The Healthy Opportunities Pilot is an innovative initiative that aims to demonstrate the personal health benefits of delivering non-medical services—housing, transportation, food, and assistance related to interpersonal violence—to eligible Medicaid beneficiaries. It is the first comprehensive program of its kind in the nation.
The federal government has authorized up to $650 million in Medicaid funding for the program over five years, operating in three geographic areas of the state. Impact Health, a subsidiary of Dogwood Health Trust, is leading the pilot in WNC, covering 18 counties. The other pilots are taking place in northeastern North Carolina and in the Cape Fear region.
A team from MAHEC is supporting Impact Health in a variety of ways, including working across MAHEC clinical departments to provide information to ensure our patients can benefit from HOP services. These efforts are already making a difference.
Consider the experience of one MAHEC Family Health patient—a young, single mother of two and Medicaid recipient. After her provider offered information about HOP and encouraged her to contact the program, the patient shared with us her experience of receiving support:
Fresh vegetables and meals delivered to her every other week.
$1,600 of car repair provided, including new tires.
New washer and dryer paid for and delivered.
Tuition and supplies for her courses at AB Tech fully covered.
---
MAHEC Hosts Healthy Opportunities Pilot Statewide Conference
On August 7, 2023, MAHEC along with Southeastern Area Health Education Center (SEAHEC) and Eastern AHEC, hosted an in-person gathering as part of the Healthy Opportunities Pilot Statewide Conference—the first time collaborative partners involved in HOP came together. Funded by Kate B. Reynolds Charitable Trust, the day kicked off with a presentation from Jay Ludlam, Deputy Secretary of NC Medicaid.
With 358 attendees—66 onsite at MAHEC, 172 online, and the remainder at the hub sites in Wilmington and Greenville—the event included eight break-out presentations. MAHEC's Laurel Booth, Program Manager, NC AHEC Healthy Opportunities Pilot Program, Whitney Gordon, BS, Continuing Education Planner, and Program Logistics Specialist Kiana Washburn played leadership roles to ensure the conference's success, supported by countless other colleagues at MAHEC.
---
Statewide Training Programs Led by MAHEC Team
In addition to the Statewide Conference, Laurel, Whitney, and Kiana also lead the development of statewide training programs for participants in the pilot, to include care managers and human service organizations that provide non-medical services.
Regionally, MAHEC's Community Health Transformation Program Director Nelle Gregory, Healthy Opportunities Implementation Specialist Chrissie Gulden, MPH, Implementation Specialist Amy Fisher, MSPH, and WNC Community Health Workers Project Manager Magdalena Brown work closely with Impact Health, providing instruction and technical assistance in the areas of engaging medical practices in linking beneficiaries to HOP, developing trainings and support materials, and completing a regional landscape analysis of potential collaborative partners to support strengthening the Impact Health Network.
Evan Richardson, who provides strategic leadership for both of these teams, sums up the impact of the Health Opportunities Pilot: "This is remarkable and vital work. Our hope is that this program can spread across all of North Carolina in the future."
---
Links for more information: