Read our Stories
What We Do Matters
Staff Spotlight: How We Do It Matters, Too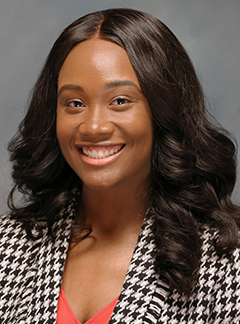 Ashley Steward, MBA, has worn many hats during her healthcare career. She's been an office manager and a consulting analyst, and she also worked in clinical informatics and finance. Ashley's passion for making healthcare accessible has been a driving force throughout her career.
"I believe that healthcare is a right for everyone, and I wanted to do my part in ensuring that this idea becomes a reality," Ashley said. "While my role isn't clinical, I really think that all of us play a part in ensuring that everyone has access to healthcare when they need it, and that it's given to them with great care."
When Ashley came to MAHEC in December of 2020 as a program manager in the Department of Continuing Professional Development, she was looking for a job in public health that would have a direct impact on healthcare. While in this role, she helped identify the need for a team that could collaborate with departments across MAHEC by fostering long-term, sustainable partnerships; guiding ideas from abstract to actionable; and connecting innovators with funders – all while keeping a focus on equity.
She was the first member of this new Health Integration and Innovations Team and has worked hard to build it from the ground up. Since its inception, the team has grown to five members and now collaborates with several of MAHEC's clinical departments. Ashley looks forward to supporting more departments across the organization. Eventually, her goal is for the innovations team to become a resource, not only for MAHEC, but also for our community partners as well.
"There are a lot of great ideas in the community, but not everyone has the resources that MAHEC has," Ashley explained. "I want to be able to partner with community organizations and help them establish the infrastructure they need to be sustainable long term."
The innovations team has adopted the slogan and guidepost, "What we do matters. How we do it matters, too." If the team's achievements to date are any indication, how they do it is working. Since 2021, team members have supported 58 projects totaling over $9 million in awarded funding focused on clinical care, workforce development, and community health initiatives. Innovative work that's been successfully implemented here at MAHEC includes the Post-Acute COVID-19 Care Clinic, expansion of the Certified Community Behavioral Health Clinic, and expansion of our family medicine and ob/gyn residency programs.
We're grateful that Ashley is doing what she loves most: improving access to care by accelerating the pace of innovation here at MAHEC.