Read our Stories
Celebrating the Spirit of MLK and Those Who Embody It
Faculty Spotlight: Earlier this month, MAHEC celebrated the life and legacy of Dr. Martin Luther King, Jr.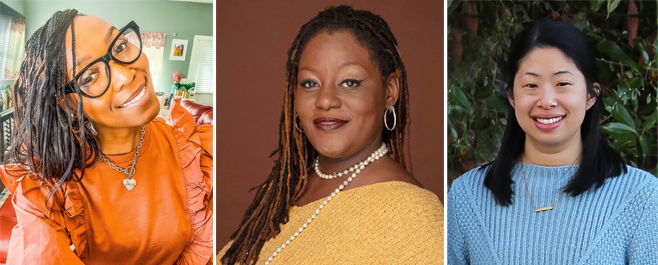 Earlier this month, MAHEC celebrated the life and legacy of Dr. Martin Luther King, Jr. Those who were able to attend the online celebration were treated to highlights of Dr. King's "I Have a Dream" speech, inspirational music, and a moving poem by our national youth poet laureate. This year's keynote speaker, Terrell Morton, PhD, is an Asheville native and a scholar activist, assistant professor of Identity and Justice in STEM Education at the University of Missouri, and one of MAHEC's first Minority Medical Mentoring Program alumni. Dr. Morton challenged participants to be accountable for ensuring all Americans have access to the freedoms, protections, and opportunities promised in the Declaration of Independence and the Constitution.

A much-anticipated centerpiece of this annual celebration was the recognition of the many leaders from across MAHEC who exemplify Dr. King's spirit. This year, it was impossible to pick just one Spirit of MLK winner, so the selection committee chose two: Cindy McMillan, CD, NCPSS (above center), and Irene Ulrich, PharmD (above right). This year's Emerging Leader award was given to Leslie Council (above left).

Cindy is a founder and the director of SistasCaring4Sistas, a community-based doula program at MAHEC Ob/Gyn Specialists that is working to improve maternal and infant health outcomes. Cindy is passionate about improving the pregnancy and birth experience for people of color. She is a certified birth doula, Lamaze-trained childbirth educator, certified breastfeeding peer counselor, trained tobacco cessation specialist, and a certified peer support specialist for birthing people with substance use disorders. She is also the mother of four children and president of the Asheville City Schools Foundation board.

"Cindy is warm, passionate, sincere, and focused," shared Tamarie Macon, PhD, last year's Spirit of MLK award recipient. "Her community-based approach and methodology of centering at the margins exemplifies King's vision of a beloved community."

The second Spirit of MLK award recipient, Irene Ulrich, PharmD, is a clinical pharmacist in MAHEC's Department of Family Medicine and director of MAHEC's PGY2 ambulatory care pharmacy residency program. Irene is a tireless advocate for MAHEC's transgender and gender nonbinary patients and employees. Under her leadership, MAHEC's all-gender equity workgroup has organized gender-affirming training for employees and has promoted the physical, emotional, and mental health of our patients by working to ensure healthcare services are welcoming and inclusive.

"Irene demonstrates tremendous commitment to an under-resourced community facing significant health and well-being inequities," noted Dr. Macon. "Her understanding of justice, as well as her advocacy to enact equity, are exceptional."

Emerging leaders are rising stars who serve as instruments of change at MAHEC and in the community. This year's change maker is Leslie Council, marketing manager for the Department of Continuing Professional Development at UNC Health Sciences at MAHEC, Medical Minority Mentoring Program steering committee member and alumna, and co-chair of the NC AHEC Diversity Council. Leslie is also the founder of My Sistah Taught Me That, a local nonprofit that focuses on encouraging, inspiring, educating, and empowering young girls ages 11-19 with a special focus on those growing up in single-parent homes.
"Leslie exemplifies the values of Dr. King in her everyday life, serving as a vocal advocate for social justice, youth development, racial equity, and workforce diversity," shared Lauren White Gibson MPH, last year's emerging leader. "She always finds a way to engage a myriad of voices in conversation – lifting up those around her so others feel seen, heard, and valued."

We're grateful for everyone who is carrying on the spirit of Dr. King in their daily lives and work, including the members of MAHEC's Spirit of MLK, Jr. committee, who are themselves former award recipients, and all those who were nominated by their colleagues this year. Their efforts are moving MAHEC and our community closer to equity and justice.
2022 MAHEC Spirit of MLK and Emerging Leader Nominees
Michelle Boose, MD, MPH
Jennifer Brown, MSN, RN
Kristin Chally, MD
Carol Coulson, MD
Tanisha Edgerton, CMA
Tessa Frank, MRes
Ryan Haynes
Chase Harless, MSW
Heidi Knoll, MD
Nicholas Ladd, DO
Lourdes Lorenz-Miller, MSN, BSN
Tamarie Macon, PhD
Kevin Mahoney, CPSS
Eduardo Fabian Moreno, LCMHC
Julia Oat-Judge, MD
Jessica Poston
Kayla Rice
Shuchin Shukla, MD, MPH
Andria Thompson, CMA
Eric Tran, MD
Elisabeth Wallace, MSIS
Olive Wilbur