Read our Stories
Combining Two Passions
CHPE Student Spotlight: MMMP Intern Aniyah Beck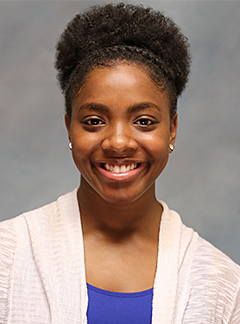 Aniyah Beck, a senior at School of Inquiry and Life Sciences at Asheville, has two passions: sports and medicine. So it's no surprise that her dream is to become a sports medicine physician. On her way to fulfilling that dream, she's become a long-time MAHEC pipeline student.
"I first got involved with MAHEC in the seventh grade," Aniyah shared. "I went to the MAHEC HealthCareers Summer Camp at Western Carolina University. I knew that I wanted to go into medicine, and I enjoyed the opportunity to learn more about potential health careers, and from that point on I've been participating in different MAHEC programs."
Currently Aniyah is balancing her workload as a senior in high school, a dual-enrollment student at A-B Tech Community College, and a MAHEC Minority Medical Mentoring Program (MMMP) intern, where she's able to make valuable connections with people in the healthcare field.
"Being an MMMP intern has opened a lot of doors for me to do even more things with MAHEC," Aniyah said. "It's been really fun and connected me with different people who can give me advice and help me figure out my path."
"Aniyah is enthusiastic and open to all opportunities that will help her reach her life goals," said Jacquelyn Hallum, MBA, MHA, director of health careers and diversity education at MAHEC. "She trusts and loves MAHEC and represents the epitome of a pipeline student!"
On top of her academic work, Aniyah makes sure to leave time for her other passion: sports, specifically running track. But even when she's running, she finds a way to make it educational. When she hurt her knee last year, Aniyah was excited for the opportunity to visit a trainer and see what they do from an athlete's perspective.
"I actually enjoyed myself because I learned a lot," Aniyah said. "I didn't realize how much trainers do and how much they know. It was just really enlightening."
Participating in track and MAHEC programs have encouraged Aniyah to get out of her comfort zone and meet new people, and they've both helped build her confidence. She remembers coming alone to her first MAHEC program in seventh grade and being terrified. But she was able to conquer that fear and has participated in multiple programs since then. In fact, her advice to other students who are interested in healthcare is to jump into a MAHEC program headfirst.
"Just do it! It's going to be extremely fun," she said. "You're going to get a lot out of the experience. It's going to be a great way to connect and see others. Don't be scared because I know I was really scared coming in. Just be willing to come outside your comfort zone."
Next up for Aniyah is college. Right now she's deciding between North Carolina A&T State University and UNC Charlotte. Although she's excited for a new adventure in a different city, WNC might be seeing more of Aniyah in the future.
"I think Asheville is somewhere I could come back and help," Aniyah said. "Growing up in a lower income environment, I see people not getting the healthcare that they need. I could help people in these communities stay healthy."
If you know a minority high school senior enrolled in Asheville City and Buncombe County schools that may be interested in the MMMP program, click here!