Read our Stories
AHEC Scholar Devan Woody
From Patient to Physician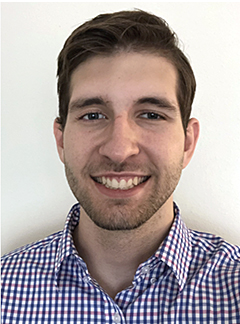 Devan Woody didn't want to let a back injury keep him from playing football, but eventually it did. He spent the majority of his time at Mountain Heritage High School in Burnsville, NC, injuring his back, working to get better, playing football, reinjuring it, and starting all over. It wasn't until his senior year when, after signing to play college football at Mars Hill University, he injured it for the final time.
His football career was over, but, more importantly, he needed to find a new college to attend because not playing football meant his scholarship would be revoked.
"It was so late in the year that I basically called every local university and said, 'Hey, can I come there?'" Devan said. "Western Carolina University picked up the phone, and said, 'Sure.'"
During all of this turmoil, Devan was dealt another hard blow. He found out that he had inherited polycystic kidney disease (PKD), a chronic condition that his father, aunt, and grandfather also have.
"My kidneys will likely fail by age 60 to 65, and I will have to be put on dialysis and then eventually need a transplant," Devan explained. "It's a genetic disease, and my sister and I both had a 50/50 shot of getting it. We both drew the short stick."
However, all of the time he spent as a patient did lead to something positive: he decided to become a physician. Now a pre-med biology major in his senior year at Western Carolina University, he's working towards getting into medical school. His ultimate goal is to become a nephrologist who specializes in diseases of the kidneys including PKD.
"I will be a patient the rest of my life," said Devan. "My experience as a patient is what's driven me to want to practice medicine. I've been on that end a lot. I know what it's like, and I think sometimes you can get frustrated on the patient side. I want to be a physician who makes it a little less frustrating."
In order to be that physician, Devan believes his focus should be on treating the whole person. As a second-year AHEC Scholar at MAHEC, he's been inspired by the didactics where students learn about various medical specialties and how to work with other healthcare professionals to reach a common goal.
"If we truly believe in patient outcomes, I think you have to treat the person as a whole and not just treat the symptoms. And if you treat a person as a whole, sometimes you have to use information that you're not a specialist in, so that's what our (AHEC Scholars) didactics are all about," said Devan. "They teach you an interdisciplinary approach, and you learn things that you wouldn't learn in your normal studies."
As he's applying for medical school, Devan's keeping his ultimate career goals in mind. UNC Chapel Hill is his first choice because "they value reaching underserved communities and rural medicine. I come from a rural area that's underserved, and that's my goal – to practice in a rural area like Burnsville or other rural communities in this area," explained Devan.
As an AHEC Scholar, he's well on his way to achieving his goal.