MAHEC's Project ECHO® for Geriatric Care
Dec 31–Mar 22, 2023
Closed
Medicine
Nursing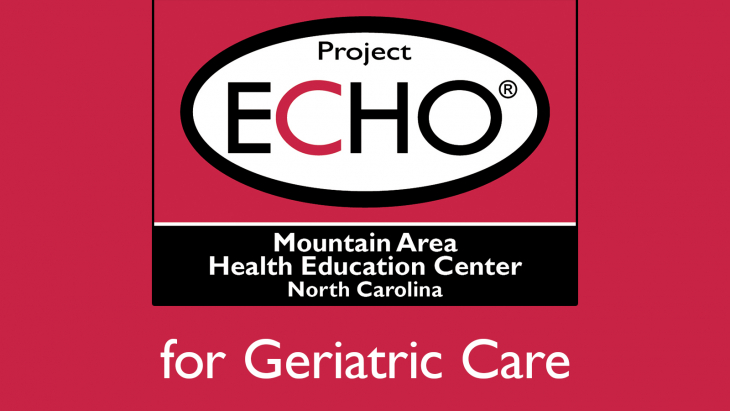 Description
Project ECHO® is a lifelong learning and guided practice model that revolutionizes medical education to provide best-practice specialty care and reduce health disparities. ECHO is led by an expert team that uses multi-point videoconferencing to conduct virtual learning sessions comprised of a short didactic followed by case presentations provided by participants. The ECHO® model includes case discussions, presented by attendees. This is the participants chance to discuss difficult patient cases with expert panelist and colleagues to gain feedback. When registering for this project ECHO®, please be prepared to share a case discussion during one of our sessions.

Rural physicians have identified the need for expert medical advice regarding care for aging patients in their communities. The western North Carolina population of older adults is rapidly expanding, while the number of Geriatricians is declining, creating a significant gap in our healthcare system. In rural North Carolina, most aging adults do not have access to a geriatrician and are cared for by family medicine physicians. The imperative created by increasing numbers of aging Americans, coupled with increasing longevity, has generated recognition and acceptance within the healthcare community that continuing education must address the knowledge and skills that are necessary to provide effective care for older adults.

This video teleconferencing series, guided by experts, takes place over six bi-weekly modules (one-hour each) from 7:00 AM until 8:00 AM EST and will cover topics such as:

• "Choosing Wisely" for Older Adults
• Behavioral and Psychological Symptoms of Dementia
• Osteoporosis in Older Adults
• Depression in Older Adults
• Deprescribing Opioids for Older Adults
• Advance Care Planning




All program dates are streamed on the ECHO Zoom Platform.
It takes place biweekly on Wednesdays from 7 AM to 8 AM EST.
Sessions begin on January 11th and end on March 22th in 2023.
Participant must login at 6:50 AM for attendance.
One credit hour is earned for each session attended.


New to the ECHO model? Click here to find out how Project ECHO® is changing the world.
MAHEC engages in evaluation activities to better understand the impact of our programs. By registering for this course, you agree that we may use your personal information in evaluative research regarding this program. Any reports published will be de-identified and reported in aggregate format. MAHEC assumes permission to use audio, video, and still images from this program for promotional and educational purposes. Please speak with a staff member if you have any concerns.
This project is supported by funds from the Bureau of Health Professions (BHPr), Health Resources and Services Administration (HRSA), Department of Health and Human Services (DHHS) under grant number # 2U1QHP28734 Carolina Geriatric Workforce Enhancement Program. This information or content and conclusions are those of the author and should not be construed as the official position or policy of, nor should any endorsements be inferred by the BHPr, HRSA, DHHS or the U.S. Government. The Center for Aging and Health, Carolina Geriatric Workforce Enhancement Program also provided support for this activity.

Target Audience
Physicians, Advanced Practice Providers, Nurses, and other interested clinicians.
Objectives
Overall Objectives | Increase evidence-based care for vulnerable elderly adults in local rural communities
Overall Objectives | Increase knowledge for healthcare providers in person-centered care, optimizing personal goals and minimizing iatrogenic harm for older adults
Overall Objectives | Identify strategies for providing person-centered care and optimizing personal goals for older adult patients
Faculty
Carissa Lau-Julien, MD
Lisa A. LaVallee, MD
Jack McBride, MD, MBA
Mallory McClester-Brown, MD
Della J. Simon, MD, MPH
Emma C. Williams, PharmD, BCGP, CPP
Fees
FREE

Free, but must register to attend
Brochure / Registration Form