MAHEC's Project ECHO®: Behavioral Health for Chronic Pain
Dec 31–Nov 17, 2022
Open
Mental Health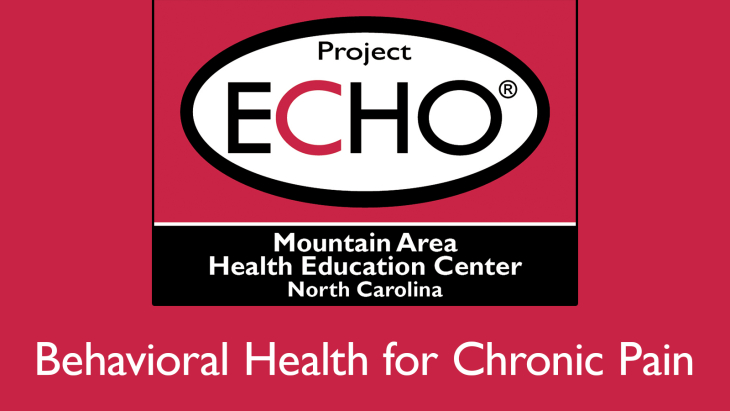 Description
Project ECHO® is a lifelong learning and guided practice model that revolutionizes medical education to provide best-practice specialty care and reduce health disparities. ECHO is led by an expert team that uses multi-point videoconferencing to conduct virtual learning sessions comprised of a short didactic followed by case presentations provided by participants. The ECHO model includes case discussions, presented by attendees. This is the participants' opportunity to discuss difficult patient cases with expert panelists and colleagues to gain feedback. When registering for this Project ECHO®, please be prepared to share a case discussion during one of our sessions.

The objective for this ECHO is to increase competence in behavioral health interventions and to increase collaboration with medical professionals of behavioral health practitioners for managing clients with chronic pain.

Chronic Pain (CP) is at epidemic levels and has become the highest-cost condition in healthcare. Subsequently, there is now an opioid epidemic, and drug overdose is the leading cause of death from injury in the United States. This live video teleconferencing series explores evidence-based behavioral health interventions to increase a person's ability to meet treatment goals, increase acceptance, handle adverse situations, reduce risks related to opioid use, and enhance functional ability despite their ongoing pain. This Project ECHO® Behavioral Health for Chronic Pain is designed to provide behavioral health professionals with specialized training in cognitive behavioral therapies and mindfulness approaches. Participants will also explore strategies for increasing integration and communication with healthcare providers. Additionally, participants will increase their knowledge of individuals experiencing pain with or without co-occurring issues with chronic pain.

This ECHO® video teleconferencing series, guided by experts, takes place over six modules (one-hour each) and will cover topics such as:
• Understanding Chronic Pain and Opioids
• CBT for Chronic Pain
• Impact of COVID-19 on Healthcare Providers and Clients
• Emerging Evidence-Based Pain Intervention Tools
• Mindfulness Approaches for Chronic Pain
• Common Co-occurring Issues with Chronic Pain

MAHEC engages in evaluation activities to better understand the impact of our programs. By registering for this course, you agree that we may use your personal information in evaluative research regarding this program. Any reports published will be de-identified and reported in aggregate format.

MAHEC assumes permission to use audio, video and still images from this program for promotional and educational purposes. Please speak with a staff member if you have any concerns.
Target Audience
Licensed Behavioral Health clinicians, especially in rural areas
Objectives
Organize collaboration with medical professionals for clients with chronic pain
Apply specialized training in cognitive behavioral therapies and mindfulness approaches
Examine how COVID has impacted healthcare professionals and client's stress and mental health
Examine recent studies that demonstrate behavioral-based and education-based treatment of chronic pain with significant results
Demonstrate evidence-based behavioral health interventions to increase a person's ability to meet treatment goals, increase acceptance, handle adverse situations, reduce risks related to opioid use and enhance functional ability despite their ongoing pain
Identify interventions or assessing and treating individuals experiencing pain with or without co-occurring issues with chronic pain
Faculty
Carriedelle H. Fusco, RN, MSN, FNP-BC
Donald R. Teater, MD, MPH
Martha H. Teater, MA, LMFT, LCAS, LPC
Zach T. White, LCSW, LCAS, CCS
Brochure / Registration Form