Your Curriculum
Our Philosophy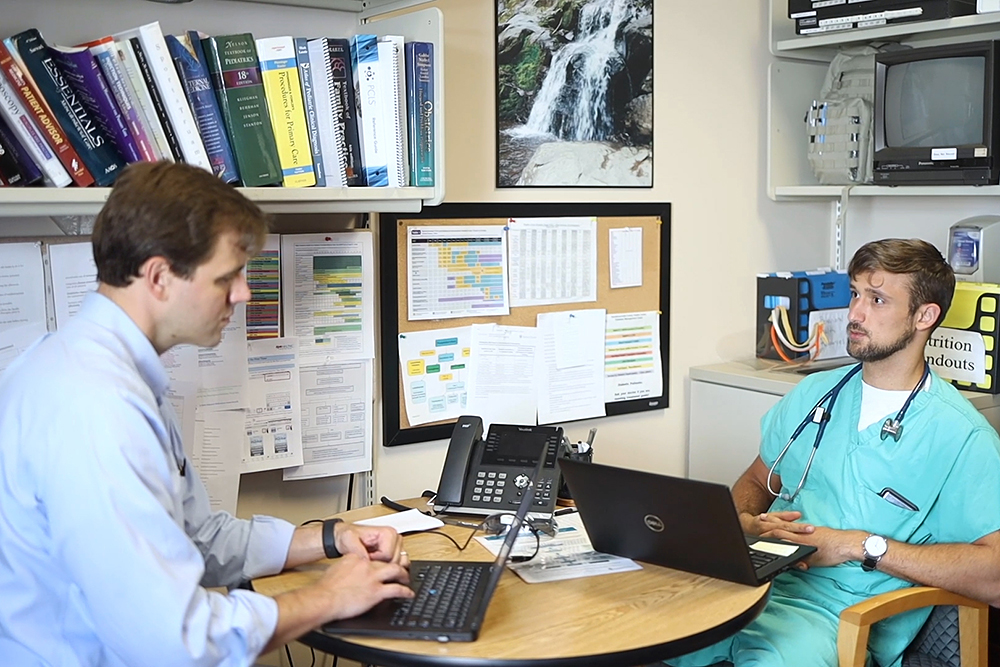 Think Small
Small is beautiful! Some would compare us to larger University programs and call us "unopposed" but we think a better definition is community-based. In Hendersonville, that means that when you call the pulmonologist, they know your name! We thrive as a residency because of an excellent group of community faculty that see you as a junior colleague and want to help you grow along the way.
Small communities like ours still have big problems. Here in Hendersonville, we have so many great resources and non-profits looking to make an impact on the community, and our residents are encouraged to make those connections and take on the problems that matter. Whether in the clinic, hospital, or community at large, you can lead that change.
Choose Your Own Adventure
With over 600+ family medicine programs, you're bound to find the one that fits your personal and professional needs. For us, flexibility is a key element of how we fulfill our mission of "Training to Serve." We think we have the Goldilocks of class size, but we also find that this gives us the flexibility to let a resident build a curriculum for their professional needs. If a resident wants a longitudinal curriculum in obstetrics, or psychiatry, or OMT, that excites us and we can help you take that desire and achieve your goals.
Be Connected
The clinic is the classroom in Hendersonville, but we don't think your faculty is the teacher. Instead, your patients will be your greatest teachers, and your faculty the facilitators. Since this person in the exam room will be the most valuable part of your education, we have designed our curriculum to reflect that and be "patient first" in our clinics. This means improved continuity, improved patient satisfaction, and you as a physician knowing the people you care for.
Some programs will have you meeting new continuity patients even in your third year, but there really isn't much time to build those relationships before you graduate. From day one in Hendersonville, you have your full panel, and each year have an equal number of office visits to build that connection and grow with those you care for.
Your Rotations
Family Practice Service
Our family practice service (FPS) is a full-spectrum service that cares for OB, pediatrics, and adult inpatient medicine. We care for the entire panel of Blue Ridge Health patients in multiple clinics across Western North Carolina. Residents spend three months during their first and second years on the FPS, and two months in a leadership role during their third year. Our longitudinal call structure ensures that residents continue to be confident and comfortable with inpatient medicine throughout their residency. Many of our graduates have gone on to practice hospitalist medicine as a result.
Critical Care
Our family practice service is the primary team for our intensive care patients. We do more than make social visits or watch as others care for our patients. Our residents are the first call when our patients require intubation, procedures, or resuscitation. In addition to gaining this experience during your family practice rotation, residents have a dedicated intensive care rotation at Pardee Hospital and have the opportunity for an elective month of pulmonary and critical care at Mission Hospital. A hallmark of our residency is that Pardee is large enough to have a busy ICU, but small enough that our residents retain primary responsibility to care for our patients there.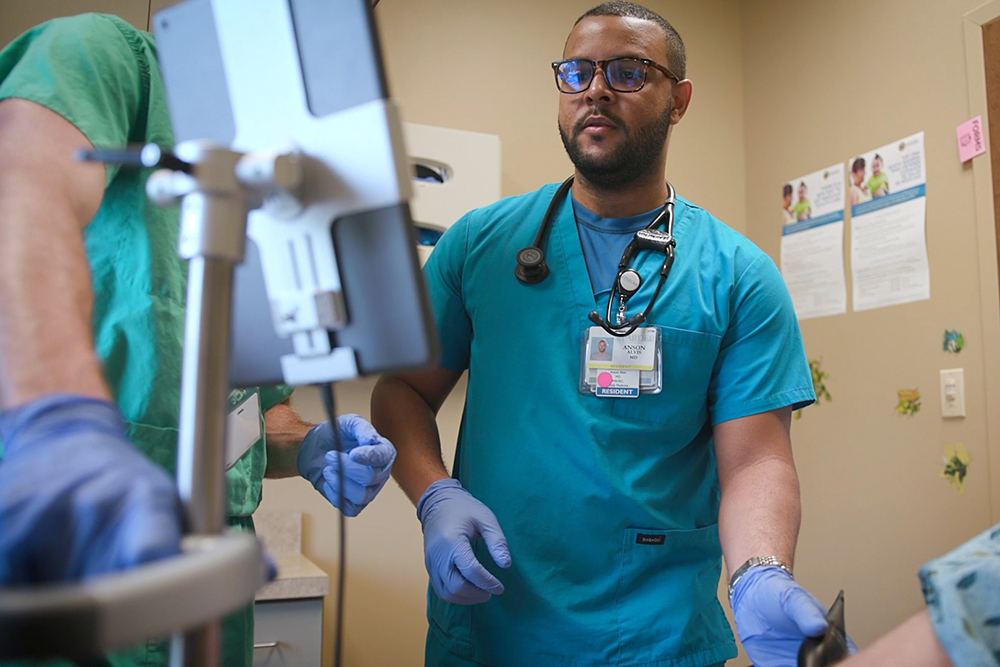 Ob/Gyn
Pardee Hospital in Hendersonville is where residents will get the bulk of their delivery experience, and it is one of the few hospitals in Western North Carolina where family doctors are practicing operative obstetrics. Our residents graduate with between 60-120 deliveries, depending on their interest, and have gone on to become faculty and full-spectrum physicians across the country because of their comfort with obstetrics. Due to an underserved patient population without easy access to specialists, residents become comfortable with managing higher risk prenatal patients who would usually be managed by specialists in an urban environment or larger program.
Pediatrics
During the first year, residents spend two months in inpatient pediatrics at Mission Hospital in Asheville and are taught by pediatric hospitalists, intensivists and sub-specialists. They admit pediatric patients from all over Western North Carolina and are the only inpatient pediatricians to admit, which allows for a wide range of cases. Residents become comfortable caring for newborns and coordinating care with specialists, as well as managing common and complex illnesses.
Residents also acquire ongoing inpatient pediatrics experience on the inpatient service in Hendersonville. Because of the thriving OB practice, many children are recruited by residents into clinic after participating in deliveries. Residents enjoy additional outpatient experiences at the local Health Department and in pediatric blocks during their first and third year.
Behavioral Medicine
Mental health is an area of great need in our community, and our residents see behavioral health as a vital component to family medicine. We have a dedicated LCSW faculty member who is responsible for the behavioral health education of the residents, which comes as both didactic education and co-managing patients in the clinic.
Residents also lead group visits for behavioral health issues. Rotations during second year in community medicine and behavioral health provide experiences in counseling and residents learn about available community resources. Additionally, physician wellness is a key part of our behavioral health curriculum and a major focus of our program in general.
Emergency Medicine
For one month during intern year and another month during third year, residents train in the second busiest emergency room in Western North Carolina, where they focus on actively managing critically ill patients, as well as gain procedural experience. Residents will often perform additional procedures in the ER while on call for the inpatient service. Family doctors in rural areas are expected to care for acutely ill patients in an emergency setting, and our residents are comfortable caring for our patients in this environment. Our residents also have an ER month in their second year dedicated to pediatric emergency medicine at Mission Hospital.
Surgery/Procedural Skills
Our residents spend one month during intern year on a surgery rotation rotating with the surgical group from Pardee Hospital. During this month, their emphasis is on evaluation for surgical intervention, basic surgical skills, endoscopy, and post-surgical care. Residents also use this opportunity to become adept at intubations and procedural techniques that are useful during their longitudinal call. During third year, our residents have a dedicated Procedural Skills rotation where they will have an entire month dedicated to both outpatient and inpatient procedural skills.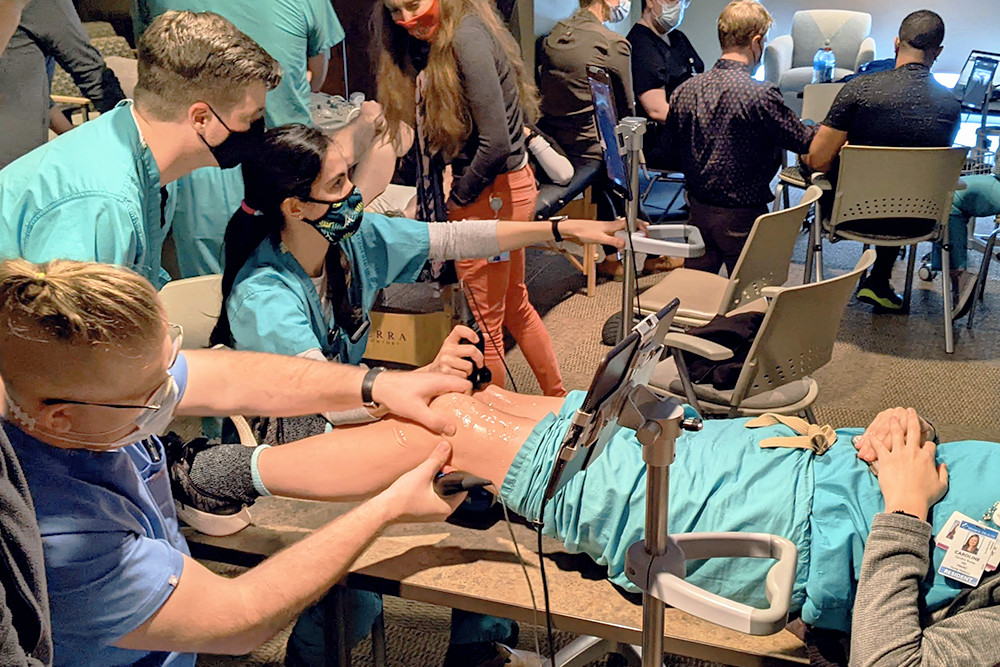 Orthopedics/Sports Medicine
One month during intern year and one month during second year are spent with local orthopedic and sports medicine practices. Residents learn outpatient management of orthopedic problems and participate in surgery. During the second year, residents rotate through sports medicine clinics and physical therapy. Residents are encouraged to learn sports medicine procedures and techniques for use with their continuity patients. Residents will also have the opportunity to be involved with local sports teams and events.
Practice Management
While residents primarily work in the FQHC setting, they also have dedicated time in the second and third year to explore multiple practice models. Curriculum focuses on personnel management, coding, billing, and patient flow & satisfaction. A one-month rotation during the third year focuses on skills in practice leadership. During this time, residents will also complete a practice improvement project and focus on their community impact project.
International Medicine
We are one of the few programs in the country where residents can take the opportunity to practice overseas during each year of their residency. Residents can travel to rural Honduras through Shoulder to Shoulder as early as intern year, and have one month of dedicated time during each of their subsequent years to travel and practice away from Hendersonville. Additionally, we have dedicated time during didactics to address international and wilderness medicine topics.
Lifestyle Medicine
During their second and third years, residents are eligible to participate in our integrated Lifestyle Medicine Residency Curriculum, which includes 40 hours of didactics and 60 hours of applied activities. Over the course of 2-3 years, residents will complete 400 patient encounters to develop competency in each lifestyle medicine domain. Residents will participate in their own intensive therapeutic lifestyle change program and have opportunities to participate in collaborative research affiliated with the Blue Zones Project in Brevard, NC.
Wilderness Medicine
Several of our residents have taken advantage of elective time to gain experience and credentialing in wilderness medicine. Residents participate in didactics as well as periodic workshops and outings. They are given the opportunity to teach lectures for a wilderness EMT course. The residency is within close proximity to Dupont State Forest, Pisgah National Forest, and multiple wilderness areas. As part of orientation, new interns to the Hendersonville residency have a rafting trip on the Nantahala river and practice rescue techniques.
Ultrasound/Simulation Center Trainings
The scarcity of rural providers makes procedural skill training a focus of our program. Ultrasound is a major priority of our procedural training curriculum and we have added handheld point-of-care ultrasound (POCUS) devices in the hospital and outpatient clinics. We also equip residents in more formal MAHEC training courses throughout the year. Our didactic curriculum includes simulation center trainings on difficult airways and intubations, central line placement, and further work on point-of-care ultrasound. Each resident's curriculum can be tailored to match their anticipated needs, but every resident will graduate feeling comfortable with a broad range of procedural skills.
Call/Didactics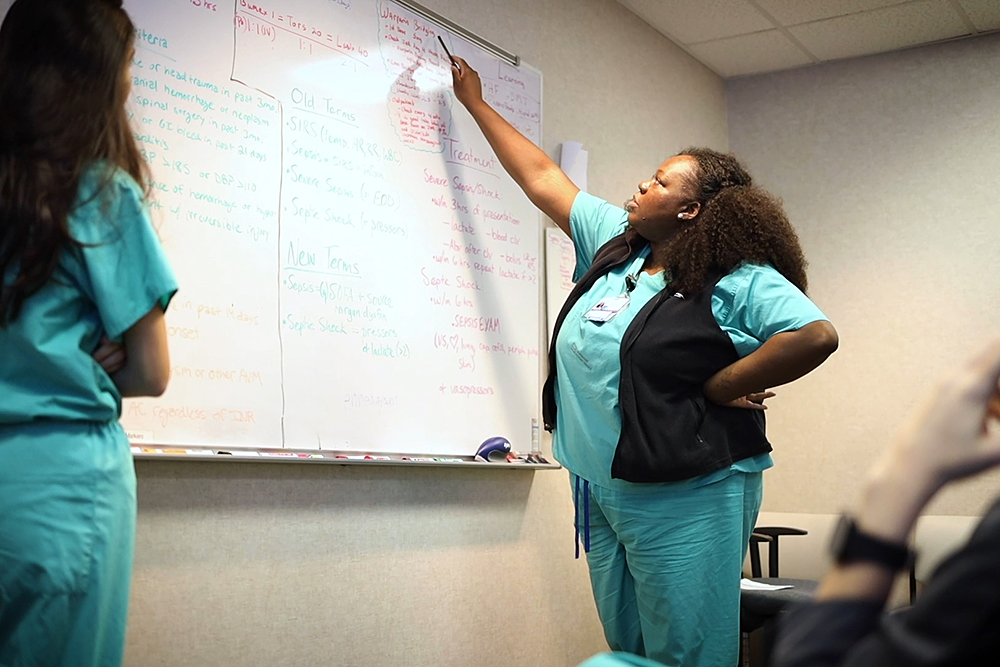 Didactics
Residents have afternoon didactics weekly and during several lunch and morning events throughout the week. These conferences cover a broad range of primary care topics including: patient management, behavioral medicine, Ob/Gyn, community medicine, and practice management. Learning sessions are led with active teaching methods in mind. Regular monthly conferences within the residency include lunch discussions of hospital cases, obstetrics cases, difficult outpatient cases, physician wellness, and resident meetings.
Call Schedule
Our call schedule is one of the most important aspects of our program. During intern year, our residents spend a total of four weeks on night float while rotating at Mission Hospital. The primary goal of intern year is to prepare the resident for longitudinal call at Pardee Hospital, where the resident will be actively caring for critically ill patients. Our residents will be on call once per week, on average, and one weekend per two months. Residents practice as a full-scope hospitalist including ICU and obstetrics with faculty support. Whereas most programs have changed to a night float system, our graduates feel prepared to continue practicing obstetrics and inpatient medicine because they had continuous full-scope training throughout their residencies.