MAHEC Project ECHO® for Medication for Opioid Use Disorder
Dec 31–Nov 29, 2022
Closed
Medicine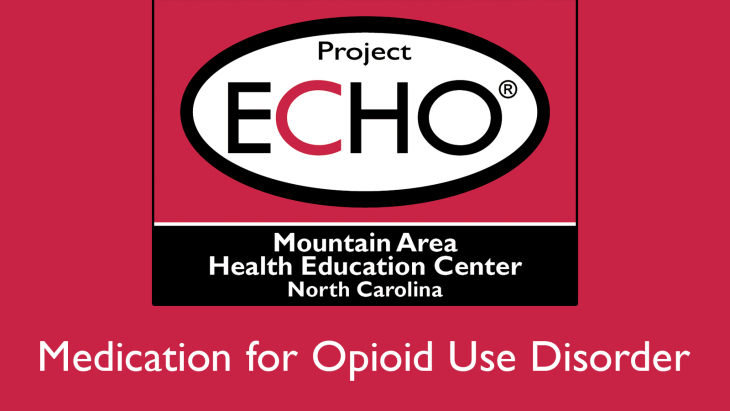 Description
Project ECHO® is a lifelong learning and guided practice model that revolutionizes medical education to provide best-practice specialty care and reduce health disparities. ECHO® is led by an expert team that uses multi-point videoconferencing to conduct virtual learning sessions comprised of a short didactic followed by case discussions provided by participants. The ECHO model includes case discussions presented by attendees. This is the participant's chance to discuss difficult patient cases with a panel of experts and colleagues to gain feedback. When registering for this Project ECHO®, please be prepared to share a case discussion during one of our sessions.

The increase in mortality due to the misuse of prescription medications has caused the medical field to re-examine the use of opioids for pain management. MAHEC's Project ECHO® for Medication for Opioid Use Disorder is designed to provide medical professionals with specialized training in office-based opiate treatment (OBOT). Evidence-based practices will be shared by an interdisciplinary team of experts in OBOT, integrated family practice and medication-assisted therapy.

This video teleconferencing series, guided by experts, takes place over five bi-weekly modules (1-hour each) and covers topics such as:
• Overview of Medication for Opioid Use Disorder Options
• Buprenorphine Induction
• Opioid Use Disorder Treatment Part I
• Opioid Use Disorder Treatment Part II
• Behavioral Health Treatment Modalities

This program will include the three required topics outlined by the new CME requirement in 21 NCAC 32R .0101:
1. Controlled substances prescribing practices
2. Recognizing signs of the abuse/misuse of controlled substances
3. Controlled substance prescribing for chronic pain management
As of July 1, 2017, all physicians (aside from residents), physician assistants, nurse practitioners, podiatrists, and dentists who prescribe controlled substances must satisfy the controlled-substance prescribing CME requirement set forth in 21 NCAC 32R .0101. Requirements vary by discipline and board. Prescribers will turn in controlled substance CME when they renew licensure.

Participants must register to attend this free ECHO® to receive continuing education credits.

MAHEC engages in evaluation activities to better understand the impact of our programs. By registering for this course, you agree that we may use your personal information in evaluative research regarding this program. Any reports published will be de-identified and reported in aggregate format.

MAHEC assumes permission to use audio, video and still images from this program for promotional and educational purposes. Please speak with a staff member if you have any concerns.
Target Audience
Waiver trained and non-Waiver trained Physicians and Advanced Practice Providers, Nurses, Pharmacists, and Behavioral Health Professionals
Objectives
Describe best practices for opioid prescribing
Outline the goals of buprenorphine induction
Discuss screening of patients for Medication Assisted Treatment/Medication for Opioid Use Disorder (MAT/MOUD)
Apply learned best practices to perform urine drug screens to patients on: opioids, benzodiazepines, amphetamines, medication assisted treatment for substance use disorder or for monitoring abstinence
Explain common concerns presented by the patient and outline applicable behavioral approaches to treatment
Faculty
Carriedelle H. Fusco, RN, MSN, FNP-BC
Donald R. Teater, MD, MPH
Martha H. Teater, MA, LMFT, LCAS, LPC
Genevieve Verrastro, MD
Fees
FREE

Free, but must register to attend
Brochure / Registration Form